As usual, we bring you the latest Catalina news from around the globe, adapted from the version published in the most recent edition of The Catalina News magazine.
Sadly, news from 'down under' about The Catalina Club of New Zealand's Catalina ZK-PBY (formerly a RCAF Canso A, serial 11054) is not particularly good.  Due to structural issues, the aircraft has not been able to fly over the winter air show season and is currently grounded.  Work is required to remove corrosion from parts of the wing although apparently the spars are intact.  As major work will be required to rectify the situation, it is planned to recover the fabric rear section of the wing at the same time.  The following details were passed on by Lawrence Acket of the Catalina Club at the beginning of April: "The Catalina Club is determined to return the aircraft to airworthy condition.  The repairs to the aircraft are not difficult to undertake; however the labour required is expected to be significant due to the size of the sections of wing parts.  Currently the organisation is investigating the most feasible way of restoring the aircraft which includes possibly obtaining parts from a 'donor' Catalina.  Meantime the organisation is investigating if there are suitable candidates around the world to offer spare wing components.  The cost of repairs is beyond the organisation's means so we will be launching a fundraising campaign to return ZK-PBY to airworthiness.  ZK-PBY is a rare and historic aircraft and the Catalina Club of New Zealand have operated it successfully for the last 17 years and without commercial sponsorship for the last ten.  The aircraft has had no association with former sponsor Mainfreight for a number of years now and it has only been through the hard work of the dedicated members of the non-profit organisation that has kept the aircraft displayed at most aviation events around the country.  Regrettably the support to house some of the heavier NZ warbirds in a hangar has not materialised and this has led to increased maintenance requirements for the Catalina as a result.  New Zealand is extremely fortunate to be home to such a significant aircraft that made a huge contribution to WWII.  The New Zealand Catalina has been the only active warbird painted to represent the efforts of the RNZAF in the Pacific for a number of years.  It is the only airworthy PBY-5A model that is based in the Southern Hemisphere (others in Australia are PBY-6As – Ed.) and it is one of only a handful of Catalinas now operational worldwide."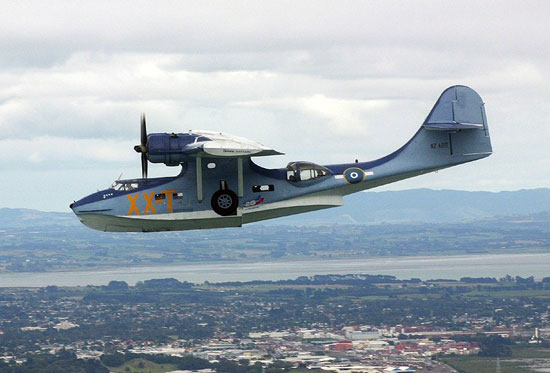 The Catalina Club of New Zealand's Canso A ZK-PBY painted as RNZAF NZ4017/XX-T and photographed in happier times.  It is hoped that it will not be grounded for too long.
Meanwhile, there is more encouraging news from Australia concerning the PBY-6A VH-CAT that arrived from Portugal after an eventful ferry flight a few years back.  It has not flown again since but an airworthy future is still planned!  It remains based at Bankstown Airport, Sydney.  This edited extract is taken from the article "Catalina Flying Memorial Gathers Momentum" in the March 2012 edition of theCatalina Flying Memorial Ltd Newsletter: "It's hard to believe, but over three years have passed since VH-CAT touched down at Bankstown on 7 December 2008.  As regular newsreaders would know, the project to get her back into the air has progressed slowly.  Matters were not helped in any way by the global financial crisis that struck a few months prior to her arrival.  The CFML has channelled much effort into determining an optimal strategy to enable a mammoth project like this to succeed.  The CFML is also mindful of the fact that five Catalina Festivals are now behind us and VH-CAT has been a 'no show' every time.  Luckily for us, the good people of Lake Macquarie have remained patient and supportive throughout.  However, the CFML understands that such support and patience is limited without the imminence of a real-life roaring, belching, coughing and smoking Catalina gracing the shores of Rathmines.  Consequently, the CFML's Board of Directors convened to address this situation and to put in place a strategy that will aim to get VH-CAT flying in time for the 2012 Catalina Festival to be held in November.  In January, the CFML Board of Directors appointed one of its own, Col Evans, to the position of CEO of the CFML.  Col's priority is to address the sense of urgency required to meet the November deadline of getting VH-CAT airborne.  As well as being focused on fast-tracking the work required to get VH-CAT certified to fly, Col is currently in negotiations with a couple of potential sponsors.  Col and fellow CFML director Spencer Ferrier are also looking at developing a strategic plan that will address the sustainability of the CFML to ensure VH-CAT remains in the air for many years to come.  There has been much pleasing progress at Bankstown over the last few months.  Much of what has been achieved recently with the work on VH-CAT can rightly be described as 'visual progress', with the floats now repaired and re-attached to the float pylons.  This means that for the first time in almost three years, the floats are now in position and retracted into their place as wingtips!  Much of the work in recent times has been attributable to a small band of volunteers with David Sieber, Roger Matthysen and Len Linfoot at the core.  David is a licensed aircraft engineer with many years experience which includes a couple of years with Ansett Flying Boat Services working on their two Short S.25s during their last years at Rose Bay, Sydney.  Roger is a Licenced Aircraft Maintenance Engineer (LAME) who, like David, brings much valued qualifications and experience to the project.  Len has been an absolute stalwart for the project – he has been there right from the start at Bankstown back in July 2009 when he took on the role of site supervisor.  His commitment to the project, with all the ups and downs has never wavered.  That's not to ignore the contribution of other volunteers who have put in many hours at Bankstown over the years. We would not be where we are now without their assistance.  However, we have now reached the stage where most of the work required to get us from where we are now to flying must be carried out by qualified people like David and Roger.  These guys, like the rest of us, are keen to maintain this increased momentum and part of Col Evans's focus in meeting the November deadline is seeing that they get all the support they need."

PBY-6A VH-CAT of the Catalina Flying Memorial undergoing its restoration to fly again at Bankstown Airport a few months ago
Bob Bailey via Rod Brooking
The HARS (Historical Aircraft Restoration Society Inc.) PBY-6A VH-PBZ continues to fly regularly from its operating base at Albion Park, NSW.  On March 24th this year it took part in the Sunday Open day at Canberra Airport along with the HARS de Havilland Canada Caribou, Lockheed Super Constellation and C-47 Dakota.  That must have been an Albion Park departure to behold – and hear!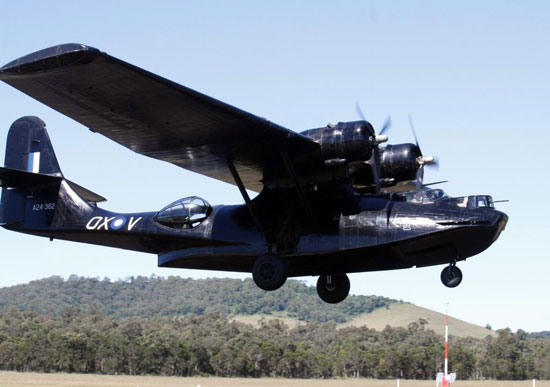 PBY-6A VH-PBZ painted as RAAF PB2B-2 Catalina A24-362/OX-V gets airborne from Albion Park, NSW en route for Canberra on March 24th
Photo: Russell Field
Recent news from Lake Boga, Northern Victoria came as something of a surprise so I had obviously taken my eye off that particular ball!  The composite Catalina A24-30 that has been out in the open at the Catalina Memorial Park for many years has had a superb new hangar built for it and is now safely inside and out of the elements.  The park is on the site of the old wartime Lake Boga flying boat base and the initiative to form it was driven though by the local Lions Club.  The Catalina has been repainted and its blisters have been re-installed on the hull after being loaned to HARS as patterns for the pair now on VH-PBZ.  The Lake Boga blisters have been nicely restored by HARS in return.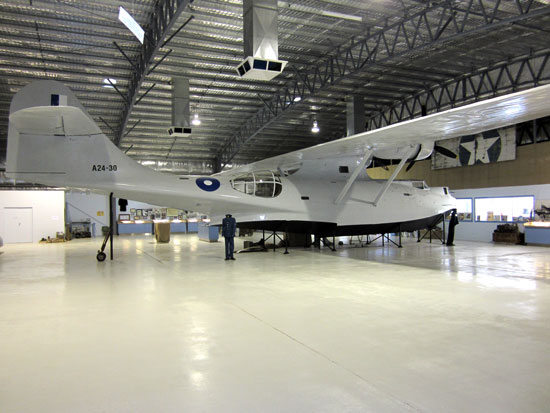 The Lake Boga Catalina 'A24-30′ in its new hangar after many years out in the open
Photo:Richard Simpson
Australia's third PBY-6A VH-EAX is now grounded at the Qantas Founders Museum at Longreach, Queensland after its lengthy and interrupted ferry flight from Spain.  Options for its future include repainting it to represent a wartime RAAF example (why not Qantas commercial livery? – Ed.) and, possibly, restoring it back to airworthy condition.  The latter course would be expensive as the airframe and engines took something of a beating during the long flight from Europe.  A comprehensive article describing the trials and tribulations of that journey and eventual arrival in Australia of VH-EAX can be found in the May 2012 edition of FlyPast magazine.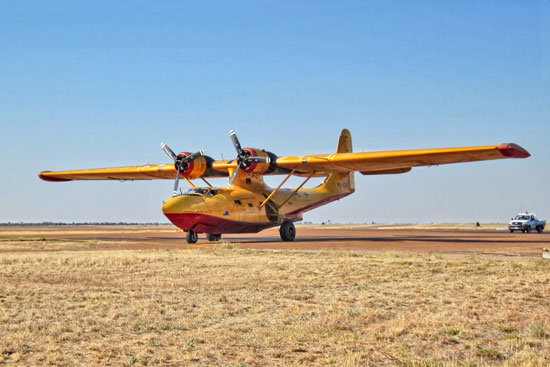 PBY-6A VH-EAX taxing in at Longreach at the conclusion of its ferry flight from Spain on September 14th last year
Photo: Qantas Founders Museum via Roberto Yáñez
Talking of Spain, PBY-6A EC-FMC has been on the ground at Ocana for some years now under a very slow restoration to fly again under the ownership of Swedish pilot David Pajus.  Intriguingly, it appeared as an internet auction item during April (although the accompanying picture was of EC-EVK, now VH-EAX mentioned above!).  Quite what this means we will have to wait to find out but there is ongoing legal action between Pajus and SAE.SA, the previous owners of EC-FMC, concerning the non-provision of airworthy engines by the latter.  EC-FMC is one of three PBY-6As that had its vertical and horizontal tail surfaces returned to PBY-5A standard many years ago as a condition of operating on the Canadian register.

An element of mystery surrounds the future of Catalina EC-FMC at Ocana in Spain – see the related item in this feature.  This picture was taken as recently as April 4th this year
Photo: Roberto Yáñez
In faraway Chile, Catalina CC-CDT is still maintained in excellent condition at Santiago International Airport although it is not currently flying.  It has its engines run on a monthly basis according to my correspondent Álvaro Romero who says that the current owners still hope it will attract fire fighting contracts although, given its age, that may now be doubtful.
There is not a great deal of news from the 'States this time around.  The former four-engined Bird Innovator conversion N5PY is still located at Aurora in Oregon but has not flown for many years and does not seem to be near to flying again any time soon.  It is now back in twin-engined format and, according to a post on the Warbird Information Exchange back in August last year, a new engineer has been hired to continue the restoration work.  Apparently there is a lot of work to do and this will be time consuming.  The lower hull and keel need rebuilding and the aft hull will need re-skinning too once some internal structural work is completed.  This looks like being a long-term project!
In Florida, Cyclone-powered Super Cat N287 remains in external storage at New Tamiami in Florida and according to a report from Tom Singfield it has probably not flown or been run up for some time judging by the extensive cobwebs around the engines!  This Catalina was recently offered for sale though Courtesy Aircraft Sales of Rockford, Illinois but does not seem to feature on their current inventory list.  Earlier plans for it to be operated in the Far East appear to have come to naught.