October 2nd 2011 saw our first Catalina Taxi Ride at Duxford Airfield, our home base. On what turned out to be a glorious early-Autumn day, the event seems to have been a resounding success for those involved and is likely to be repeated. Here is a report on what took place.

All our happy Taxi Ride passengers and guests in the Comet Room at Duxford – and they hadn't even seen the Catalina at that point!
Photo: David Legg
Some Catalina Society members will know that we are unable to carry fare-paying passengers in our Catalina, even in return for a donation. On some rare occasions in the past we have taken guest passengers aloft but it has become increasingly difficult to do this from a practical point of view, not to mention the cost involved in doing so. There is currently only one Catalina in the world that is able to carry paying passengers and that is in far away New Zealand and that is currently (Spring 2012) grounded. The Dutch aircraft that has done so in the past has run into various problems that have kept it effectively grounded for the last two years. Nonetheless, we do appreciate that there is an appetite on the part of Society members and the general public to get up close to our Catalina and experience, or even relive, in some small way what it was like for wartime crews to be in a Catalina. This is where the idea of Catalina Taxi Rides came from!
One of our shareholders, Jim Appleby, put the idea out for consideration and cited the example of Lancaster and Dakota taxi rides offered by the Lincolnshire Aviation Heritage Centre at East Kirkby as something that could be investigated. The aim would be two-fold – to offer a great 'customer experience' and to raise funds for the continued upkeep of our Catalina. I was persuaded to carry out a feasibility study and then, if appropriate, to plan the event, ably helped by Rachel Morris at our Duxford office. An initial assessment suggested that an attractive event could be put together at a price that reflected the relative rarity value of the Catalina but still be within financial reach of enthusiasts looking for a 'different' day out.
Sunday October 2nd was chosen as it could be reasonably assumed that no air display bookings would come our way if not already booked by early-Summer. Given the unpredictability of the UK weather, there was an element of risk involved!
All Catalina Society members were provided with details and the proposed event was also publicised on the Catalina Society and Plane Sailing web sites. This created a fair amount of interest although in some cases we had to emphasise that a Taxi Ride is not a flight! Ultimately we achieved enough bookings to run two separate Taxi Rides on the 2nd with the passengers made up of an even split between Society members and non-members – the latter are all now members so a big welcome to them! Indeed, we had a really good cross-section of passengers with two Catalina Society Life Members – Angela Steadman and Keith Fisher – and some WWII Catalina veterans including Kenneth Bore (see also our Cat Contact Column), Roy Moore, David Smith and Neil Bradley.
It was with some relief that I headed up to Duxford on the morning of October 2nd in excellent weather! The plan was that all the Taxi Ride passengers, together with their guests, would arrive in the morning and meet in one of the lecture rooms within the Imperial War Museum's AirSpace building. Some arrived early and were able to look around the superb collection of restored aircraft in the building. A number of our passengers and guests had travelled long distances to be with us but everyone found their way to the Comet Room in good time and the event started with introductions all round. There followed an illustrated presentation on various aspects of Catalina history and Catalina captain Rod Brooking was on hand to answer technical questions. When there was a short technical glitch with the laptop projector, Roy Moore ably stepped into the breach to briefly describe his RAF days on Catalinas! The talk was followed by an excellent hot lunch in the IWM's comfortable restaurant within the lecture room facility and overlooking the airfield. Most people felt that the unseasonal hot weather made the option of eating on the outside balcony just a little uncomfortable!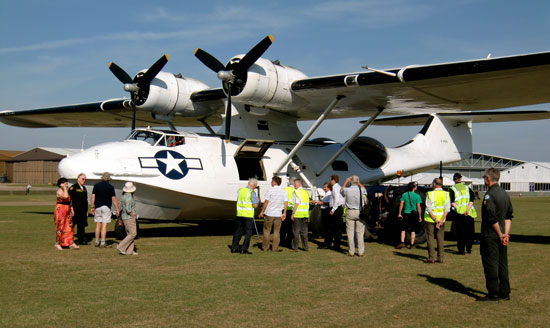 The Catalina basks in the October sun as our Taxi Ride visitors get a close-up view of G-PBYA
Photo: David Legg
With lunch over, the party walked out to the Catalina where it had been positioned on the grass by our crew for the day – engineer Garry Short, crew chief Steve Bailey and crew volunteers Shaun Jarvis and Eric Stead. There was ample opportunity for photographs and questions and, purely by luck, the locally based B-17 Sally B was practicing displays and circuits at the same time. Trust them to get in on the act! Because the airfield was not too busy, and because we had a good number of crew helping, we decided that it was safe for the party members not going on the first ride to stay out on the grass and watch the start-up before going back behind the safety barriers. This seemed to be much appreciated by the passengers and guests.
With both Pratt & Whitneys purring away nicely, Rod and Garry proceeded down the perimeter track towards the runway with the passengers visible in the blister area clearly enjoying themselves immensely! Having reached the runway threshold, the engines were opened up and G-PBYA set off down the runway at a nice speed, enough to make the experience exciting but obviously not enough to result in a take off! Having reached the opposite end of the runway, Rod turned the Catalina through 180 degrees ready for the return journey but allowed sufficient time for the rear section passengers to swap with the forward area ones under the close supervision of the crew members on board. Thus, all our passengers could get the 'full' experience. The engines were then opened up again for a rather faster trip in a westerly direction before coming back to the original parking spot.
As the first passenger group disembarked, there seemed to be plenty of smiling faces, a good sign! The second group of passengers then climbed on board and the whole exercise was repeated. By this time, Rachel Morris had arrived to add additional help to the crew and another of our Crew Chiefs, Trevor Birch, popped by with his wife and lunch guests to see what he was missing!
Having been closely involved with the project from the outset, I decided that I would go along for the second ride to experience it from the passenger point of view. Again, there were lots of smiling faces and it was clear that the Catalina Taxi Ride was a success! Rod had got the compromise between enough speed and noise for excitement but not enough to cause problems just right even though, for me, it seemed very odd to start slowing down at the point where normally a take off was imminent!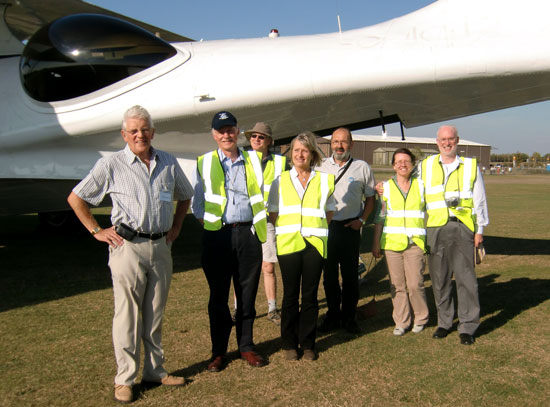 Passengers from Taxi Ride Number Two clearly seem to have enjoyed themselves! Lots of grins!
Photo: David Legg
Once back at the original starting point, it was time for a few final pictures before going back to AirSpace for much needed refreshments and farewells.
It had been a really good day and very encouraging for us given that it was something of an experiment. Certainly the feedback from passengers received on the day and subsequently would suggest that the formula was right and we received a number of helpful suggestions for any future events. It is therefore highly likely that a repeat performance will be arranged next year and I am currently busy arranging for good weather! One typical comment came from passenger and former RAF Catalina ground crew member Kenneth Bore who had been brought along by his son David and who summed the day up thus: "The day was a complete surprise and it was amazing to be inside a Catalina for the first time since 1946. I worked on this type of aircraft as an Airframe Fitter for most of my 5 plus years in the RAF in both the UK and overseas. The high spot on the 2nd October for me was the taxi ride itself and I was most impressed by how the whole day was organised – A DAY TO REMEMBER!"
Thanks are due not only to the crew – Rod, Garry, Steve, Shaun, Eric and Rachel – but to the passengers and their guests whose enthusiasm and support made the day so special.