The following article is an extract from the Autumn/Winter 2012 edition of The Catalina News magazine which is sent to all members of The Catalina Society.  World Catalina News, as the title suggests, brings readers up-to-date with happenings in the world of surviving Catalinas.
The biggest – and certainly the saddest – news this time around concerns the final demise of Plane Sailing's old Catalina G-BLSC/VR-BPS/VP-BPS.  Many of you will know that we operated this Wright Cyclone-powered 'Super Cat' from early-1985 until the end of July 1998 when it was damaged beyond economic repair in an accident on Southampton Water.  During those thirteen years, it had become a much-loved air show 'star', much like our present day Miss Pick Up is now.  After its accident, it passed into new hands and Plane Sailing had no further connection with it.  The damaged airframe was moved around the south of England, being variously located at Hamble, Lasham and Lee-on-the Solent.  Although some work was carried out on the damaged Cat', the prospect of it flying again never became a reality and indeed it suffered further, weather-related damage during its time in open storage at Lasham.  Eventually, the owners, Super Cat Restorations, threw in the towel and in due course the dismantled airframe travelled to Dublin in the Republic of Ireland where it was stored at Weston airfield.  The new owner's intention was that it would form part of a museum but this project never saw fruition and the poor old Catalina remained outdoors, prey to the elements and at one point being blown onto its tail by high winds.  Some months ago, the airport itself suffered financial problems and was put up for sale by its receiver.  This event may not be entirely un-connected with the fact that, in late-June, the Catalina was bulldozed into scrap.  Presumably, someone owed money to someone else and scrap metal value was seen as the only way of recovery.  This is a terribly sad end to a wonderful aircraft, one that was held dear by many of us when we were able to fly in it back in the '80s and '90s.  It seems amazing that it could not be saved but quite likely that very few people knew this act of vandalism was going to happen until it was too late.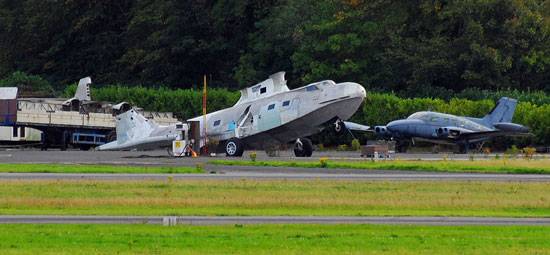 A long lens shot of the former Super Catalina Restorations and Plane Sailing Catalina at Weston, Dublin after being blown onto its tail but before the scrapman set to work.
Still in Europe, the Dutch PBY-5A Catalina PH-PBY based at Lelystad with Stichting Exploitatie Catalina has flown again after a long period of dormancy caused by technical and paperwork issues.  It took to the air on August 13th but possibly a little late in the season for any display flying commitments.  The operator's website seemed both optimistic and vague about what flying would be done for the remainder of 2012 when this article first appeared but, later, they announced that passenger flights would be available in the Autumn.
Interestingly, the Dutch registration PH-PBZ was reserved on November 18th last year for the Cypriot-registered 'PBY-5A' 5B-PBY which is registered in Cyprus but based with its owners Athenian Airlift at Tanagra in Greece.  The owners quoted in the reservation were Stichting Exploitatie Catalina, the operators of the aforementioned PH-PBY!  Your compiler had heard some time ago that the Cypriot authorities wanted to see 5B-PBY registered elsewhere so perhaps Holland is viewed as a safe haven.  The Cypriot registration itself seems to have expired in April 2005 and the aircraft has not flown in recent times.  It is painted as a US Navy machine, hull code 31-P-5.  I await developments!
PBY-5A N1277N was recently cancelled from the United States Civil Aircraft Register in what would seem to be a register review.   The registration was revoked as far back as June 1971 but was formally cancelled as expired by the FAA on May 24th, 2012.  Formerly with the US Navy as BuAer48431, N1277N was owned by Intercoastal Aircraft Inc of Seattle, Washington.
The one-time Royal Canadian Air Force Canso A C-FPQM has been parked at Gander, Newfoundland for several years following an abandoned attempt to fly it across the North Atlantic to Foynes in the Republic of Ireland.  At the time there were suggestions of a dispute between Buffalo Airways who had owned the aircraft and pilot Patrick White who was supposed to be acquiring it from them.  Whatever the details, the engines were run for the first time in six years on August 27th and according to an internet posting a few days later, the ownership has been settled and spares are required to get the aircraft flying again.  A quick search of the official Canadian Civil Aircraft Register in late-September showed that the ownership is still recorded as Buffalo Airways Ltd, Hay River, North West Territories.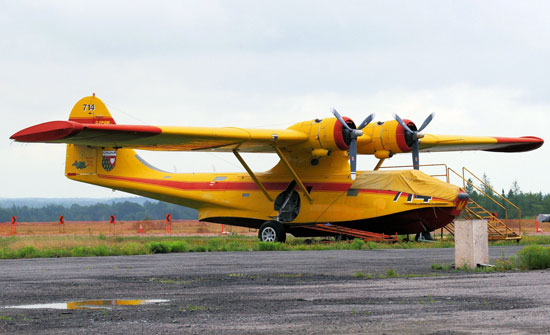 Richard Stoker's photo shows Canso A C-FPQM at Gander recently, still in Buffalo Airways livery but with its titles painted out.
Meanwhile, over on the west coast at Arlington, Washington State, the Cyclone-powered PBY-6A Catalina N85U is still kept airworthy although has not carried out any water bombing of forest fires for some time now.  Its owners Flying Fireman Inc of Spanaway, Wa. keep the Cat' at Arlington and occasionally exhibit it at local air shows.  As recently as this August, it flew at the Vintage Aircraft Weekend at nearby Paine Field, carrying out a water drop on the airfield before an appreciative crowd.  It then spent a short while on the ground allowing the public to see inside the forward hull.  Heijo Kuil assisted with the 'walk-throughs', a case of déjà vu for him as he used to do the same for us in Europe many years ago when he resided in Holland.
Next are some notes that add to the summary of Australian Catalina survivors earlier in this issue.  For many years, a well-known landmark in the Proserpine and Shute Harbour area of Queensland was Vic O-Hara's motor cruiser Henrietta-HOH, based on the hull of the former Ansett Flying Boat Services PBY-5A Catalina VH-BRI.  The undercarriage was retained so the boat could be taxied in and out of the water when required.  Around seven or eight years ago it was sold by the O'Haras to Trevor Reichter of Home Hill, also in Northern Queensland, and he used it for a few years until about 3 years ago salt water corrosion won the day and the old Catalina literally disintegrated.  Alas it is no more so no longer a 'survivor'!  Perhaps it was lucky it survived for so long at all as, back in July 1962, it had sunk off Hayman Island after a heavy landing when in use as a passenger airliner.  Whilst Henrietta-HOH might be no more, another former RAAF machine still exists as a paddle boat at Mildura, perhaps not surprisingly known to locals as Paddle Cat!
Canso A N427CV , once a Royal Canadian Air Force aircraft and then a water bomber based in Quebec, has been a resident at Rand in South Africa for many years, subject of a gradual restoration to flying condition.  It featured on our front cover in glorious colour back in May 2011.  It seems that a return to the skies might not now be too far away with a possible first flight before the end of the year.  As can be seen in the accompanying photograph by Bruce Perkins, engine runs have been successfully carried out.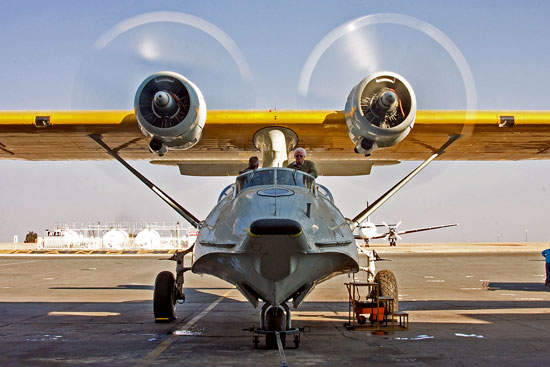 Superb shot of N427CV engine running at Rand, South Africa on August 18th.
Copyright Bruce Perkins
Another ex-RCAF Canso and Quebec water bomber and, as it happens, a sister aircraft to the ones at Rand and Gander, is C-FPQL which is owned and operated by Canadian Warplane Heritage at Hamilton, Ontario.  It flies occasionally and this year has been to two shows in Ottawa.  Plans to install a new emergency exit in the hull have been postponed for the time being.  C-FPQL is displayed in full wartime RCAF colours, representing David Hornell's 162 (BR) Squadron aircraft '9754/P'.
As we started, so we'll close with another loss.  It now seems very likely that the PBY-5A YV-584CP that has stood increasingly neglected for many years at Porto Ordaz in Venezuela has been scrapped.  Seen by Aad van der Voet in December 2010 in "fairly poor condition", he says that by September 2011 the airframe was nowhere to be seen on the airfield.  Prior to that visit, it had been moved to an area used for scrapping aircraft so it seems likely that the airport authorities have had it destroyed in a tidying-up exercise.  What is certain is that Buffalo Airways had expressed some interest in acquiring it for spares when they were also looking at a local Canadair CL-215 but ultimately they did not proceed with acquiring either aircraft.  It has to be said that, unlike the loss of VP-BPS in Ireland, the scrapping of YV-584CP whilst a sad event is not much of a surprise.