Activity in the world of surviving Catalinas around the globe continues unabated and once again there is plenty to report, mostly of a positive nature although, as will be seen, some projects are badly in need of help!….
We'll start in Australia where, at Bankstown, NSW, The Catalina Flying Memorial Ltd continues to work on their PBY-6A VH-CAT which was ferried there from Portugal back in November/December 2008. President of the Memorial, Phil Dulhunty, says that the project to get VH-CAT back in the air still needs help. When the ferry flight to Australia was undertaken, it was under US marks (N160AT) and with a US FAA ferry permit. It is proving difficult and expensive to obtain an Australian C of A in the Experimental Category as a warbird and some sponsors that had already come forward have 'cried foul' citing the 'global economic downturn' as their reason. The project is therefore desperate for other sponsors and donations. Meanwhile a great team of volunteers continues to work on the aircraft, some of whom worked on flying boats at the original Rathmines flying boat base on Lake Macquarie in the old days.
Also in need of help at the present time is PBY-6A VH-EAX which, as reported in our last edition, was acquired in Spain for the QANTAS Founders Outback Museum of Longreach, Queensland. It left Cuatro Vientos, Madrid on the long flight to Australia in early-October. When we last closed for press on October 8th, VH-EAX had reached Bahrain and all seemed set fair for a successful ferry flight but sadly things went wrong and it became stranded at U-Tapau near Bangkok in Thailand with a sick engine. As at April, it was still grounded there and in need of a replacement P&W as well as spares such as engine mounting nuts and bolts, associated washers and hydraulic reservoir gaskets. Meanwhile, the former Spanish registration EC-EVK was cancelled in September last year with the Australian marks VH-EAX being formally allocated to the QANTAS Foundation Memorial Ltd on the 30th of the same month. A more comprehensive update will appear in a future edition of The Catalina News by which time I hope there will be more positive news.
On the subject of registration paperwork, the Canadian PBY-6A (with a -5A tail!) C-FIZU has been on display at St Anthony in Newfoundland for a while now (see our Canadian survivors feature elsewhere in the magazine) and its registration was formally cancelled on December 16th last year.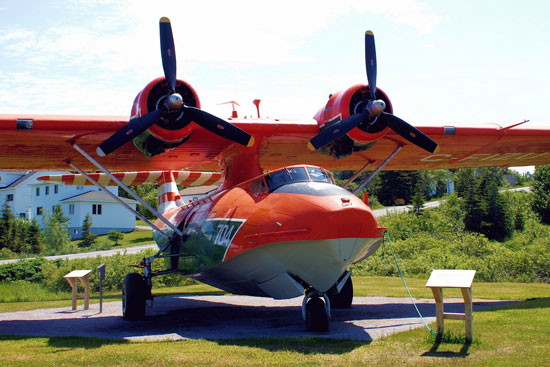 C-FIZU is now on display in the town of St Anthony in Newfoundland and was seen there by Richard Stoker on a recent visit. Its registration was cancelled recently.
Good news (we hope) from Canada is that the Canadian Warplane Heritage (CWH) at Mount Hope, Ontario is to obtain the hull of former-RCAF Canso A serial 9825 that had been on external display in the grounds of Harold Carlaw's Memorial Military Museum at Campbellford in the same Province. It had been offered for sale on the internet. Jim VanDyk, CWH Chief Engineer, confirmed that the acquisition is currently going ahead but that delivery to Mount Hope is some way off yet. It must be assumed that this is good news and that the hull, rescued by Carlaw many years ago, is going to another good home. However, the original interior was apparently removed some time ago and sold off (who/where to?) and the CWH has said that what it particularly wants from the hull is the bow turret and that the rear blisters are available. What this means for the rest of the hull is not known but let's us hope that it does have a safe future as it would be terrible to see it scrapped after the more desirable parts have been removed. The CWH has a great reputation so fingers crossed! See our inside front cover for a photograph of the hull at Campbellford.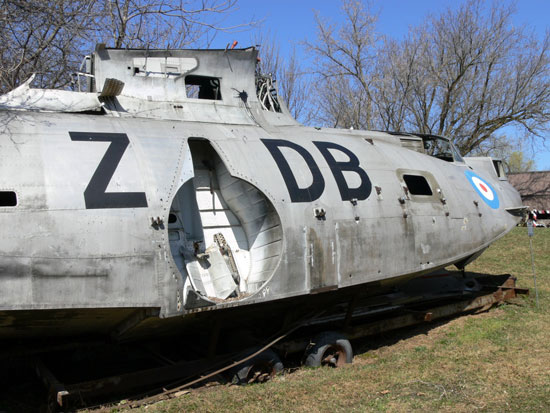 The hull of RCAF Canso A 9825 that has been on display for some years in Harold Carlaw's Memorial Military Museum at Campbellford, Ontario has recently been acquired by Canadian Warplane Heritage – see both World Catalina News and our main article on surviving Canadian Catalina and Canso airframes within this issue.
In faraway Chile, the one-time USAAF OA-10A Catalina CC-CDT owned by Ibero Chilena de Aviacion at Santiago is still in great condition although has not flown for a while. Álvaro Romero reports that it moved under its own power to take part as a static exhibit at the FIDAE airshow at Arturo Merino Benitez International Airport between 23rd and 28th March.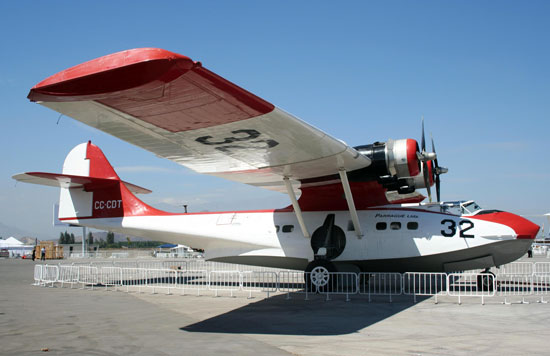 Catalina CC-CDT is the last airworthy example in South America although is not flown regularly. It is still configured as a water bomber and appeared on static display at the FIDAE show in Santiago during late-March this year.
Photo: Álvaro Romero.
Back in the Antipodes for a moment, The Catalina Group in New Zealand will have come to the end of their Summer season by now and will be putting their Canso A ZK-PBY to rest for the off-season maintenance period! Although once again it has not ventured out of New Zealand, it has had a busy time including appearances at the Warbirds Over Wanaka 2010 display on South Island. Lawrence Acket reports that during the show it took part in the Pacific Theatre slot as a patrol bomber, eventually bombing and 'sinking' a large cardboard submarine! It then came under attack from a real Japanese Zero (with P&W engine) before the fighter was despatched by two P-40s and a Corsair. Sounds like a great show! Lawrence speculates that this is probably the only occasion in ZK-PBY's life when it has come anywhere near a Zero in flight. Unfortunately, the Catalina went u/s on the Monday after the show when a starter mechanism failure involved the crew having to retrieve broken pieces from inside the engine! This work was duly completed and the Catalina flew north ready to appear at ANZAC Day celebrations on April 25th.
Continuing our trip around the world, we come to South Africa where at Rand Airport near Johannesburg, the one-time RCAF Canso A C-FPQO continues on its progress to first flight after a long restoration on the premises of Springbok Flying Safaris. Engine runs and taxi trials were carried out on February 19th and it is hoped that a first flight is imminent. The proposed Swaziland registration 3D-PBY appears to have been forsaken and the US marks N427CV have now been provisionally reserved, these being a corruption of the original Canadian Vickers construction number CV-427. The rather odd colour scheme including what look like French navy rudder stripes is apparently under review! In due course, this aircraft will boast a luxury interior and sound-proofing.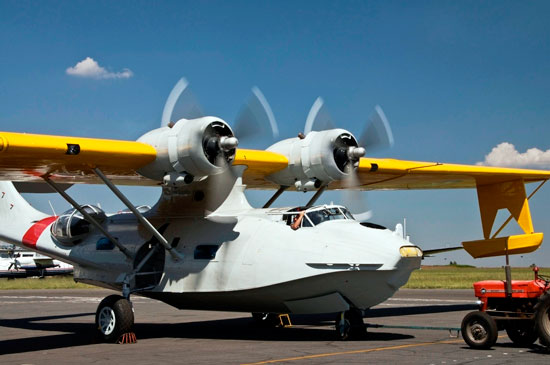 Rand's Catalina C-FPQO/3D-PBY/N427CV undergoes engine runs recently – its first flight after restoration is awaited.
Photo: Bruce Perkins.
In the USA, Flying Cat Aviation LLC has their OA-10A Catalina N483CV at Sanford, Maine. Once operated by Flying Fireman Ltd out of Victoria, British Columbia, it later went across the border to Moses Lake, Washington State where it remained unused as part of the SLAFCO fleet. When that fleet was dispersed, it went back to Canada with Buffalo Airways at Red Deer, Alberta before being sold again and being ferried to Maine in September, 2006. Over the last few months, work has been carried out to overhaul the engines and props and to repaint the airframe to represent a US Navy aircraft prior to the issue of a Certificate of Airworthiness. This is another aircraft that has a US registration based on its construction number, in this case CV-483, although for many years the official records have quoted it as '013', not a formal Catalina c/n.
On the other side of the USA, the PBY Memorial Foundation has achieved the stated ambition of acquiring a Catalina for display at its museum at Whidbey Island Naval Air Station. After several false starts, the PBYMF has finally managed to secure the PBY-5A N84857, formerly US Navy BuAer33968, that has been on a gradual rebuild at Skagit County airfield in the same State. The previous owners ran into problems and the aircraft was re-possessed by a bank that then rapidly put it up for sale. The PBYMF mobilised its fund-raising and with a combination of gifts and loans was able to make a successful bid. At the time this article was being compiled, the plan was to make the move to Whidbey Island quite soon, possibly using a combination of land and aerial transport, the latter being by way of helicopter under-slung load.
As the colour cover shot of The Catalan News Issue 73 graphically shows (reproduced here) , the US-registered PBY-5A N423RS that had sat in the open at Lee-on-the-Solent airfield in Hampshire, England was moved by air to North Weald in Essex on December 8th last year for further work before flying on to the USA at some future point. Prior to crossing the Atlantic, it will be brought up to C of A status (it flew under a special flight permit) and may well be repainted. For the full story of its restoration to airworthy condition and lots of good photos, go to the Lee Flying Association website at www.eghf.co.uk and click on the appropriate Catalina link.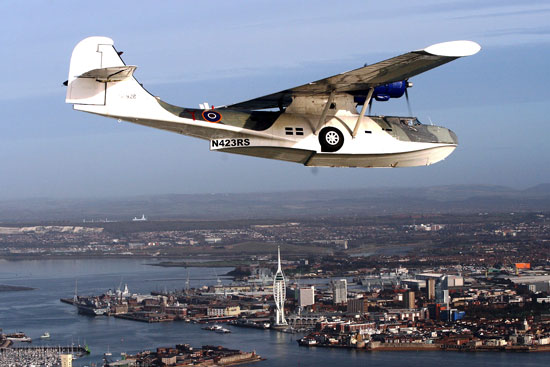 A magnificent photo of the long-dormant PBY-5A N423RS over Portsmouth Harbour during its first flight for many year on December 8th last year.
Photo: Mike Perkin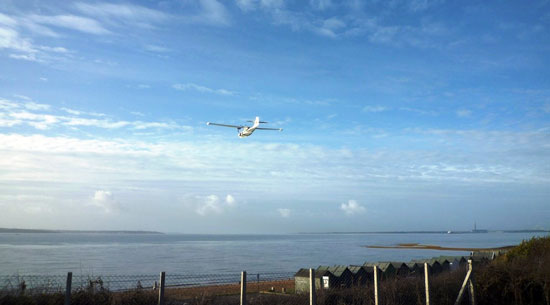 Tony Harmsworth of Aeroplane provided this evocative view of N423RS leaving Lee-on-the-Solent's beach huts behind as it departs for North Weald last December.
Over in Denmark, the PBY-6A L-861 operated by the Royal Danish Air Force (RDAF) for many years and more recently displayed at the Danmarks Tekniske Museum at Helsingor has been moved to the Danmarks Flymuseum at Stauning airfield. Danish Catalina enthusiast Erik Thingbo advised that work on the move first started in September last year when a team of six retired RDAF personnel, including Catalina Society member Torben Jensen, began preparatory work over an eight week period before, on November 9th last year dismantling of the main airframe started. Work was restricted to Mondays as this is the day when the Helsingor museum is closed to the public. The Catalina was actually moved on November 23rd and 24th with the hull going straight to Stauning – a trip that took well in excess of eight hours – and other components initially going to Karup. Re-assembly began on April 12th this year.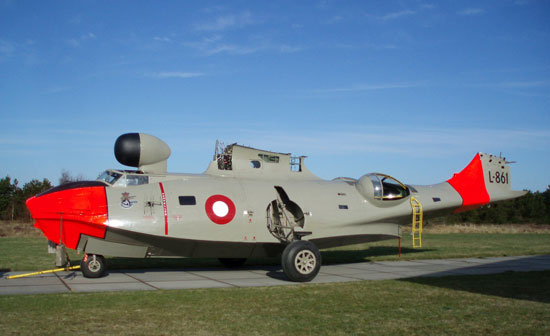 The immaculate RDAF PBY-6A L-861 during its recent move from Helsingor to Stauning.
Photo: Erik Thingbo
Prudent Staal of the Stichting Neptune Association, operators of PBY-5A PH-PBY in Holland, tells us that due to changes in their maintenance organisation, it was necessary to find a temporary home for the Cat' away from its normal base at Lelystad. The most convenient and cost effective solution was to fly it to the former RAF airfield at Laarbruch in Germany where dry and heated hangarage was made available, something that could not be easily arranged in its native Netherlands. Work is now underway on a new hangar for PH-PBY at Lelystad. Ambitious plans for a Catalina fly-in meeting at Lelystad at the end of July seem to have foundered however.