As usual, The Catalina News brings readers a round-up of what has been happening around the world to the surviving population of Catalinas and is adapted from the article with the same name in The Catalina News magazine, in this case the October 2010 edition.  On this occasion, there are two significant updates to the items that appeared in the magazine, these relating to C-FUAW in Canada and PH-PBY in Holland.
We start in Canada where in the last few weeks there has been some activity that updates the Canadian Survivors feature that appeared in our last issue.  First is the welcome news that the one-time RCAF Canso A and Saskatchewan water bomber C-FNJB appears to have been saved from an ignominious fate at Cassidy Airport, Nanaimo on Vancouver Island, BC.  Having been stored in the open there for some years since conversion to a passenger aircraft for operation in Zimbabwe was abandoned, its condition was deteriorating markedly.  However, the Evergreen Aviation & Space Museum of McMinnville, Oregon has come to the rescue acquired it on July 31st.  Stuart W Bailey, Curator at the museum, tells me that the plan is to initially renovate the aircraft sufficiently to fly it out of Nanaimo on a single ferry flight to Oregon.  Thereafter it will be fully restored but most likely to static display condition only.  The museum already has a great collection of beautifully restored aircraft and it is of course the home of the unique Hughes HK-1/H-4 flying boat, The Spruce Goose.
On the credit side, British Columbia had seemed set to replace C-FNJB when a report in the October edition of FlyPast magazine suggested that the Buffalo Airways Canso A C-FUAW was set to go to "a private collector in Victoria".  However, further enquiries seem to suggest that this is a sale that is not happening.  FlyPast contributor Dirk Septer states that in July he was introduced to the prospective buyer by owner 'Buffalo' Jo McBryan at Hay River, NWT where C-FUAW is currently stored.  However, Peter Magill, Manager of Promotions and Retail for Buffalo Airways, later stated that the report was incorrect and his company has no plans to sell C-FUAW, or indeed their other CANSO C-FPQM.  Watch this space.
Postscript: The situation regarding C-FUAW has subsequently been clarified and it seems that Buffalo Airways were 'sitting on' the news for a time.  In early-November, Bob Dyck made it public that he had acquired the Canso. He contacted interested parties, saying: "It is official now!  I am the proud owner of ex-Buffalo Air's Catalina.
We finalised the deal last Thursday (28th October) but it took a few days longer than expected to prepare her for the ferry.  After a short test flight yesterday morning (3rd November) we left Hay River, NWT and went as far as Prince George, BC.  This morning we left PG at 11.30am and arrived in Victoria at 15:00 hrs.  She ran great the whole way".  The airframe has some 12,200 hours on it and is still kitted out as a water bomber.  Current tentative plans are to install passenger seats and use it for tours in Canada.  All probably a while off yet I suspect.  Meanwhile, its Canadian registration was cancelled on November 18th.
The hull of Canso A RCAF serial 9825, for many years an outdoors exhibit at Harold Carlaw's Memorial Military Museum at Cambellford, Ontario, has arrived at its new home with Canadian Warplane Heritage, Hamilton, Ontario.  It was delivered by road on Wednesday, August 25th but it seems likely that the relic may be broken up and used for other projects with the bow turret and nose most likely going to the CWH's own airworthy Canso A C-FPQL and the blister turret frames being sold to re-coup the acquisition price from Carlaw.  I am told that parts of the centre section may be used on C-FPQL if/when the latter's redundant water bombing tanks and plumbing are removed.  The likelihood of 9825 being used by the CWH as an imaginatively restored static exhibit similar to the Cutaway Catalina at Pensacola or the old PBY-5A hull at Tauranga in New Zealand therefore seems remote which is a great pity.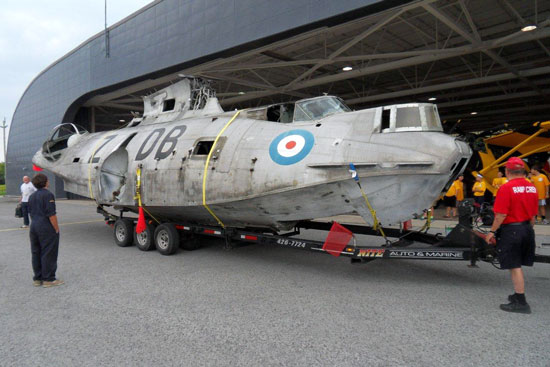 The hull of 9825 is manoeuvred on its road trailer after arrival at Hamilton from Cambellford
Photo:via Bob Patullo
Whilst on the subject of C-FPQL, Bob Patullo of the CWH reports that it took part in the air display at Gatineau, Quebec on 18th/19th September, flying in what was billed as The VC Flight in company with the CWH Lancaster  and their former Chance Vought Corsair now owned by Gatineau's Vintage Wings of Canada.  All three aircraft represented Canadian Victoria Cross recipients – Flt Lt David Hornell (Canso A), PO Andrew Charles Mynarski (Lancaster) and Lt Robert Hampton Gray (Corsair).
Across the border in the United States, the PBY Memorial Association Museum of Whidbey Island, Oak Harbor, Washington State achieved its long-held ambition and took delivery of its PBY-5A N84857, ex-US Navy BuAer33968 on June 25th.  The 'flight' from its former home at Skagit County Airport was achieved courtesy of Columbia Helicopters Inc of Portland, Oregon and one of its civilian CH-47 Chinook helicopters.  The under-slung hull, minus outer wings, was carried at a speed of some 35 mph on a trip just under an hour long with main roads below the flightpath being closed to avoid possible accidents whilst early morning drivers stared at the sight above them!  On July 10th, suitably spruced up, the Catalina was dedicated to the late Norwood Cole, a US Navy pilot who flew BuAer33968 whilst stationed at Whidbey Island in 1943.  The ceremony was attended by his widow Phillis and son Peter who used the traditional bottle of bubbly against the bow to mark the event.
One of own crew, CAA test pilot Paul Mulcahy, was in Oshkosh, Wisconsin recently for the AirVenture 2010 event.  He saw and photographed the one-time Canso A N222FT, flown to the show from its Texas home by owner Wilson 'Connie' Edwards.  It looked a treat in the aircraft park in its flamboyant colour scheme and name Flyin' Turtle emblazoned on the forward hull.  Readers with long memories may recall that this aircraft, then registered C-FOWE to Robert Franks, came to grief when it hit buoys in Plymouth Sound at the end of a trans-Atlantic commemorative flight in 1986.  It was later repaired and flown to Canada.  On the occasion of its accident, it had been accompanied by PBY-6A N4NC, then and still owned by Connie Edwards although it is not known if it is currently airworthy at his Big Springs, Texas base.  N222FT seems to be his favoured Catalina at present.  Paul photographed a data plate close to N222FT's main undercarriage bay which states the aircraft is "Consolidated Vickers PBY-5A, 28-5ACF, SER. No. 11074, N222FT".  The manufacturer should read Canadian Vickers of course.  11074 was its original RCAF serial.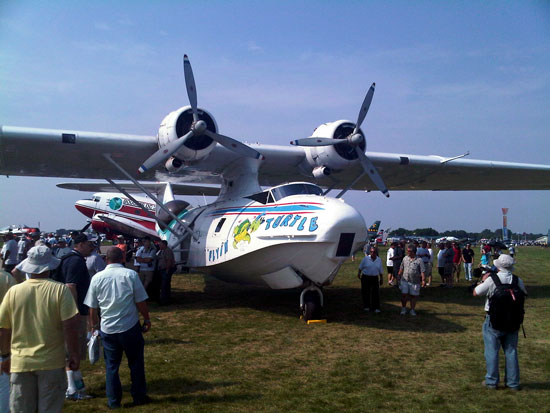 The Catalina Flyin' Turtle at AirVenture 2010 in Oshkosh, Wisconsin as seen by our pilot Paul Mulcahy during his travels
A recent addition to the US Civil Aircraft Register is "Canadian Vickers PBY-5A" N427CV, added on May 17th this year.  Originally RCAF Canso A serial 11089 and constructors number CV-427 (now incorporated into the US reg.) it is currently still located at Rand, South Africa and awaits its first flight for many years after a lengthy restoration project.
In Europe, the operators of the Dutch registered PBY-5A Catalina PH-PBY have run into problems that led to the cancellation of their entire 2010 flying programme including planned water operations with passengers on Lac Leman in Geneva.  A posting on their website in June (translated into English) stated that: "Earlier we had reported that the start of the Catalina flying season would be delayed.  To our great regret we note that all our efforts to date have remained uncertain and we do not have the necessary permits, waivers and certificates necessary to legally fly the Catalina.  As a result, the Board of the PH-PBY Catalina Foundation have decided to suspend all flight operations with the Catalina for the 2010 season.  From now we will do everything we can to make for a full season of Catalina flying in 2011."  The Catalina News understands that the problems stem from the maintenance regime that the operators need to adhere to and that at present the Catalina is stored at the former RAF Germany airfield at Laarbruch just over the border from the Netherlands.  Without the permits, it is unable to return to its Dutch base at Lelystad.
PS: after the paper version of this article closed for press, an update was received from Prudent Staal which read as follows: "We have made great progress!  Because we didn't have hangarage at our Lelystad base our FAA didn't approve the operation of our Catalina from there.  So we had to build a hangar with enough space for three big 'planes, 40 x 50 meters!!  On October 12th we had the opening ceremony for that hangar.  Before that, PH-PBY had to be inspected for the short ferry flight  from the former RAF station at Laarbruch, now known Flughafen Niederrhijn/Weeze, to Lelystad.   The inspection and approval took about 10 days of work in Laarbruch's hangar 4.  On the early morning of the 12th we drove to Weeze but because of foggy conditions we couldn't fly.  Just on the 'break-even point' at 12.15 hrs the sun came out and we left Germany for Holland!  Take-off was at 13.17 hrs and we routed direct to Lelystad for a flypast and a perfect smooth landing at 13.58 hours.  WE taxied up to our new hangar, the doors of which were open for us and after the engines were shut down we were towed inside for the opening ceremony by Peter Leeflang.  Crew of the Cat' on its short flight was Arjan Dros, Rogier Leeflang and myself as Crew Chief".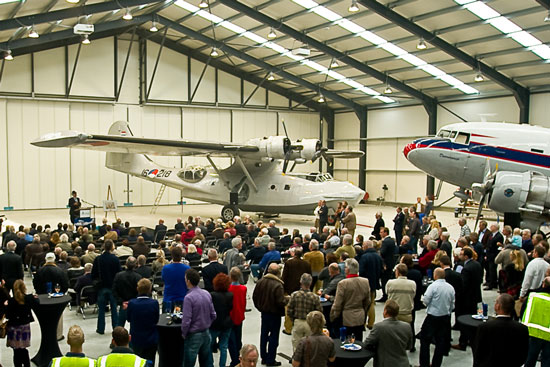 PH-PBY/'16-218 gets a warm welcome inside its new hangar at home base Lelystad after arriving from Laarbruch on October 12th this year
Photo: John Redeker
Another European Catalina currently very much ground-bound is the PBY-6A EC-FMC at Ocana in Spain.  Acquired some time ago by Swede David Pajus, restoration to flying condition continues as evidenced by the wealth of photos and narrative on his Facebook site but it does seem that a ferry flight to Sweden is still some time off with the lack of suitable props being a major stumbling block.
Better news for Swedish Cat' fans concerns the longstanding resident Catalina Tp47 47001 in the Flygvapenmuseum at Malmslätt.  Once a Royal Canadian Air Force aircraft, it later served with the Swedish Air Force as one of three Catalinas on its strength.  Upon retirement, it went to the museum and spent many years in the open air with inevitable effects on the airframe.  Recently, however, it was brought in from the cold and restored and it is now part of a brand new exhibit inside the museum buildings.
Finally to Australia where work has continued on the airworthy PBY-6A VH-PBZ operated by HARS (Historical Aircraft Restoration Society).  In addition to the recent installation of a fine pair of hull blisters and a bombardier's window in the extreme bow, a bow turret has now been put in place too and the end result looks really good!  The nose support structure was donated to HARS by the Pima Air and Space Museum, Tucson, Arizona whilst a new "unused" turret was acquired from Canada with the assistance of the Morabbin Aviation Museum, Melbourne.   A new gloss RAAF Black Cat paint job has given the Catalina the finishing touches although the overall scheme representing the 42 Squadron, RAAF aircraft A24-362/OX-V remains the same with the Felix the Cat motif still in place on the forward hull.  Via Bob Cleworth came this update from Frank Purvis, volunteer engineer with HARS: "The Catalina's turret was finished just in time for the RAAF Williamtown airshow with a compass swing being done on the day of departure from our base at Albion Park (NSW – Ed.).  The guys have done a magnificent job with the nose turret.  The Cat' flew at the airshow itself along with our Dakota, Neptune and Connie and they all performed well on the trip – I didn't even have to open my toolbox!"  Photos taken before and during the work to put the bow turret in place show that the name Altair * had been painted below the cockpit, this relating to the wartime Catalina of the same name, one of several that flew the Double Sunrise flights between Perth and Ceylon.  The name has since been removed however.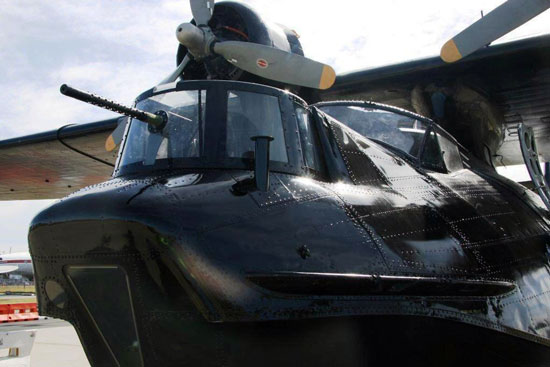 A close-up of VH-PBZ's new bow turret and dummy gun.  Note that HARS 'dress' its props differently to us – when on the ground, we have one blade vertically downward and only use the configuration shown here when on water
Photo: Frank Purvis via Bob Cleworth