For an old aeroplane, it is surprising how much activity and news it is still possible to report on in each issue of The Catalina News!  This web version of World Catalina News is adapted from the hard copy that appears in Issue 72 (October 2009) of the magazine sent to Society members.
The last active PBY water bomber in the world, unless another example is resurrected, was PBY-6A N85U, a Wright R-2600 Cyclone-equipped Super Cat operated by Flying Fireman Inc in Washington State in the USA.  Although apparently retired from active fire fighting some months ago, it is still very much airworthy and has been active this summer in the Pacific Northwest.  On Friday September 18th, it flew into the old US Navy seaplane base at Whidbey Island, landing on the water and then taxiing up the old flying boat ramp before an appreciative crowd.  After a week's stay it moved on to Paine Field, Washington for the Vintage Aircraft Weekend there and during the displays it carried out two water drops.  See our next magazine for the full story and more photos!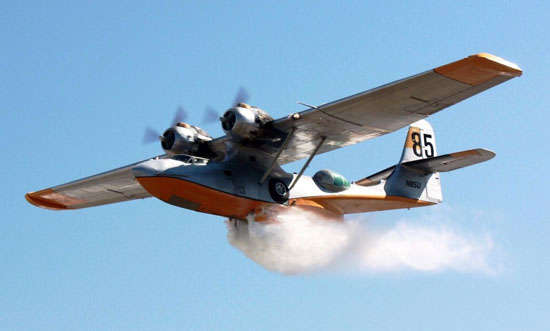 A fine photo showing PBY-6A N85U carrying out a simulated fire fighting run at Paine Field, Wa. In late-September this year
Photo: Heijo Kuil
I have reported before that PBY-5A N10609, for many years a derelict wreck, is now in the desert at the Pima Air and Space Museum in Tucson, Arizona along with other Catalina hulks includingN322FAunidentified former RCAF Canso A and may one day be rebuilt into a static exhibit – see item re. N68756 two paragraphs below.  Rather surprisingly considering its long dormant state, the US FAA formally cancelled its registration on June 25th this year although it qualified that by saying the registration had been revoked as long ago as circa 1972.  Ragnar Ragnarsson comments that this seems to be history repeating itself inasmuch as he has a note to say the FAA cancelled the registration in May 2002!  Apparently, the Pima project, when completed, will represent N322FA and will be configured as a water bomber. and an
As mentioned in earlier issues, the Commemorative Air Force team at Duluth in Minnesota are working hard on the rebuild of their two PBY-6As N324FA and N7179Y.  The former was grounded with corrosion issues whilst the latter was blown right over in severe winds at Minneapolis/St Paul some years ago.  Recently, the wings of N324FA were mated to the hull of N7179Y and work now continues to restore the now 'complete' airframe.  In due course, N324FA should be restored too.  More on this story in Issue 73 ofThe Catalina News.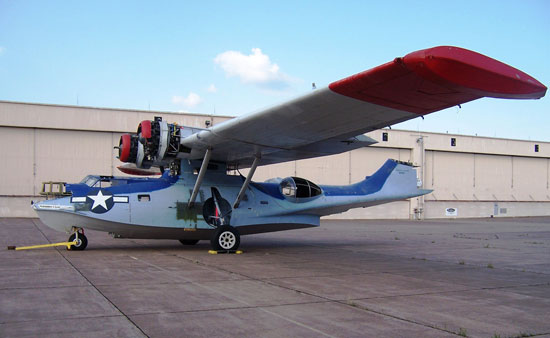 Shortly after the mating process had taken place in early September, PBY-6A N7179Y emerged from its Duluth hangar with the wings of N324FA on top.  Note the partially fabricated bow turret
Photo: Dennis Taklo via Heijo Kuil
Staying with the Commemorative Air Force for a moment, they used to operate the PBY-5A N68756, even going so far as to fly it from Texas to Australia and back in its heyday.  Sadly, things went downhill after that and it ended up being saved by the skin of its teeth from the scrapman by Australian Mark Pilkington.  The full story was recounted in The Catalina News Issue 65 (May, 2007).  Since its acquisition, it has sat in the open on land at Midland, Texas being 'caretakered' by Gary Austin on Mark's behalf.  The original intention was to find a home in Australia for the rather 'weary' remains of this once proud aircraft and after a few false trails it was sold to Jason Burgess of Adelaide who intended to carry out a full restoration to static display standard once in Australia.  This did not proceed and it was then acquired by Ron Grienhart of HARS, operators of the airworthy PBY-6A VH-PBZ.  HARS will be removing the blisters from N68756 and have donated the rest of the hull to the above mentioned museum at Pima in Arizona where it will be used in the restoration project there.  The blisters will go to Australia where they will be restored – VH-PBZ was recently endowed with a newly restored set based on a pair removed from the Lake Boga example 'A24-30'.  The latter PBY in the Catalina Memorial Park is currently blister-less so this will presumably be rectified once the Texas units are rebuilt.  N68756 was trucked out of Midland, bound for Arizona, on September 29th…..
The wings and tail unit from N68756 are not going to Pima with the hull but have remained on Gary Austin's farm in Midland.  As they are apparently so badly corroded, Gary has incorporated them into his own creation known as the Stratolina!  This is formed from various scrap items including the cockpit section of a Boeing C-97 Stratofreighter and the wings and tail of the Catalina.  The project was a bit of fun and was only carried out because the parts were pretty much beyond redemption.  The PBY tail was used as the unit from a twin Beech just did not look right!  The creation is marked with a nearby plaque upon which is the following inscription: "Stratolina of Austin Acres – In the hot dry Summer of 2009, there was born, on this spot, Stratolina.  Born of an unholy marriage between a PBY-Catalina and an unlikely father, an aged C-97.  Authorities are not quite sure what to do about the ' the monstrosity' out in Austin Acres, perhaps a bit afraid of the snakes, yellow jackets and coyotes that guard here.  Aluminum scrappers were known to be watching her, waiting to strike.  Here she sits, thumbing her nose at the scrappers.  Is she art?  Is she junk?  Is she just scrap?  Or is she something more?  A tribute to a gentleman who could not sit by and watch her parents torn apart and turned to soda cans.  Too many of her kind have already gone that way.  Hopefully she is here to stay.  A glittering jewel in the Texas sun."  As for the questions, I'll leave you the reader to decide but, love it or hate it, both original airframes would have been melted down by now if Gary Austin had not intervened.  Editor's note – at about the time this news item was being written, and just prior to publication of Issue 72 of The Catalina News, it was announced in various internet sources that Gary Austin had died in very sad circumstances.  His very considerable work in vintage aircraft over the years will stand as his legacy.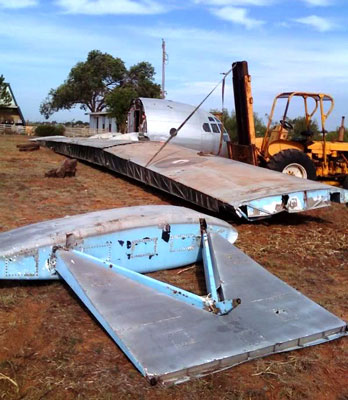 The 'Stratolina' under construction on Gary Austin's Texas farm – the wings of N68756 are clearly visible
Photo: Gary Austin
The predicament of the Lone Star Flight Museum's Catalina, actually former Canso A N68740, at Galveston in Texas, badly damaged by flooding a while back, has been mentioned in these pages before.  Sadly, the museum authorities seem to be doing little to provide resources to effect repairs to the airframe, most damage having been inflicted on the bow turret and starboard wingtip although the aircraft is generally in need of some TLC.  Museum volunteer Doug Ratchford recently hosted a visit for ex-'Cat Pack' member Heijo Kuil who took photos, one of which is published here.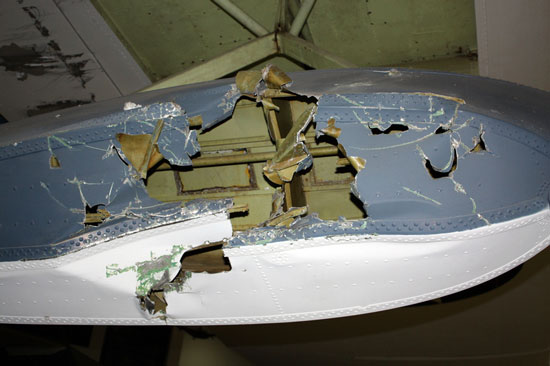 Heijo Kuil's photo clearly shows the damage inflicted on N68740's float when it was pushed up against the hangar wall at its Galveston, Tx. Home
Across the border in Canada, the Canadian Warplane Heritage Canso A C-FPQL has been active and conducted a 'tour', carrying out displays both in Canada and in the USA.  Meanwhile, the Buffalo Airways aircraft C-FUAW, also a former RCAF Canso A, has had its engines run after a long period of storage at Hay River, North West Territories where it has been in storage for some time.  Curtis Dyson who carried out the runs with his brother advised me that the associated maintenance did not indicate that C-FUAW was about to take to the air again although it does remain for sale.  Issue 73 of The Catalina News in May 2010 will include a detailed round up of all Catalina/Canso survivors in Canada.
In Europe, a recent internet message on www.planecheck.com indicated that an unidentified PBY amphibian was for sale, apparently with and EU-reg (whatever that means), a construction year of 1947 (unlikely!) and a location of Oslo.  It was described as being low-time and clean, total time around 5,200 hours, both engines 500 hours since last overhaul and with basic interior, exterior and avionics.  An e-mail to the advertiser has gone unanswered!
Meanwhile, still with a Scandinavian connection, I can report that work continues on the PBY-6A EC-FMCat Cuatro Vientos in Madrid with a view to ferrying it to Sweden.  Confusingly, this is one of three PBY-6As that many years ago had their tall rudders replaced with standard PBY-5A units!  The new owner of EC-FMC is David Pajus who, judging by the number of people that mentioned his name when we were displaying in Sweden this Summer, must be very well known there!  The Swedish Air Force operated their own Catalinas, known to them as the Tp47, from the late-1940s through to the mid-1960s, one of them being famously shot down by a Russian MiG-15 jet.  One of the three aircraft used by the Swedes, serial 47001, was retained for preservation after its withdrawal and spent many years in the open at the air force museum at Malmslatt.  More recently, it has been dismantled and taken under cover where it is being renovated to be part of a themed display within the museum devoted to the infamous shooting down incident.
The airworthy Dutch PBY-5A PH-PBY has had its share of technical issues this year and missed a few commitments, one of which we picked up in its place with our G-PBYA.  PH-PBY did however get airborne in mid-August to fly formation with DC-2 'PH-AJU' over Schipol Airport, Amsterdam.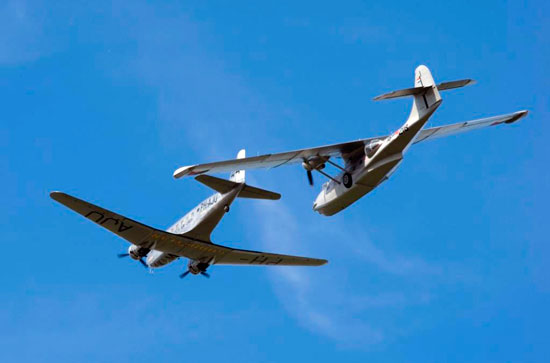 Dutch PBY-5A PH-PBY breaks formation with Douglas DC-2 'PH-AJU', actually NC39615, at Amsterdam/Schipol in mid-August
Photo: Willem Honders
Now back to Spain and saving the best until last comes the news that PBY-6A EC-EVK has also been sold – to the Australian national airline QANTAS!  Almost as soon as that news came out, EC-EVK was airborne and, on October 3rd it made its first flight with new Australian registration VH-EAX and a few days later was on its way to its new home!  That registration was originally allocated to a former-RAAF PB2B-2 Catalina flying boat that was operated by QANTAS after the war.  As I type this note on October 8th, the ferry flight had reached Bahrain and you can be sure that our next magazine will bring the full story to you!  It will eventually join the QANTAS Founders Museum in Longreach, Queensland although at this stage it is not clear if it will remain airworthy after arrival.  This will be the third PBY-6A to make the journey to Australia from either Spain or Portugal in recent times and the preparations and ferry flight will be followed by us with keen interest.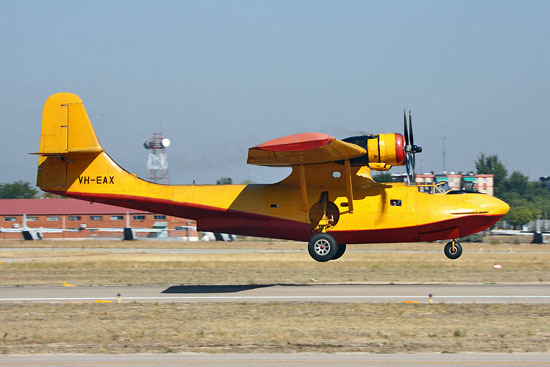 A magnificent photo of PBY-6A VH-EAX on its first flight with that registration, Cuatro Vientos, Madrid, October 3rd
Photo: Roberto Yanez
Previous Comments:
Robert – 18 January, 2010
The PBY-6A above, N85U, is parked at Arlington, WA Municipal Airport (KAWO) and has been there since at least early October. I was allowed to take some snapshots of her, thanks to the airport management.
Edy – 10 September, 2011
This aircraft just landed safely at Ngurah Rai Int'l Denpasar Bali this afternoon 10-Sept-2011
Mike Pinder – 10 September, 2011
Great thanks for letting us know and keeping track!