Yet again there is plenty to report in the way of PBY happenings around the world.  In fact, this really is a bumper edition so fasten seatbelts and off we go.
…to Rand in South Africa for starters where work on the former RCAF Canso A C-FPQO has moved on somewhat since the last time I reported on it.  After arrival in South Africa in 2000, little flying activity was seen and the aircraft sat outside for a long period, interspersed only with the news that a Swaziland registration, 3D-PBY, had been reserved for it.  The Canadian registration meanwhile lapsed.  The aircraft was sold to Steve Hamilton and John Siebold and local company Springbok Aviation Services have been restoring the Canso to airworthiness on their behalf.  Work has included the complete overhaul of the engines, one locally and one in the USA, the eradication of minor corrosion on the rear hull and around starboard front lift strut, the complete refurbishment of the cockpit area including the overhaul of instruments and a re-paint.  Externally, work has started on a new colour scheme to replace the previous white overall with blue trim.  By early-April, the new paint job was part finished and it was expected to be completed by the end of the month.  The superb photo published on our inside front cover was taken by Bruce Perkins on April 4th and shows the forward hull still in primer whilst the rear hull is light grey with 'Aéronavale-style' red, white and blue rudder flash and yellow trim on the outer wings.  It will be fascinating to see what the end result looks like!  Bruce says that the aircraft is referred to as 3D-PBY locally and he believes that it may well fly under that registration when the time comes.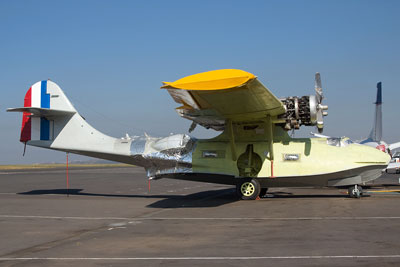 The Canso A currently under restoration to fly again at Rand in South Africa seen part-way through its re-paint in April this year.  Last formally registered as C-FPQO in Canada, it may fly next with the Swaziland identity 3D-PBY
Photo: Bruce Perkins
Staying in the Southern Hemisphere, we have a report from Catalina Society member Keith Palmer who visited Australia in March.  He encountered a number of Catalinas along the way and has provided an update.  Firstly, he visited the Powerhouse Museum in Sydney and viewed the preserved PB2B-2 Catalina VH-ASA Frigate Bird II which has been suspended from the museum's roof for some years and will hopefully remain there on display for many years to come.  Keith flew in the present day VH-ASA the next day – it's a Beechcraft Duchess!  Also on the 23rd, he inspected the Catalina Flying Memorial PBY-6A Catalina VH-CAT at Bankstown and was lucky enough to witness one of its periodic engine runs.  Keith reports that it is unlikely to take up residence at Rathmines for a while yet and fund-raising for its certification and ongoing operation is underway (see article on VH-CAT elsewhere in this edition).   Australia's other PBY-6A VH-PBZ was seen at Illawarra, NSW with its newly installed and superbly restored rear hull blisters in place.  The rear hull has also recently received a new coat of 'Black Cat' paint.  It is still painted to represent PB2B-2 Catalina A24-362/OX-V of the wartime 43 Squadron, RAAF.  Parts are being assembled for a bow turret with a mounting ring promised from a museum in Tucson, Arizona.  Owners HARS are hoping to restore the interior to original condition.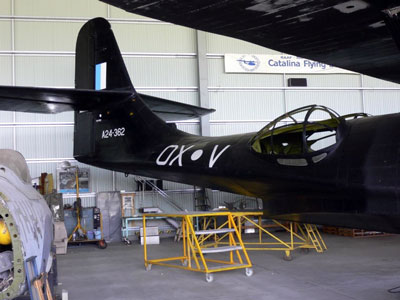 Whilst on his recent visit to Australia, Keith Palmer saw the HARS PBY-6A VH-
PBZ and its brand new hull blisters.  Their engineers seem to have done a fine job fitting them.
Over at the RAAF Museum at Point Cook, Keith saw the partially restored, former Wright Cyclone powered 'Super Cat', last registered VH-EXG.  It is under cover in the 'Display Hangar' adjacent to the main museum building and still does not have its wings in place although apart from that is in very good display condition with fully restored blisters and bow 'eyeball' turret.  It is painted in RAAF Foliage Green with serial A24-104 and 113 ASR Flight hull code NR-H.  Keith also saw the remains of the former houseboat Catalina (ex-RAAF A24-88) at Moorabbin where it is a long-term restoration project.
Although not on Keith Palmer's itinerary, one of my Australian 'spys' reports that the hull of former RAAF Catalina A24-46 is almost certainly still stored away from prying eyes somewhere on the site of the Whale World Museum at Albany, Western Australia where it was previously on public display before the death of its owner some years ago.  Rumours are that it is soon to head 'east' to a new owner but my enquires over the last few years have been met by a wall of silence!
Down to New Zealand now where another ex-RCAF Canso A ZK-PBY of the Auckland-based Catalina Group of New Zealand has had a busy 'summer' season.  In mid-January, 'PBY attended the Wings Over Wairarapa display at Masterton after which it went straight on to Wigram at Christchurch for a three week stay.  During the period of residency at this famous RNZAF airfield some local flights were carried out, culminating with participation in the airshow on February 8th.  Shortly after this final show, Wigram was permanently closed to all flying and the land has been gifted to the Maoris for housing development although the RNZAF Museum (with its own Catalina restoration project VH-SBV) will remain open there.  ZK-PBY also made some flights to nearby Ashburton and returned to base at Ardmore in mid-February.  Poor weather prevented the annual appearance at Napier's Art Deco weekend display but April 19th saw the Catalina Club mark ZK-PBY's 65th birthday.  For operational reasons, this was just a few weeks late but the anniversary was celebrated in style with a flight around Hauraki Gulf and a lunch stop at Tauranga to see a Catalina-related exhibit at the local aviation museum – see the next news item down!  Weather once again intervened and the Catalina was unable to get back to Ardmore that day.  It still has a few commitments for 2009 including some local flights out of Auckland, participation in a planned Queen's Birthday Weekend warbird event on May 30th and June 1st and water landings on Lake Taupo as part of the Catalina Club AGM in October.  Thanks to Lawrence Acket for this update.
Other news from New Zealand relates to what has been called for many years 'the hulk'.  Recently identified as the one-time US Navy PBY-5A BuAer48334, more recently N74821 and N9535C, the hull of this Catalina had moved around the world from Long Beach and Hemet in California to Ephrata in Washington before going to Auckland.  As previously reported in this column, the Catalina Group passed the hulk on to Classic Flyers at Tauranga in August 2007 after stripping it of useful spares for ZK-PBY.  At Tauranga, volunteers set to with initial focus on rebuilding the bow section which had been removed some years before in the USA.  Progress was rapid and by the end of Winter 2009 the entire hull had been tidied up and painted as a San Diego-based US Navy Catalina with the hull code '204'.  The project group had previously decided that no attempt would be made to obtain wings and a tail section to replace the missing originals.  Instead, the intention is that the hull will in due course become a 'walk in' exhibit once the interior has received further attention.  On Saturday, March 7th the hull was lifted and positioned on a raised stand inside the museum hangar at Tauranga.  This has been a superb example of a dedicated team taking a seemingly wrecked artefact and turning it into a really unusual and interesting exhibit.  Well done to all concerned.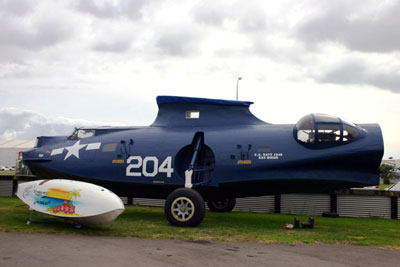 The former Catalina 'hulk' now nicely restored by Classic Flyers at Tauranga, New Zealand shortly before it was moved to its new display position inside their museum buildings.  The bow and blister turrets have been put back in position whilst the hull still retains the mounting fittings for JATO bottles.  In the foreground is a float from a Short flying boat
Photo: Andy Marden

At Tauranga's Classic Flyers Museum, the Catalina Group of New Zealand's PBY-5A hull has been restored in US Navy colours and is now mounted on a frame inside the hangars 'flying' over a couple of large Catalina scale models
Photo: Lawrence Acket
Closer to home (much closer for most of our readers!) is PBY-5A N423RS at Lee-on-the-Solent airfield in Hampshire.  Illustrated in our last bulletin, there was speculation from the team at Lee' at that time that it may have flown again after many years on the ground by February but by the end of April it was still ground-bound although had undergone successful engine runs and taxying trials.  There has been speculation for a long time too about ist new owner with various possibilities being suggested but Aeroplane reported in February that it had been acquired by an American concern 'PBY Aviation' although it is still currently registered to the Wells Fargo Bank.  Well-known vintage twin restorer Clive Edwards and his team have been working outdoors throughout the winter in poor weather conditions to ready 'RA for a flight to North Weald where more work will be carried out before a trans-Atlantic ferry flight at some as yet unspecified date.  I'll bring more news on this project when the Catalina has flown again.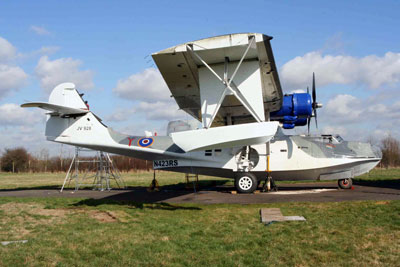 Work on PBY-5A N423RS to make it airworthy continues at Lee-on-the Solent in Hampshire.  Tom Singfield photographed it there a few weeks ago.
Elsewhere in Europe, the Spanish registered PBY-6A EC-FMC which has been in limbo at Ocana for some years since its fire fighting contracts expired has apparently been sold to David Pajus and will in due course fly off to a new home in Sweden.  A quick look at my files reveals that, some while ago, Mr Pajus was considering acquiring the Canadian-registered Catalina C-FPQM which had been due to fly across to Eire a couple of years ago until technical (and other?!) problems intervened and the project was scrapped at short notice.  Photos of EC-FMC would suggest that there is probably still much work to be done before it flies again.  This is one of three PBY-6As that, many years ago, had their tail areas converted to '5A standard in order for them to be operated in Canada.  Amazingly, all three have survived although EC-FMC is the only one likely to fly again.
At Cuatro Vientos in Madrid, PBY-6A EC-EVK is still firmly on the ground and showing no signs of going to Chile as had been rumoured some months ago.
The last snippet of European news comes from Orly, Paris where the genuine 'sub-sinker' Canso A C-FCRR is still being slowly worked on, mainly by Alain Maire, to get it flying.  Most of the effort is apparently devoted to paperwork, the airframe being in very sound condition even though it has not flown since 2000.  A few months ago, it became evident that it had been repainted with the US civil registrationN9767, a corruption of its original RCAF serial 9767.  This is in fact a reserved registration only, put aside by the FAA in June 2008.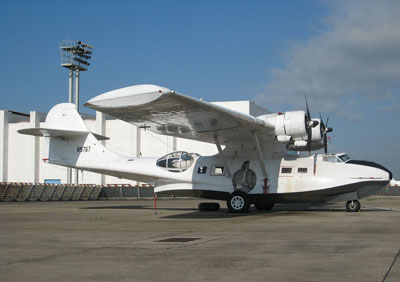 Paris-Orly resident Canso A C-FCRR has been painted with the US registration N9767 although this is as yet only a reserved identity
Airkalo.com
Now to the USA for the remaining news.  Once on the strength of the Paraguayan Air Force and used to fly Juan Domingo Perón out of Argentina and into exile, PBY-5A N96UC has been based with Kermit Weeks' Fantasy of Flight collection at Polk City, Florida for some time now.  On April 23rd, it was a featured exhibit at the Splash-In event for seaplanes held as part of the 35th Annual Sun 'n Fun Fly-In at Lakeland.  This year the Splash-In was held at the Fantasy of Flight site at Polk City and both the Catalina and Kermit's Grumman Duck were positioned lake-side for spectators although the PBY did not fly or get its bottom wet!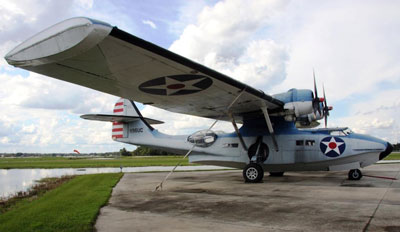 Painted in a pre-war US Navy scheme, Kermit Weeks' PBY-5A N96UC was 'shot' by Paul Chandler's camera in Florida a few months ago.
Up in the opposite corner of the USA at Ephrata in Washington State, the Wright Cyclone-powered Super Cat N9505C is still being worked on by its owners Flying Fox Air Service LLC in preparation for proposed operations from Fort Lauderdale and the Bahamas.  Plans took a knock when a principle investor suffered an accident and the resultant financial difficulties experienced by the project have slowed down progress somewhat.  There is much work to do with the airframe needing some corrosion treatment to the hull and the control surfaces requiring re-skinning.  Then there is the small matter of removing the internal water bombing tanks to allow the installation of seating!  The engines are thought to be in good condition based on the evidence of engine runs and inspection.  Flying Fox say they have exciting plans for the aircraft's interior including removal of one bulkhead and installation of a luxury accommodation but no doubt this will involve expensive official paperwork and clearances so it may be some time before the Bahamas sees a Catalina operating around its islands and cays.  According to the FAA register, N9505C is still registered to Comanche Air Inc of Okanagan, the previous owners.
Still in that north-west region, the PBY-5A N84857 located for some years at Bay View Airport, Skagit County, Washington has recently been moved.  It had been on a long rebuild by Alan Hodgkins after suffering severe bow damage in a ground accident in Montana.  Although the rebuild has been slow due to lack of finance, the outward appearance has reached quite a respectable stage with a nice US Navy paint job improving its looks considerably.  Now owned by Brooke Barnes this Catalina's past, and that of major components that have been used in the rebuild, have been marked by a degree of mystery and dispute and future plans for it are not particularly clear either.  However, the airframe has had to be moved away from the main airfield site and on March 1st it was transported less than a mile to a new home in the grounds of Atlas Van Lines which is right next to the airport.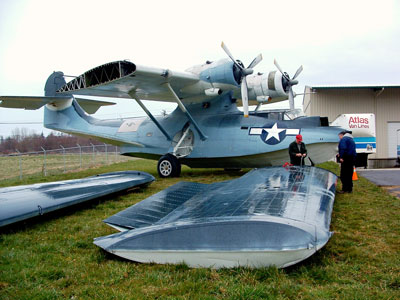 PBY-5A N84857 shortly after being moved to its new home at Atlas Van Lines premises in Bay View, Washington with owner Brooke Barnes on the left and engineer Alan Hodgkins on the right
Photo: Heijo Kuil
One of the news items in our last edition proved that PBYs and other restored aircraft are not always safe even when they are preserved indoors!  I reported that N68740, a one-time RCAF Canso A on display at the Lone Star Flight Museum at Galveston in Texas had suffered at the hands of Hurricane Ike in September 2008 when large quantities of flood water and mud surged through the hangar in which it was on display.  It fared better than many of the aircraft and artefacts around it.  Indeed, there was so much water in the hangar that, for a while, N68740 apparently floated although it stayed roughly in its display position with other aircraft including a Tiger Moth piled up against it!  In the immediate aftermath of the disaster, a lack of public works infrastructure naturally prevented clean-up work in and around the museum but as time passed damage assessment was possible.  The Cat' already had some corrosion issues anyway but now has various bumps and dents and a damaged bow turret, starboard wingtip float and elevator to add to its woes!  As time passed, it was also covered in filth and dust both from the original flooding and then the clean-up work around it.  Prior to the hurricane, the museum board's view was that the Catalina was a long way down the priority lost for further restoration and anti-corrosion work.  Given that it faired better than some other exhibits in the hurricane, perhaps it ought now to get a higher priority so that it can be displayed in good condition as soon a possible to start drawing crowds back into the museum?
Finally, another Catalina that suffered badly from weather was the airworthy PBY-6A N7179Y of the Commemorative, formerly Confederate, Air Force.  Way back on the night of May 30th/31st, 1998, very strong winds flipped it over onto its back whilst it was parked between hangars at Fleming Field, Minneapolis St Paul causing major damage to the wing, bow and tail.  It was later transported to Duluth and has been undergoing restoration there in the hands of the CAF's Lake Superior Squadron 101.  A while later, N7179Y's replacement, PBY-6A N324FA also went to Duluth for extensive overhaul after flying with the CAF for a few years.  The big decision has now been taken too build one airworthy PBY out of the two aircraft and this will be based on the advanced restoration of N7179Y and the wings of N342FA.  Work is proceeding apace with an open day at Duluth planned for June 6th.  The project team are now keeping me regularly updated and I plan a longer article on their progress in our next edition.