First a brief reminder that this column is taken with slight variations, from The Catalina News, the magazine received by paid-up members of The Catalina Society. The magazine itself is full of articles devoted to Catalinas past and present, military and commercial of which World Catalina News is just one.
The last few months have been extraordinary for the amount of PBY activity around the world.  Not only are a number of restoration projects proceeding but two aircraft have flown again after periods on the deck and one of these has accomplished a long, long delivery flight in order to start a new life in Australia.  Another has reached its future long-term home after a protracted delivery, albeit by sea, not air and yet another has been recovered from it remote crash site and will hopefully receive a new lease of life as a museum exhibit bin due course.
Let's start with the incredible ferry flight of PBY-6A N160AT from Portugal to Australia.  This is fact the aircraft featured elsewhere within this issue as the aircraft that Snr Roberto Parragué flew (as CC-CNP) from Chile to Tahiti and back in 1965.  Later it became a water bomber and flew as such in Chile, Spain and Portugal before being retired and stored at Seia in Portugal.  Acquired a while back by the Australian group The Catalina Flying Memorial Ltd, it encountered engine problems that kept it grounded for several months but eventually, on November 15th, it left Seia bound for Salamanca, Spain on the first leg of its long journey and it eventually arrived at Bankstown in Australia at 2.00 pm on Sunday, December 7th.  Incredibly, prior to landing at Bankstown, the crew were confident enough in their aircraft to carry out a water touchdown, skimming the surface of Lake Macquarie at Rathmines before continuing on!  Initially registered in Australia as VH-DUL, the intended marks of VH-CAT were later freed up but this registration was subsequently cancelled on September 4th and the ferry flight was made under the US registration N160AT, the quoted owner on the US Civil Aircraft Register being Nystrom Intenational of Blaine, Idaho to whom it was formerly registered on September 23rd.  This brief summary does not do justice to the effort put in by all concerned and the project will be the subject of a more detailed article in the May 2009 edition of The Catalina News magazine.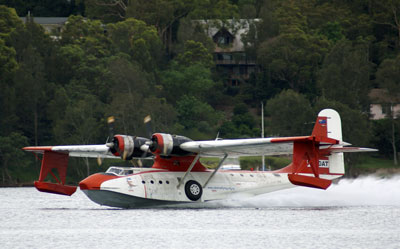 PBY-6A N160AT makes its triumphant 'splash down' on Lake Macquarie on December 7th toward the end of its ferry flight from Portugal
Photo: Mike Usher
Another Catalina taking to the air again after a long period on the ground is the San Diego-built, formerRCAF Canso A N206M.  Resident up in Greybull, Wyoming for some years, it had been intended to use it to search for the missing wreck of Amelia Earhart's aircraft in the Pacific but this came to naught although ongoing restoration work saw both blisters and an 'eyeball' type bow turret installed.  Put up for sale when it's owner died, N206M flew again in the Summer of 2008 and by September was based at Hulman Field, Terre Haute, Indiana for crew training.  Apparently, the final preparations for flight were carried out by one Dennis Eiler but the new owner is not seeking publicity for either his identity or future plans at this stage.  Great news that it is flying again though.
Not so fortunate is another San Diego former RCAF Canso A N68740 which has been exhibited under cover for some years at the Lone Star Museum of Flight, Galveston, Texas.  Being indoors, it would normally be safely assumed to have a secure future but that view did not take into account the terrible flooding that took place in the Galveston area during Hurricane Ike in mid-September 2008.   The hangarage there was badly damaged and the inward rush of water and mud had a terrible effect on the internal exhibits.  N68740 fared reasonably well but suffered damage nonetheless and will have to take its place in the restoration queue.  More news on its restoration when we have it.
Canso A C-FNJE came to grief on July 24th, 2001 in a water pick-up incident at a remote lake location near Inuvik, North West Territories, Canada whilst being operated by Buffalo Airways.  It remained submerged for some time although was eventually hauled ashore and some spares recovery took place.  Problems with land rights of the local indigenous population and the difficulty of reaching and working at the crash site meant that recovery seemed unlikely but, incredibly, the aircraft has recently been recovered and restoration is planned.  Again, more on this project in the May 2009 edition of The Catalina News.
Catalina N4760C was originally intended for the US Navy as a PBY-5A but was diverted to the USAAF instead as an OA-10.  Many years later it served as both a passenger carrying aircraft in, amongst other places, Alaska and then as a geophysical survey aircraft.  It was modified to have Super Cat Wright R-2600 Cyclone engines and eventually came to the end of it flying career in a crash in a Wisconsin field in March 1983.  After the hulk was moved around a bit, it ended up at the McChord Air Force Base Museum in Washington State where member Heijo Kuil recently viewed it.  He reports that it is now in USAAF markings as 44-34033 (not its original serial) and has had blisters and bow turret put back on as well as receiving a 'genuine' PBY-5A-style rudder in place of the Super Cat unit it had worn in its commercial career.  The interior of the hull has been pretty much stripped out and is quite empty.  The outer wings are being restored on the base and are yet to be fitted to the airframe.  They are not the original ones, the latter having been sawn off during the post-accident recovery operation.  Progress is slow but has progressed well over the years.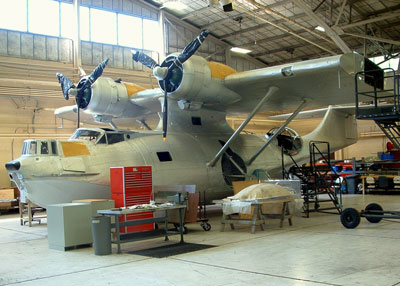 Work in progress on the McChord Air Force Base Museum's Catalina as seen by Heijo Kuil during 2008
Also to be found in Washington State in the north-west corner of the USA is the PBY-6A N85U which for many years has been used as a fire fighting water bomber by Flying Fireman Inc, an offshoot of the similarly named Canadian company, long since defunct.  N85U is in fact the last Catalina to be regularly used as a 'bomber anywhere in the world although its day as such much now be limited.  Again, Heijo sought it out recently and got some good photos of it at its Deer Park base.

A misty morning at Deer Park, Washington State finds PBY-6A N85U wrapped up against the cold and facing an uncertain future
Photo: Heijo Kuil
Much closer to home, it seems that PBY-5A N423RS, for many years ground-bound at Lee-on-the-Solent in Hampshire, may be on the move.  Work has been carried out by Clive Edwards recently to ready it for a delivery flight to North Weald in Essex pending further work and a ferry flight to new owners in the USA.  Indeed, it may be that it will have flown by the time this issue is delivered and you can be sure that I shall bring further news when it is available!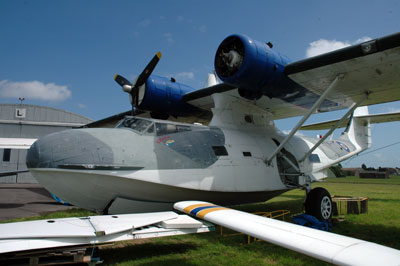 On the move soon?  Since being photographed in June 2008, PBY-5A N423RS had has a fair amount of work done to her at lee-on-the-Solent
Photo: David Legg
Finally, the PBY-6A N285RA, for so long a North Weald resident, has been re-sprayed after arriving at the IDFAF Museum at Hatzerin, Israel and being re-assembled a few months ago.  It has lost the orange water bombing livery of its one-time owner/operator Avalon Aviation of Ontario and it is now looking smart in the midnight blue colours carried by the three Catalinas operated by the IDFAF years ago although the new paint appears to have been applied straight on top of the old.  N285RA has been painted to represent the original IDFAF aircraft '3401'.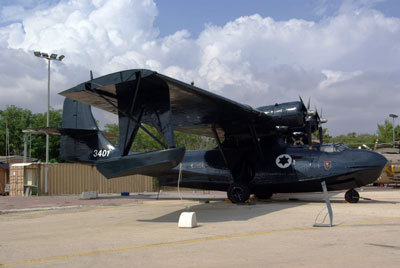 Out with the tatty orange colours and on with the shiny new midnight blue – PBY-6A N285RA/'3401' at Hatzerim, Israel in Autumn 2008
Photo: Stephen Wolf