In this latest round-up, I have added in a couple of extra items about Catalina relics and associated artefacts at the end. Perhaps the latter can become a more regular feature? But first an update on whole Catalinas around the world…
In France, C-FCRR continues to reside at Orly, Paris. Although 'RR has not flown now for some years, it has been very well looked after and hangared so remains in very good condition. My contact Alain Maire gave me an update at the end of last year and advised that, at that time, the freshly overhauled propellers had just been received back from San Antonio Propellers in Texas where they had been subject to some really splendid work. The owners also have a new -92 engine from Sun Air Parts in California. Some instruments are being overhauled at Otto Instruments, also in California whilst the radios, whilst not being replaced, are being worked on at a repair ship in the South of France. Carburettor, oil and hydraulic hoses and control surface cables have been renewed and the elevators and rudder had to be removed to allow for the repair of the tailcone and the rudder and elevator bearings have been replaced. At the same time, some attention has been given to the fabric and doping on the elevators and all control surfaces will be re-covered before the airframe is repainted. Some corrosion has been rectified and a broken shaft on the input wheel in the aileron trim box had to be replaced. On the port side, the aileron bellcrank bearing also had top be renewed. Currently, the airframe is a basic white colour scheme overall, the previous Air France colours having been removed. By March this year, the new port engine had been installed but ongoing work was somewhat restricted as the Orly hangarage has had to be vacated prior to demolition!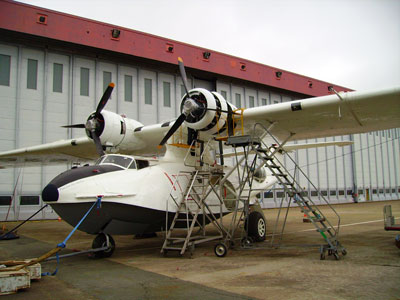 Former Canso A C-FCRR, now in a plain white colour scheme, being worked on in the open at Orly earlier this year.
Photo: Alain Maire
Now to a couple of 'wrecks' in Canada. Firstly, PBY-6A C-GFFJ. This came to grief at Jackson Lake, 25 miles north-east of Sioux Lookout on July 12th, 1981 whilst engaged in a water pick-up during fire fighting operations in the vicinity. At the time, it was being operated as Tanker 9 by the Canadian company Flying Fireman Ltd of Victoria, BC. Investigations subsequently proved that one of the pick up doors had opened during the run across the lake causing sudden deceleration and sinking. The wings and engines were wrenched from their fixings and the forward hull was wrecked although the crew survived. The rear hull was left on site and it was confirmed as recently as October last year that it is still there. C-GFFJ was originally US Navy Bu63996 and before being placed on the Canadian register was N6456C.
A much more recent accident occurred to the Canadian Catalina C-FNJE, originally a RCAF Canso A. One of the Buffalo Airways water bombing fleet, it sank in a lake near Inuvik, North West Territories on July 24th, 2001. Although nowhere nearly as badly damaged as C-GFFJ mentioned above, it was in an equally remote site in the Arctic Circle! Engines and some components were recovered but the airframe was left on site, with considerable wing damage. There was talk of recovery but, more recently, it was announced that the aircraft had been acquired by the Alberta Aviation Museum and plans were being put together to recover the aircraft. However, these plans have suffered a set-back because of issues that have arisen with the local indigenous people who own the land on which the lake and aircraft are situated.
Much more positive is the news surrounding the US-registered PBY-5A Catalina N9502C that had been in store since early-2002 in Midland, Perth, Western Australia. This Catalina had been intended for static display in a new museum beside the Swan River at Crawley Bay in Perth but this remains un-built and the Catalina had stayed in its covered accommodation, occasionally having its wraps removed. Recent good news was that the airframe was to be moved to the Aviation Heritage Museum of Western (managed by the RAAFA) in the Perth suburb of Bull Creek. This move was duly accomplished with the hull and three container loads of parts including wings, tail, engines moving on January 4th this year. Some re-arrangement of existing museum exhibits was carried out and by early-March, the Catalina was being re-assembled using two large lifting cranes and the expertise of a number of engineers, not least among them Bob Schneider who had been responsible for the original restoration in Texas. The Catalina is now on display in the 'top' hangar at Bull Creek, still in a US Navy colour scheme.
And another snippet of Australian news – actress Nicole Kidman is reported to be filming in Australia in June or July and will this will include footage of her arriving in Darwin harbour in a Catalina! Quite how that will be achieved is not known at present as Australia's sole airworthy Catalina, PBY-6A VH-PBZ has not been used on water for some time and the next nearest water-worthy one, former Canso A ZK-PBY, has not flown outside of New Zealand since it arrived there some years ago. More news when we have it, if it ever happens of course!
In our last edition, I reported that Cyclone-powered Super Cat N287 had been sold to a new owner for operation in South Africa. N287 is our cover star in this current edition and I can record that it was still active in the USA as recently as October last year when it appeared at a show at Jacksonville Naval Air Station in Florida, home to many a PBY in wartime. There is no further news of a move to Africa as yet.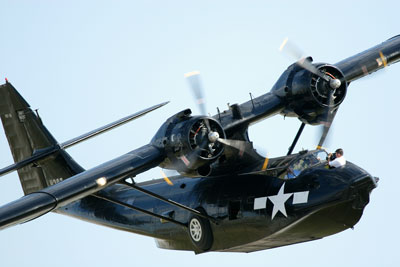 Super Catalina N287 with an intrepid photographer hanging on in the bow!.
Photo: Adam Haley
As mentioned in the introductory paragraph above, I am considering featuring, either in this column or in a stand-alone article or column, a round up of Catalina relics, memorials, pub signs, bits and pieces or trivia around the world. But this will depend on reader input! A project for someone perhaps! A start might be a list of all known memorials around the world. A number of these have featured in previous issues of The Catalina News but I have not compiled a list. There are also relics such as the Catalina blister frame to be found at Redhill airfield in Surry and illustrated in our last issue. For starters, my near neighbours Brenda and Gordon Wilkinson provided me with a photo of a somewhat battered Catalina propeller that they stumbled upon when visiting Darwin, Australia in May last year. The plaque mounted on the wall behind the prop' says: "This propeller blade was recovered from Darwin harbour 50 years after it was discarded during routine aircraft maintenance." The blade is actually located at the Aquascene Doctors Gully fish feeding complex at Larrakeyah, Northern Territory.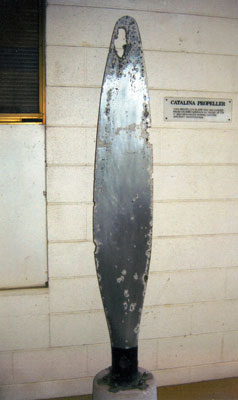 The Catalina propeller blade 'discovered' by Brenda and Gordon Wilkinson in Darwin.
And finally, and a little more offbeat, Roger Newark e-mailed me after visiting our society website to say that when he lived in North Mymms in Hertfordshire, there was a nearby hamlet called Water End and a bungalow there was called Catalina Field and had a 3D image of a Catalina incorporated in the nameboard. Local legend had it that the house was built after the Second World War by an ex-Catalina pilot. Is there anyone living locally that can get a photo or do some research on the background to the property name?
Previous Comments:
Han – 29 July, 2008
Hi,
Re: Catalina Field
I imagined there was a crash in the second part of the field behind the house. If you walk down the hill from a clump of trees/bushes there's a mini dell (where the crop doesn't grow well) which could have been caused by an impact. I guess there would be records of something that significant.