There is no imminent danger of this column being discontinued as the world's surviving population of Catalinas continues to generate news.  Indeed, two items in the last issue were out of date by the time they appeared so I start with updates related to those aircraft.  One word of explanation – when I describe the individual Catalinas and Cansos etc in these news items, I invariably use the designation that was assigned to the aircraft when it was built.  This provides a consistency of approach but it does not necessarily tally with the way that the aircraft is described by the authorities in the register of the country of registration.
Not long after the Dutch PBY-5A PH-PBY returned the airworthy Catalina population in Europe to two last year (I'm not counting N423RS at North Weald at present), the number was further increased to three when, on a snowy December 22nd, Canso A N9767 was ferried the short distance from its long-term home at Paris-Orly to its new base at Melun-Villaroche.  Following delays due to the adverse weather, N9767 was finally flown out of Orly at 13.00 hours UTC on December 22nd with Chris Gozzienne at the controls, assisted by L Blaise and B Therbault.  It had not previously flown for many years although it had been looked after well.  The project to return the aircraft to the skies was helped by well-known Catalina engineering specialist Mark Edwards/Air Venture Ltd and was in part necessitated by the need to vacate the airport at Orly.  The Canso, previously owned by Franklin Devaux, is currently registered to Southern Aircraft Consultancy Inc Trustee (a UK-based company that specialises in providing Individual Trust Agreements to non US citizens to enable them to legally register their aircraft on the American "N" register) but the aircraft is in fact owned by the Paris-based Catalina Air Trust.  Although the US registration N9767, based on its original RCAF serial 9767, had been reserved for sometime, it was only formally taken up on November 19th 2010 having been cancelled from the Canadian register (as C-FCRR) back in October 2005.  Although details are sparse, it has been announced that N9767 will be repainted in its original RCAF camouflage scheme and air display bookings will be sought.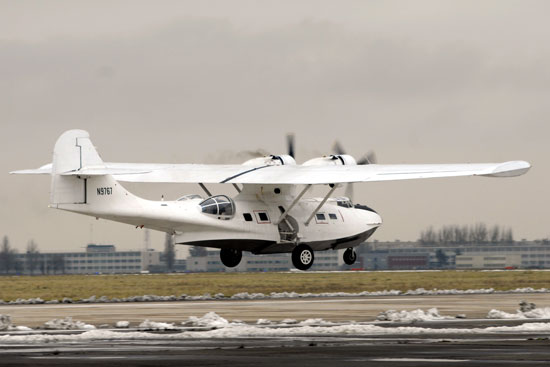 Photo: Jacques Guillem
N9767 gets airborne for the first time in many years from a snowy Orly's runway on December 22nd, destination Melun-Villaroche
Let us now swiftly cross the Atlantic and bring ourselves up to speed with happenings in North America, starting with Canada.  Whilst, as already mentioned, C-FUAW has taken up residence at Victoria on Vancouver Island, further up the island at Nanaimo, Canso A C-FNJB is still located whilst awaiting its transfer to Oregon as reported in our last issue.
Further east, at Fairview, Alberta, The Canso Crew, under the auspices of The Fairview Aircraft Restoration Society (FARS), continues to make great progress on the rebuild of the former water bombingCanso A C-FNJE that came to grief in the North West Territories whilst carrying out a water pick-up back in 2001 (the story of its epic recovery was told in some detail in The Catalina News, Issue 71).  FARS, a non-profit organisation, has been formed to be the operating wing of the Canso.  FARS will coordinate the restorations of the Canso, raise funds to rebuild the aircraft, provide hangar space and, in the future, organize and provide demonstrations at airshows and community events to allow school children and the general public to share in a part of Canada's rich history.  The organisation's website at www.savethecanso.com is a great source of information and photographic coverage related to this incredible project.  Of interest to those who track Catalina survivors is the news that The Canso Crew has recently acquired from Steve Butler of Victoria, BC some of the spares held for many years by Ray Williams of Catalina Aero Services at Nanaimo.  These spares formed part of the package that went with C-FNJB referred to above but not now required for that project.  Don Wieben from The Canso Crew recently trekked out to Sioux Lookout, Ontario with some of his family to inspect the wreck of PBY-6A C-GFFJ but reports that there is little of any use there now.  This Catalina came to grief there way back in July, 1981.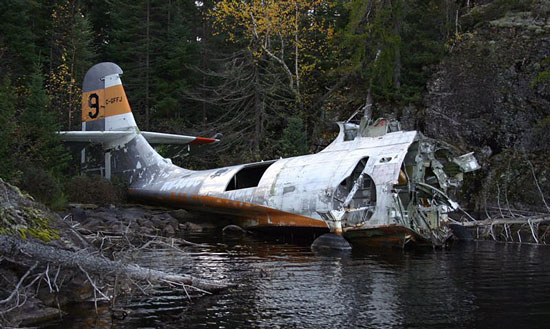 Photo: Mark Stachowiak
The wreckage of PBY-6A C-GFFJ at Sioux Lookout, Ontario as recently visited by Don Wieben of The Canso Crew
More Canadian news concerns the Canadian Warplane Heritage (CWH) Canso A C-FPQL at Mount Hope, Hamilton International Airport, Ontario.  It will be flying a small number of shows this year and, at the CWH's own air display in mid-June, possibly repeating last year's Victoria Cross Flight sequence along with the CWH Lancaster and a Corsair.  However, all flights will be restricted to essential crew only and no fare paying passenger flights will be allowed until a new emergency exit is installed in the forward hull.  Current plans are for a recently acquired bow turret to be installed on C-FPQL once the 2011 season is over.  This turret came from the Fighter Factory at Virginia Beach, Virginia and is currently 'sitting' in place on the hull of RCAF Canso A 9825 which, as reported in our last issue, arrived at Mount Hope from Campbellford in Ontario last August.  That airframe will donate some turret fittings to C-FPQL in due course.  The turret that came with 9825 is not original but a well made copy using original components and thus not really suitable for 'QL.  It will probably find its way back to 9825 in due course when a decision on the future of that hull is made.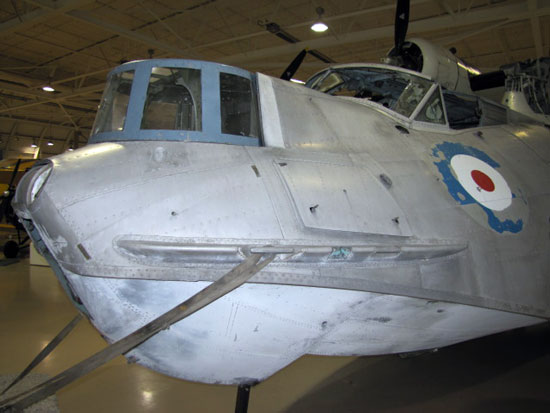 Photo: Bob Patullo
The hull of Canso A 9825 indoors at the Canadian Warplane Heritage base at Mount Hope complete with the bow turret formerly installed on PBY-5A Catalina N9521C in Virginia
Mention of The Fighter Factory brings us to their PBY-5A Catalina N9521C, once a temporary resident at North Weald in Essex (no, not the orange one!).  This Catalina was ferried to Sky Harbour Aircraft of Goderich, Ontario in Canada during October 2010 for a total strip down and re-spray.  After removal of the existing paint scheme, some significant corrosion was found and this had to be rectified before the new colour scheme could be applied but this was well under way by the beginning of 2011 and the work was virtually complete by mid-February.  Due to poor weather conditions, N9521C did not return to Virginia Beach until March 29th when despite there being plenty of snow on the ground, the sky was gin clear.  The team at Goderich have used a semi-gloss clear finish to tone down the shine and the result looks very convincing, certainly better than the previous scheme.  The hull now sports an 'eyeball' type bow turret rather than the flat top version it had been flying with for some time, this work having been carried out by The Fighter Factory sometime before it went to Ontario for painting.  My guess is that the latter unit is the one now with the CWH at Mount Hope although this is not confirmed.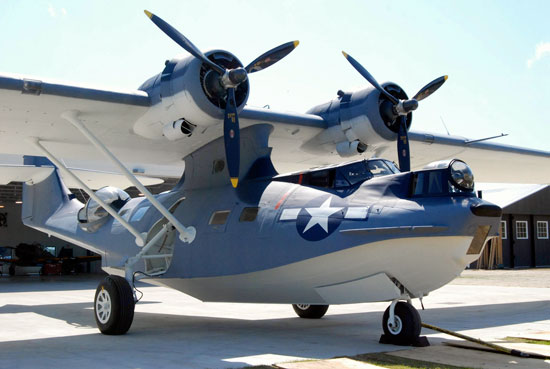 Photo: Felix Usis

Back at Virginia Beach after being re-sprayed at Goderich, Ontario N9521C shows off its superb new US Navy livery
Charlie Clements' well-known PBY-5A Catalina N287 was reported as being bound for new owners for operation in Borneo a year or so back but this does not seem to have materialised and it is now being advertised for sale by Courtesy Aircraft Sales of Rockford, Illinois.  It is currently (early-April) on the market at $299,000 having been reduced from $325,000.  The marketing details quote airframe hours of 10,960 and engine hours of around 360 since the last major overhaul (they are Wright Cyclones of 1,700 hp each, N287 being a so-called 'Super Cat' conversion).  This Catalina is Standard Airworthiness Certified and can carry up to 22 passengers although it is not clear from the broker's website if the appropriate seating is installed.  In recent times, the post-war cargo doors in the rear hull have been replaced by clear plexiglass one-piece blisters similar to the ones installed on our own Catalina at Duxford.  More news on this when we get it.
Another 'Super Cat' conversion is PBY-5A N31235.  Once part of the fleet owned by SLAFCO at Moses Lake, Wa. it was acquired by the Palm Springs Air Museum in California but according to museum staff it seems unlikely that it will fly again, at least for the foreseeable future.  They cite corrosion and some structural damage caused by a lifting operation some years ago as the reasons for it being ground-bound at present although some upgrading of electrical systems has been carried out recently and the museum website still lists N31235 as airworthy.
Up in the north-west corner of the USA, the Whidbey Island-based PBY Memorial Foundation's PBY-5A N84857 has had its wings put back in place.  Since arriving at Whidbey Island from Skagit County Airport as an underslung load beneath a helicopter in June 2010, it has been sitting with its outer wing panels detached but, on Thursday, November 4th they were carefully put back in place by a crew from the Foundation, aided by personnel from Whidbey Island Naval Air Station's Maritime Expeditionary Security Squadron 9.  It is now externally complete but until such time as funds for hangarage can be raised, it will have to live outside in the open.  Will Stein, the Foundation's restoration team chief was recently quoted by a reporter for the Whidbey News Times as saying that the Catalina is in great shape and could easily be made airworthy.
The US Federal Aviation Authority seems to have been doing some housekeeping and recently cancelled the registration for PBY-5A Catalina N1279N in the week ending December 3rd 2010.  This Catalina was built as constructors number 1743 and served with the US Navy as BuAer 48381 before going on the commercial market.  It was part of the Intercoastal Aircraft Inc fleet in Seattle for many years but was almost certainly out of use by 1970.  It seems that the official paperwork has only just caught up with its retirement!
And now for some of my own tidying up!  Sadly, it seems that some Catalinas that I have been listing as 'survivors' both in my own records and on the appropriate section within the Catalina Society website now need to be reviewed.  Firstly, the wreckage of PBY-6A N2886D that had been stored for many years at Ephrata, Washington State following its catastrophic and fatal accident at Northport in the same State in July 1985 has now been 'parted out' and any remaining tenuous link to being a survivor must now be ended.  The good news is that what was left has been separated into two lots of components with one set recently going to Australia for use in the restoration of the former RAAF PBY-5A(M) A24-88 at the Australian National Aviation Museum at Moorabbin, Melbourne, Victoria.  The two 40 ft container loads included the wings and damaged centre section, floats, ailerons, tailplane, elevators, fin and rudder and some parts from the rear hull.  The second set included smaller parts and miscellaneous spares and these have now gone to the Pima Air & Space Museum at Tucson, Arizona for use in its static Catalina restoration project.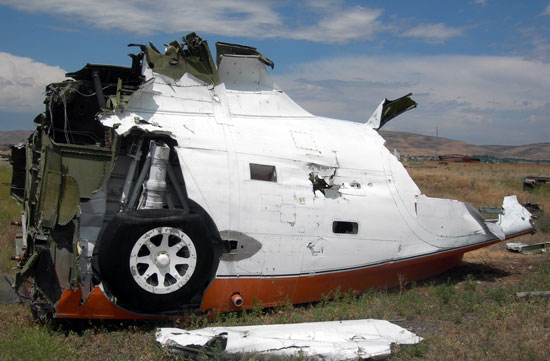 via Mark Pilkington
The shattered remains of PBY-6A N2886D at Ephrata, Wa. in 2006.  All usable components have now been dispersed to museum projects and it can no longer be considered a 'survivor'
Meanwhile at Pima, the hull of the former Confederate/Commemorative Air Force PBY-5A Catalina N68756 is to be used in that same restoration project but the wings remained in Texas and never went to Tucson.  They have now been dismantled and shipped to the A24-88 project at Moorabbin mentioned above.  As A24-88 had lost its wings many years ago, probably when it was converted to a houseboat, the arrival of parts from N2886D and N68756 has got to be good news.  For the time being, I will count N68756 as a survivor at Tucson until such time as it is subsumed into the composite airframe that one day will emerge from their spares holding.
Another Catalina to be removed from the survivors list must now be PBY-5A N6473C which at one time was stored in the Fort Worth, Texas area.  This was always something of a questionable entry on the list and as nothing has been heard of it for many years it seems appropriate to delete it.
Further south, the next Catalina likely to be a candidate for extinction is the PBY-5A YV-584CP at Puerto Ordaz in Venezuela.  It has been there for a long time and its condition has gradually deteriorated but it seems to have been moved to a different part of the airfield along with other redundant airliners and at least some of these have been broken up.  As YV-584CP is semi-derelict judging by recent photos, it looks as if its days are numbered.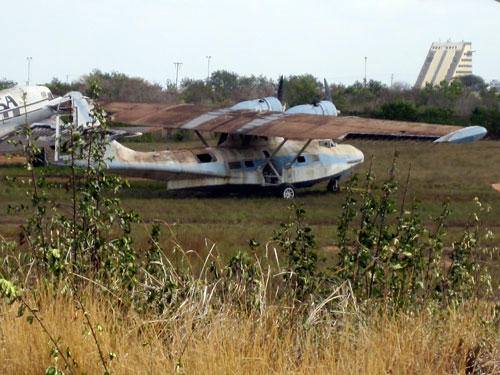 Photo: Curtis/Canso07

Days seem numbered for PBY-5A YV-584CP at Puerto Ordaz in Venezuela now that it has been moved to the airport's scrapping area as this 'over the hedge' shot taken a few months ago shows
From South America to South Africa and former RCAF Canso A N427CV which remains on a slow rebuild to airworthy condition at Rand.  Progress seems to have come to a standstill in fact although, as our front cover photo shows, it looks pretty fine if you ignore the rather spurious colour scheme!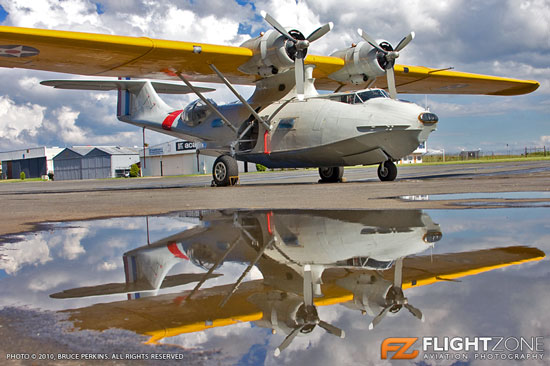 Photo: Bruce Perkins/Flightzone Aviation Photography
Once a Royal Canadian Air Force Canso A, N427CV sits behind its reflection at Rand, South Africa where it is undergoing a long-term restoration to flying condition
Finally, we travel to Australia where the two former Chilean PBY-6As VH-CAT and VH-PBZ have been in the news for very different reasons.  Both of these aircraft spent several years in Spain and Portugal as water bombers and were eventually acquired by Australian organisations.  VH-CAT has not flown since arriving down under but is being worked on by an enthusiastic team from the Catalina Flying Memorial Ltd (CMFL) at Bankstown.  As is often the case, fund raising is important and my Chilean contact Álvaro Roberto alerted me to the fact that CMFL were auctioning Spanish language signage from VH-CAT after it had been replaced by English language versions.  Thus a NO FUMAR sign from inside the hull sold on eBay for A$51.  Every little helps!  Meanwhile, VH-PBZ/'A24-362′ of the Historic Aircraft Restoration Society at Illawarra, NSW goes from strength to strength.  As reported here previously, the airframe now has both original bow and blister turrets in place.  The support structure for the bow turret came from the project team at Pima, Tucson whilst the turret itself was an 'unused' example that came from Canada with the assistance of the Moorabbin Aviation Museum.  On March 7th this year a real landmark was reached when VH-PBZ was flown to the famous inland Lake Boga, a former wartime Catalina base.  On that day, touch and go landings were carried out and on the following day the crew made a full stop landing on the lake, the first time a Catalina has done so since the late-1940s.  This historic event came just days after VH-PBZ was awarded the prize for Best Multi-engined Warbird at the Avalon Airshow.