By the time I had finished the May 2007 edition, I was beginning to think that Catalina happenings around the world were starting to quieten down a little. How wrong could I be! If anything, activity seems to have moved up a gear, in particular in the Antipodes so let's start by going down-under…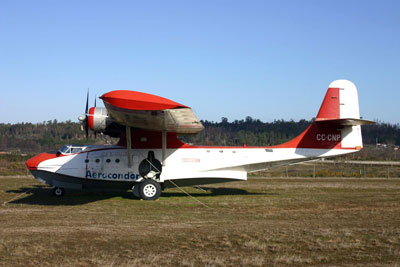 PBY-6A CC-CNP, seen here at Seia, Portugal in February 2006, is set to fly to Australia soon to begin a new life as VH-CAT
Photo: Andy Marden
As mentioned in our last issue, the PBY-5A N9502C is now on full public display at the Aviation Heritage Museum of Western Australia at Bull Creek. It is somewhat shoe-horned into the museum but is under cover and looks great in a full US Navy colour scheme.
Conversely, the former RAAF PBY-5 Catalina A24-46 is no longer on display at the Whaleworld Museum in Albany, Western Australia. It was apparently auctioned after the death of the museum's owner John Bell but a possible sale to a European owner did not proceed or, possibly, was never more than a rumour. I have it on good authority that it is remaining in Australia but its new owner and eventual location have not been revealed. It seems most likely that the Catalina is in fact still stored at the Albany site at present. Meanwhile, an unspecified party in Australia is known to be scouring the world for a PBY static restoration project. The PBY-5A N68756 in storage at Brownsville, Texas has been considered but it is deemed too far gone to be suitable.
At Moorabbin's Australian National Aviation Museum, work continues on restoring the hull of the one-timeRAAF PBY-5A(M) Catalina A24-88, until recently still configured as a post-war houseboat conversion! I will bring more news of this together with photos in our next issue.
Still in Australia is VH-EXG, once a RCAF Canso A but later converted to a commercial water bomber and survey aircraft with Cyclone R-2600 engines of 1,700 hp each. Work on this restored airframe at the RAAF Museum, Point Cook, Melbourne has slowed but the complete hull stands on its wheels, jam packed into its hangar. The de-skinned wings are elsewhere on the base but there are no plans to put them back on the airframe any time soon, mainly because of space limitations.
Across the water in New Zealand, the Catalina Group of New Zealand's ex-RCAF Canso A ZK-PBY remains very active. Shortly after purchasing ZK-PBY in Zimbabwe, the group also acquired a stripped and unconverted Catalina hull at auction in the USA. This had previously been stored at Hemet in California before journeying north to Ephrata in Washington State. After sale to the Kiwis, this unidentified hull was freighted from Ephrata to Ardmore airport in New Zealand's Auckland where it was intended as a spares source for ZK-PBY. It remained stored in the open at Ardmore but on August 1st this year it was roaded to Tauranga, home of Classic Flyers, arriving at its new home at 4.30 pm. The intention is to restore the hull as a static exhibit complete with appropriate interior equipment. Within days, museum volunteers had already started cleaning up the airframe and carrying out initial work.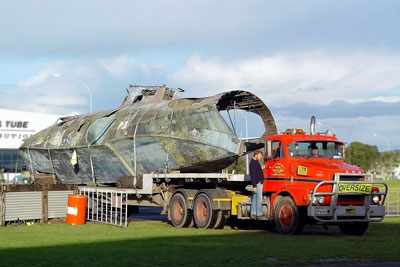 The PBY hulk from Ardmore arrives at Tauranga on a low-loader on August 1st
Photo: Glenn Johnston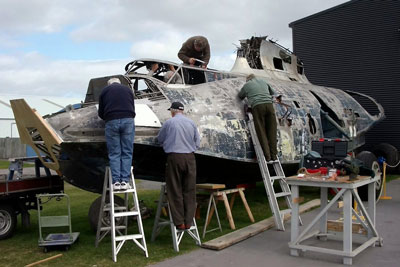 On August 29th, Glenn Johnston caught several Tauranga volunteers hard at work on their new acquisition. Note the newly-fabricated bow turret structure.
Now some news on the 'fleet' of assorted Catalinas that were resident at Moses Lake, Washington State for many years. Owned by the water bombing company SLAFCO, most remained in storage as 'spares', although two were kept airworthy on fire fighting contracts on a regular basis. In all, there were five complete Catalinas at Moses Lake together with two substantial hulks at nearby Ephrata where SLAFCO's spares stash was kept. Now only PBY-6A N9825Z remains at Moses Lake, being worked on by owner Frederick Peterson. This was the last PBY-6A to be built. Of the two hulks, one of them is now in New Zealand as mentioned above. The other was the remains of PBY-6A N2886D that had crashed some years ago and that has now been scrapped. Cyclone-equipped Super Cat N9505C flew out of Moses Lake a couple of years ago and is resident at Ephrata with new owners.
The former Canadian-registered OA-10A Catalina C-GFFC kept un-flown at Moses Lake for some time is now resident at Sanford, Maine as recorded in our January 2007 edition. On July 13th, the US registrationN483CV was reserved for it with the quoted construction number (c/n) of '013'. The latter identity has been used in connection with this Catalina for many years although its relevance is not fully understood and it bears no relation to a conventional Catalina c/n. Nonetheless, having been recorded in official paperwork, it has stuck and remains the recorded identity for it. The 'real' identity of this aircraft is c/nCV-483 thus explaining the new US registration which is clearly based upon it. It was originally a USAAF OA-10A, serial 44-33972 and was built by Canadian Vickers at Cartierville, Quebec. As at the end of August, the FAA register still showed N483CV as a reservation only and with no quoted owner. More news on this when it is available.
Like C-GFFC above, the Wright Cyclone-powered Super Cat N2763A also spent many years in open storage with the SLAFCO water bombing fleet at Moses Lake in Washington State, one wing painted in US military markings, a left-over from some film work. A while back, N2763A was acquired by the Yanks Air Museum of Chino, California. The original plan was to fly it out of Moses Lake but, despite preparatory work, the decision was made to dismantle it instead and truck it south. The journey occurred this summer and the Cat is now stored at Chino in large components. It is unlikely to be restored for a while yet apparently. N2763A was originally built for the USAAF but was later transferred to the US Navy with the serial BuAer 21232.
The biggest news from Moses Lake however is the departure by air of our 'cover star' Super Cat N31235. Joseph Scheil had been keeping the Editor up-to-date with progress towards test flights which occurred in July and, on July 31st, '35 arrived at its new home at Palm Springs in California where it joins the Palm Springs Air Museum.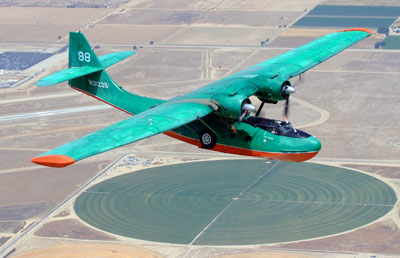 A typically fine Michael O'Leary air-to-air, on this occasion capturing Super Cat N31235 en route to its new home at Palm Springs on July 31st.
Up at Greybull, Wyoming work was proceeding well on the restoration of Consolidated-built Canso A N206M until the recent death of its owner. The hull had had bow turret and both blisters re-installed but the project is now up for sale. The FAA register records the current owner as PBY-5A-427 LLC of Cody, Wyoming, the '427' being a reference to its original construction number…..
And lastly to Europe! The PBY-6A N285RA has shown signs of continuing its interrupted journey to the air force museum in Israel. Stranded at Beauvais north of Paris for some time after a ferry flight from North Weald to Israel had to be abandoned because of engine trouble, the PBY was dismantled in July and sectioned for onward delivery by truck and ship via Le Havre. The work was carried out using engineers from IAI (Israel Aircraft Industries). So, after being resident, but rarely flown, in Europe since the early-1980s, N285RA looked as if it was going to get to its new home and, hopefully, a secure future. But, as has usually been the case with this PBY, plans did not work out and an early departure from Beauvais did not occur! As at the beginning of September, it was still lying dismantled on the French airfield awaiting its fate! The IDFAF (Israeli Defence Force Air Force) operated three Catalinas in the 1950s hence the desire to have a representative of the type in the museum at Hatzerim.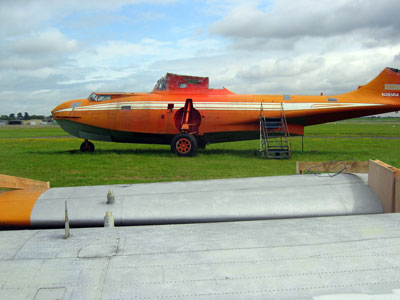 The dismantled PBY-6A N285RA at Beauvais in July awaits the next stage in its chequered career. When will it finally reach Israel?
via Alain Maire

Meanwhile, the rumour machine reports that there is interest in Scandinavia in acquiring an airworthy Catalina with both Danish and Swedish individuals looking at the second-hand market. It has also been rumoured that Sweden was to be the new operating base for the two Spanish registered Catalinas EC-EVK and EC-FMC that have been for sale for some time. Developments, if there are any, are awaited with interest! The two Cats concerned, both fire fighting equipped, are also rumoured to have been sold to a South American company!
Previous Comments:
richb – 20 November, 2007
Hi just been to albany and although i didnt know about A24-46 before reading about it here I didnt see anywhere on site where they could store a Cat (in one bit). The Cat at Bull Creek looks fantastic – great restoration