There is still no shortage of news to bring you on the world of surviving Catalinas – indeed, as I put together the items for this latest review, even I was surprised at how much was going on!
There has been some further movement involving two North American PBYs that featured in our last review in September 2006. Firstly, 'OA-10A' C-GFFC has been on the move. This had spent some considerable time in storage with the fire fighting company SLAFCO at Moses Lake in Washington State. As reported in September, it had been flown up to Red Deer, Alberta after acquisition by Buffalo Airways although, at present, I do not know the transit date. On October 31st last year, it was cancelled from the Canadian register upon sale to the USA although no US marks or its new owner are yet known. Prior to cancellation, it was ferried to a new home at Sanford, Maine where it will be restored for new owner Jim Knowles. Part of the project will be to re-install blisters and bow turret although the latter is a long-term goal at present. Just after arrival at Sanford, it was hangared and temporarily decked out in Halloween-style trappings at the end of October for the enjoyment of the new owners and their families! The designation OA-10A above is in inverted commas as there is real doubt about this normally quoted identity. It is officially registered with the construction number '013' which is not a 'real' Catalina c/n and is usually also quoted as CV-483 which was a Canadian Vickers-built USAAF OA-10A, serial 44-33972, reportedly scrapped. It seems likely that some 'creative paperwork' by a post-war conversion company was responsible for the confused pedigree of this Cat and the real identity may never be known!
Former RCAF Canso A C-FPQM Vintage Lady, also reported on in our last issue and another former Buffalo Airways machine, has flown away from its base at Yellowknife, NWT to Gander in Newfoundland. Ron Dawe advises that owner Patrick White currently plans to fly 'QM from the Bay of Exploits in Newfoundland to Foynes in Southern Ireland over the period 5th-6th July this year. The arrival with due celebration will be on the Shannon River and a ramp is being built to facilitate beaching for display and viewing. Vintage Lady will remain at Foynes for approximately three weeks and then return to Newfoundland for further festivities in Botwood, Norris Arm and Gander. A limited number of aircrew positions will be available on the trans-Atlantic trips on a fee-paying basis. All of these activities are being arranged to celebrate the 70th anniversary of the first experimental commercial Atlantic crossing. Further details may be found on the website www.flyingboatfestival.ca.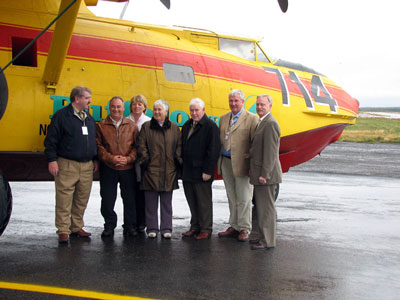 Canso A C-FPQM and owner Patrick White second from left with a party of visitors from the Foynes Flying Boat Museum. It will be visiting Ireland in 2007
Photo: Ron Dawe
A third Catalina with Buffalo connections is former Canso A C-FNJE. This was operated in the fire fighting role by Buffalo but suffered an accident on July 24th, 2001 when it sank during a water pick-up at Sitidgi, Inuvik, North West Territories. It is now known that the airframe was later retrieved from the lake and photos show it beached on the water's edge minus engines and with a badly damaged starboard wingtip. When this salvage took place and what happened to the substantially intact airframe afterwards are not clear. Buffalo personnel have not responded to e-mail enquiries! Can any reader comment?
Well-known American warbird operator and restorer Kermit Weeks has owned a dismantled Catalina for some years. PBY-5A N3936A was acquired from the the Connecticut Aeronautical Historical Society back in 1989 and the airframe has been stored at Polk City, Florida since. Now, Kermit has acquired the airworthy PBY-5A N96UC. This aircraft has been a Florida resident for some time and it is hoped that Kermit will keep it airworthy. It is painted in pseudo-US Navy colours and is notable for being the Catalina that flew the Argentine President Juan Peron into exile in Paraguay in October 1955.
To the best of my knowledge, there is now only one active Catalina water bomber in North America and, indeed, it may now be the only one in the world although others are still equipped with tanks. The solitary bomber is PBY-6A N85U and it was involved in fighting a conflagration at Bisbee Mountain near the Columbia River's Kettle Falls in Washington State as recently as last September. N85U is operated by Flying Fireman Inc.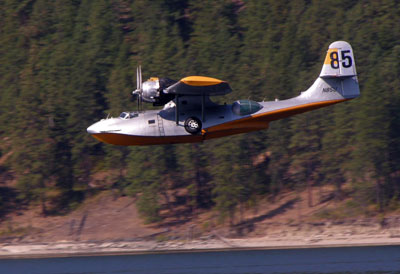 PBY-6A N85U in action in Washington State during September 2006
Another airworthy PBY-6A in the USA is N7057C. For some years, this was active with the National Warplane Museum at Geneseo, New York and it moved with them when the museum relocated to Elmira-Corning although it was then grounded for lack of funds. N7057C has now been acquired by the American Airpower Museum at Republic Field, Farmingdale, New York and it flew to its new home on November 3rd last year.
In our last issue, I wrote a report on the Catalinas that have been operated by the Commemorative (formerly Confederate) Air Force (CAF). No sooner had the issue closed for press than I received a report from Rob Tracz giving an update on their two PBYs based at Duluth, Minnesota. The airworthy PBY-6A N324FA has been paint-stripped and is undergoing overhaul under cover in the Southern Minnesota Wing's hangar. No doubt it will emerge in a new colour scheme in due course. The other PBY-6A, N7179Y, is also being worked on indoors after the severe gale damage that was inflicted upon it back in May 1998. This work is likely to be long-term and it is not known if there are plans to fly it again but at least my description of it being 'destroyed' in the last issue now seem to be ill-founded.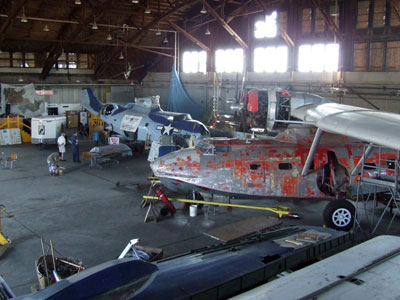 PBY-6As N324FA (foreground) and N7179Y undergoing maintenance inside the CAF hangar at Duluth recently.
Photo: Rob Tracz
A third CAF Catalina was PBY-5A N68756 and this was reported to have been scrapped at Brownsville, Texas in the Summer of 2006. Happily, there seems to have been a last minute reprieve as the airframe, minus some parts that had been moved to the CAF facility at Alice, Texas, were put up for auction by the airport authorities at Brownsville. Lone Star Online duly auctioned the items as 'scrap airplane parts' at the end of November and they were acquired by Mark Pilkington who successfully bid just over US$4,000, sight unseen, from Australia! Mark's first priority was to move the dismantled airframe away from Brownsville. Thereafter, his intention is to eventually move it to Australia for static restoration if financially viable failing which he will look for a museum site in the USA for it. Mark is also involved with the restoration of the ex-RAAF Catalina A24-88 at Moorabbin but the two projects are not connected. It is good news that N68756 has been saved from total scrapping and it is to be hoped that one day it will be restored.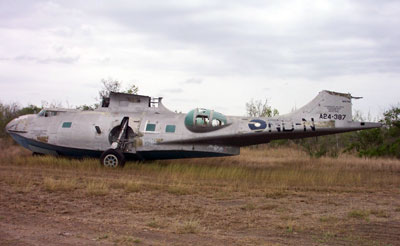 The former CAF PBY-5A N68756 out to grass at Brownsville, Tx. before it was auctioned on the Autumn of 2006
Photo: Larry Reece
The above item and its Australian connection segues nicely into the next bit of news which concerns the dismantled PBY-5A N9502C, currently stored in Perth, WA. This aircraft was intended for a new museum to be built in Crawley on the Swan River but Eric McKay reports that this project now seems to have been shelved, possibly through lack of finance. Eric reported that the Catalina was to be moved to the RAAF heritage museum at Bullcreek, a suburb of Perth, during January 2007 where it will be re-assembled and put on display and this mopve duly took place. Sounds like a very satisfactory outcome and we'll bring you an update and photos in our next review.
Now two items that relate to Catalinas much closer to home, at least for most of us. PBY-6A N285RA has undergone an enforced period of open storage at Beauvais, north of Paris, France since it made a precautionary landing there with engine problems during a ferry flight from North Weald to Israel. This was back in May 2004 and despite attempts to get it airworthy again, the Cat has remained firmly earthbound and has suffered some gale damage over the intervening two years or so. Former owner Bob Reid provided an update a few weeks ago as follows: "Sadly, it looks as if IAFA, the new owners, have given up on flying the PBY out. When John Gasho and I left the aircraft in France, we secured it using heavy duty cables and control locks to avoid further wind damage. The aircraft was ready to fly and I believe it could have made the trip to Tel Aviv but the greatest obstacle was lack of funds. I had put a large sum of my personal cash into the project but 'outside forces' decided it was not safe. There is still a chance that a benefactor could come through and, at this point, the most expensive items would be the recovering of the wing trailing edges and a prop inspection. An annual inspection would also be required from an FAA qualified engineer. The engines had been running great and everything else worked as well as could be expected".
The other complete Catalina in France is C-FCRR which has been lovingly hangared at Orly, Paris since the year 2000. In that time it has not flown and I have previously described it as Europe's best kept Catalina secret! According to Alain Maire, this Cat has been undergoing maintenance over the last few months including a comprehensive 400 hour inspection, the replacement of the port engine for a new -92 model, installation of new engine and hydraulic hoses, overhauling of props, repairs to cockpit glazing and window seals as well as fuel tanks and work on the avionics. The aircraft has been diagnosed as being in very good shape with no corrosion and few problems despite many flying hours on trips to Africa and South America in the 1990s. The airframe has now been resprayed in an overall white scheme, replacing the former Air France colours it wore on its return flight to South America a few years ago but perhaps we can expect a further change soon?
Breaking news as this issue closed for press – Charlie Clements has apparently sold his airworthy Cyclone-powered Super Cat N287 to a South African owner. More news on this in our next edition.