There is still plenty going on in the world of surviving Catalinas to report in our regular round-up of news. This latest offering has been adapted from the September 2006 edition of The Catalina News.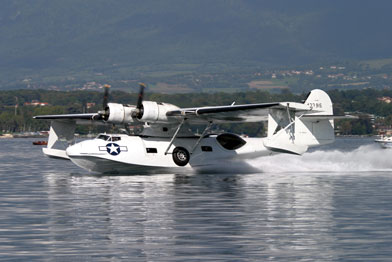 Fabulous shot of G-PBYA operating from Lake Geneva in October 2006
Christian Bechir
Our own Plane Sailing Catalina G-PBYA finished the 2006 air show season with a week-long visit toGeneva in Switzerland during the first week of October. It was booked to star in the static aircraft park at the Geneva Classics exhibition held at the Palexpo exhibition centre adjacent to Geneva's airport. Although the exhibition was primarily for classic automobiles, the discerning visitors and press were very interested indeed in our beautiful Catalina and there was a constant stream of admirers, not least because it was the only aircraft present to have a support crew in attendance to meet and greet the public throughout the press day and three day show.
The other reason for such interest was that the Cat performed four water landings on Lake Geneva during the run up to the exhibition, the first time that a flying boat had landed on the lake since 1948! The crew were treated like conquering heroes and a great time was had by all! A full report will be included in the January 2007 edition of The Catalina News.
---

Now for some bad news! The long dormant Commemorative Air Force PBY-5A Catalina N68756 has apparently succumbed to the scrapman after efforts to move it away from the airfield at Brownsville in Texas failed. The airfield owners wanted to evict it with the threat of scrapping if that was not done by a fixed date. If any reader can provide confirmation of this or further detail, please do contact the author.
The world's oldest airworthy Catalina is PBY-5A PH-PBY operated by the Stichting Neptune Association from Lelystad in Holland. Based in the Netherlands since May 1995, this Catalina had spent a number of years on the ground, partly due to financial problems experienced by its first Dutch owners CatAir and then by the extensive overhaul that it underwent at Valkenburg after the Neptune Association took it on. It took to the air again in August 2004 and 2006 has seen it taking part in air shows and pleasure flight work. It was a notable participant at Duxford's 2006 Flying Legends display when it flew in the show together with our own Plane Sailing Catalina. This was not PH-PBY's first visit to Duxford as it had attended Flying Legends before and was flown in a very loose formation with Plane Sailing's old Catalina VP-BPS back in 1997. A four-page illustrated article on PH-PBY and its operators appeared in the September 2006 edition of Aeroplane.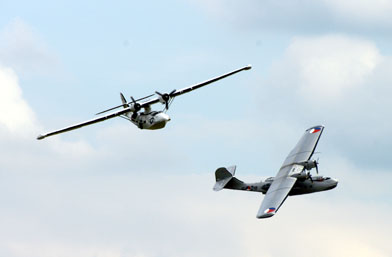 Playful Cats – G-PBYA and PH-PBY (background) cavort at Flying Legends, Duxford, July 2006
Tom Zuijdwegt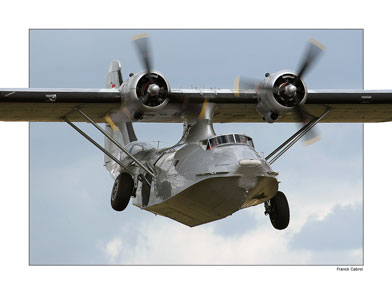 Superb shot of PH-PBY climbing away from Duxford at Flying Legends 2006
Franck Cabrol

I recently mentioned that the restoration of Chilean Catalina CC-CGY was underway at Los Cerrillos in Santiago and that its roll-out in Chilean Air Force colours was imminent. Alvaro Romero reports that the unveiling was delayed and re-set for August 21st, the anniversary date of the foundation of Chile's Civil Aviation Authority. Photographs 'before and after' show that this static restoration is a real 'phoenix from the ashes' job! Coverage of this event and the story of Chile's Catalinas will therefore appear in a future edition of The Catalina News and on this website.
I have mentioned before that arrangements are well advanced for the 2007 Flying Boat Festival International that is intended to commemorate the 70th anniversary of the first trans-Atlantic experimental commercial flight. The celebrations will be centred on Botwood in Newfoundland but as part of the event it is planned that a re-enactment of that flight to Ireland will be made by a Catalina! It is now known that the aircraft involved is a former RCAF Canso A C-FPQM. Until recently part of the Buffalo Airways fleet at Red Deer, Alberta in Canada, 'QM has been acquired by pilot Patrick White and, after a period of maintenance, it is flying again. Much more on this aircraft in our next edition of The Catalina News.
Speaking of Buffalo Airways, the following is an update on their Catalina fire fighting fleet. As previously reported in these pages, Canso A C-FOFI has flown to pastures new in Glendale, Arizona for a new museum to be set up there (see Issue 61). Canso A C-FUAW remains in storage at Hay River Airport, North West Territories. Another former Canso A C-FNJE was lost in an accident at Inuvik, NWT back in July 2001 but it was rumoured that the airframe was to be recovered from the lake into which it sank. Nothing more is known about this salvage attempt. Finally, despite Buffalo's disposals, they acquired the formerSLAFCO Catalina C-GFFC some time back and after remaining at its former base at Moses Lake, Washington for some time, it was flown, date unknown, to Red Deer, Alberta where it currently resides.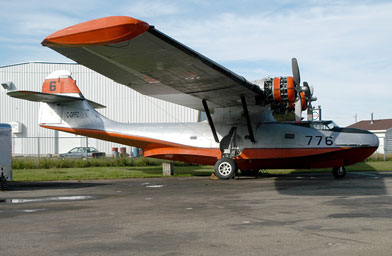 C-GFFC after flying up to Canada from Washington State for Buffalo Airways
Ralph Pettersen

Some news from Australia now. The one-time RAAF PBY-5 Catalina A24-46 has apparently been moved away from its home of many years at the Whaleworld Museum in Albany, Western Australia. It had been sold after its owner John Bell was killed in a light-plane accident. The company employed to market the Catalina told me that it was remaining in Western Australia with an undisclosed owner although there have been rumours, not substantiated I should add, that it was being exported to Europe.
The Catalina Memorial Park at Lake Boga in Northern Victoria, Australia has long been graced by a composite Catalina bearing the serial 'A24-30'. Robert Tracz reports that its blisters have recently been removed, and the apertures temporarily plated over, so that they can be used as patterns by HARS for their airworthy PBY-6A VH-PBZ.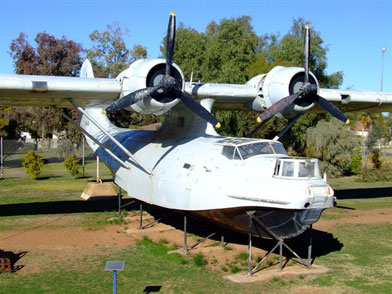 Robert Tracz took this view of the blister-less 'A24-30' at Lake Boga recently

In Peru, the continued existence of two Catalinas now appears to be in great doubt. The one-timeLORASA PBY-5A OB-T-251 had lain dismantled for some years in the long grass adjacent to Faucett's old hangar at Iquitos but recent reports suggest that it has disappeared and it seems likely that it has been scrapped. Meanwhile, the unidentified gate-guard Catalina that was to be seen at the entrance to the military airfield at Antiguo Aeropuerto, also in Iquitos, has been dismantled and the derelict remains now only consist of the stripped bow section and the rear hull and tail.
Better news comes from Rand in South Africa where Canso A C-FPQO is now undergoing an extensive overhaul as mentioned in our last magazine. Captain Flippie Vermeulen of Springbok Flying Safaris SA Pty is in charge of the work and advised me during mid-August that the airframe had been paint stripped and pressure washed and a thorough inspection of the hull was underway. Only minor corrosion has been identified so far and remedial work will be carried out soon. The blisters have been removed for now and new glass is to be installed into the frames. Two of the trailing edge sections still need to be re-covered with new fabric but the others are now done and the completed units should go back onto the wings soon. Planning is well advanced for the new avionics suite to be installed, the old radios having already been removed. Engine-wise, the two units on the aircraft had not been turned over for some time but were tested in early-May and initially ran smoothly before the starboard unit failed upon the application of higher power. This will be replaced in due course. Flippie has promised to keep us informed.

C-FPQO is shown here at Rand after its trailing edges and paint had been removed Springbok Flying Safaris SA

In the USA, Charlie Clements still has his Cyclone-powered Super Cat N287 up for sale but in the absence of a buyer is flying it regularly. It has a Standard Airworthiness Certificate with the FAA and Charlie regularly takes passengers on trips at shows. Although usually based in Florida, N287 migrates to Neal Melton's Tennessee Museum of Aviation in Pigeon Forge during the hurricane season…..
American Catalina Society member Ron Skala reports from Washington State to say that another Super Cat, N9505C, is still resident at Ephrata Airport but has recently been re-sprayed in a rather dull grey. Photos indicate that the paint job may not yet be complete so we await the final outcome! Its registered owner is now Carmacks Commercial Corp of Anchorage, Alaska.
Previous Comments:
George Herold – 24 October, 2006
I cerainly enjoyed my one long ride in a PBY on 25 June 1942. When our ship (submarine S27) sank off Amchitka Is in the Aleutains on 19 June ln '42, the 50 of us were picked up from under the noses of our enemy on Kiska Isand and lown to Dutch Harbor. These boys were in VP41 & 42 of PATWING4. Bless 'em all.
Torben Jensen – 24 October, 2006
C-FNJE has been recovered. Photo of plane dragged ashore on http://www.avcanada.ca/albums under accidents. Best wishes.