The latest round-up of Catalina happenings around the globe.  As usual, this feature is based on the original version published in The Catalina News, the journal of The Catalina Society and written by magazine Editor, David Legg.
PBY-6A N285RA has been a regular feature in our column over the years as we have followed it through periods of storage around Great Britain (Castle Donington, Exeter, Biggin Hill and North Weald – twice) and then its aborted delivery flight to the Israeli Air Force Museum at Hatzerim, a flight that was terminated at Beauvais, north of Paris after engine failure.  After being stored at Beauvais for some time, the airframe was dismantled and, as I reported in my last column, it was trucked out of France to Antwerp in Belgium in late-February 2008 on the first stage of its onward journey to Israel by surface transport.  It left Antwerp by ship on the 7th May and this latest episode in its history came to an end on 12th May when it arrived at the port of Ashdod, several days ahead of its original schedule (this must be the first time that anything has happened early for this Catalina!).  It was unloaded and, after clearance by customs, was trucked to the IDFAF museum at Hatzerim, arriving there on June 12th.  The Catalina consists of sections, namely hull, wing centre-sections and outer panels, engines, props, rudder, horizontal tail and elevators.  The sections of wing trailing edge are apparently broken in more than one place.  Some wing damage was caused during the tie-down process on the ship used for transportation.  Rumours of disagreements within the museum hierarchy about the manner in which the Catalina was delivered to Hatzerim have surfaced and it has to be wondered if this seemingly ill-fated PBY will ever be restored!  However, it is known that re-assembly has been carried out by a team of engineers from IAI (Israel Aircraft Industries) so who knows, perhaps there is hope!

PBY-6A N285RA shortly after arrival at Hatzerim, Israel.  Note the triangular bombardier's window common to all PBY-6A variants.
Photo: Tsahi Ben-Ami
A one-time RCAF aircraft, although US-built, was serial 9750.  Post-war, it had a long commercial career as a passenger transport then water bomber and has been variously registered CF-DIL, C-FDIL, EC-313, EC-FRG, N314CF and N206M.  In recent times, it has been under restoration at Greybull, Wyoming and has had its previously removed bow and blister turrets replaced.  Following the death of its owner a while back, it has been for sale and, on 8th July, it was registered to new owners Black Cat Aviation LLC of Indianapolis although it is thought to be still located at Greybull.  It remains to be seen what its future holds.
The September edition of FlyPast magazine carried an article about the Air Marcel Collection at St Hyncinthe, Quebec in which it was stated that a Canso water bomber may be joining the collection in the near future.  As soon as an identity is known, I'll let you know!
News from South America concerns one still airworthy Catalina and one that is most certainly not!  The former aircraft is CC-CDT.   Once operated by the French Aeronavale in the Pacific to support France's nuclear programme, it was later donated to the Chilean operator ASPAR and flew for many years as a water bomber,  Part of that time was spent in Spain and Portugal but a few years ago it was dismantled and shipped back to Chile where it has remained since.  Current news is that it is now up for sale, the last of ASPAR's once substantial Catalina fleet.  Fortunately, most of that fleet has survived with one aircraft preserved in the museum at Santiago, one airworthy in Australia and another awaiting new engines in Portugal before it to goes to Australia for a new flying career.
The other newsworthy example in South America prompts sadder news however.  For some time anunidentified Catalina was displayed as a gate guardian at the military air base in Iquitos, Peru in full Peruvian Air Force markings but without any visible serial.  Recent reports from Peru suggested that it had been moved, probably scrapped, and in May our own Catalina pilot/shareholder John Warman was able to bring an update.  A colleague of his has provided photos showing that the Cat has indeed been scrapped although the remains are still extant in the weeds on the airfield.  Photos show that the sectioned hull, tail and engines are scattered around although the presence of the wings was not immediately obvious and it is unclear where they now reside.  Frustratingly, the identity of this airframe still remains obscure.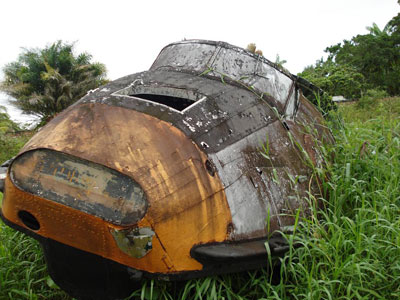 The bow and cockpit section of the unidentified Catalina now dumped at Iquitos in Peru.  The future does not look good for it!
via John Warman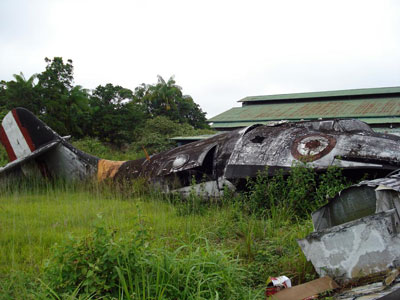 Another view of the dumped PBY at Iquitos
via John Warman
In Spain, PBY-6A EC-EVK is still stored at Cuatro Vientos, Madrid and EC-FMC (built as a PBY-6A but modified years ago to have a PBY-5A vertical tail) is similarly stored at Ocana.  Both are for sale by owner SAESA but seem to be slow to move on despite occasional interest from prospective purchasers.
Charlie Clements has been the owner of Wright Cyclone-powered Super Cat N287 for some years but, as previously reported, he has sold it.  Back in June, he kindly provided an update on his Cat'.  Some time back in its career, the blisters and bow turret were removed in common with many other civilian PBYs – see the front cover of Issue 65.   During June this year work was underway at Tamiami, Florida to install one-piece smoked blisters similar to those on our Duxford Catalina and like ours they cannot be opened in flight.  Other work that is still required before N287 sets off for its new home somewhere in the Far East includes the recovering of the ailerons in new fabric, the installation of an in-flight toilet 'phone booth' and lots of avionics work.  The acquisition and fitting of survival gear for the long delivery flight also needs to be organised.  Although the eventual destination has changed a bit – and is currently Singapore – the owner who is based in Borneo apparently has a preference for a delivery flight through Europe but much will depend on timings and weather.  Meanwhile, N287 is currently registered to the Bank of Utah Trustee.
Another Cyclone Cat is N9505C and this one has gone down in history as the one that flew the amazing opening sequence to the film Always a few years back – if you've not seen it, Google it and you are bound to find this short sequence.  Although still registered to Comanche Air Inc and based up in Ephrata, Washington State, news has it that a sale to Flying Fox Air Service LLC took place in the Spring.  Flying Fox currently have a website under construction and this indicates that the Catalina will be based in Fort Lauderdale and operated out of the Executive Airport initially providing Catalina flying boat services to and from the islands of the Bahamas!  Events are awaited with great interest!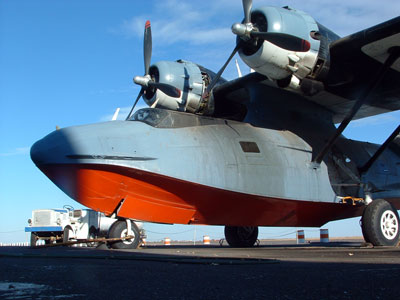 A recent view of N9505C at Ephrata
Photo: Hiejo Kuil
Still in the USA comes news of the American Airpower Museum's PBY-6A N7057C.  They acquired the Catalina from the National Warplane Museum and flew it to their base at Farmingdale, New York where it is intended that it will be kept airworthy and used to offer 'rides'.  However, a recent inspection has revealed that the wing centre section around the fuel tanks has severe corrosion in it.  Renovation is to be carried out free of charge by a repair shop and it is hoped that '57C will be flying again by the Spring of 2009.
And finally, still on the subject of Catalina wings, a 60 ft section of wing believed to be from Catalina IV JX596, has recently been raised from the seabed at the Firth of Lorn near Oban in Scotland.  It had been under the water since it crashed with its South African crew after stalling on take off on April 12th, 1945 whilst serving with 302 Ferry Training Unit.  Recently, the wing had been snagged by nets from the trawler Ocean Vanguard and it was decided that the wing represented a hazard and had to be removed.  This was achieved using a barge from Tobermory on May 1st this year.  What its future holds is not known but many years under the sea will have taken its toll although it had proved useful as a home for thigh-thick conger eels according to local historian and policeman Neil Owen.  Neil also reports that there are thee other Cats, three Sunderlands and a Hampden still submerged in the vicinity.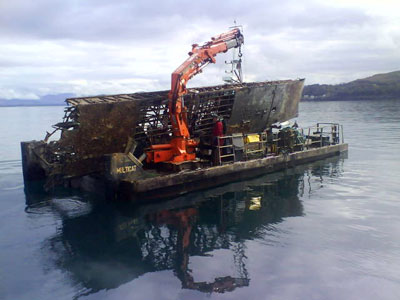 Above water for the first time in 63 years, part of JX596's wing is brought ashore at Oban in May this year
Photo: Neil Owen