More updates on what has been happening recently in the world of surviving Catalinas.
Here in the UK, the future of PBY-5A N423RS looks somewhat uncertain. It has been in open storage at Lee on the Solent airfield, the former HMS Daedulus, since its arrival there and it has not flown since that date. Rumours of a sale have circulated from time to time but without apparent result. Now, to add to its problems, the future of the airfield itself is looking unsafe! Owners of resident aircraft have been given notice to quit and the airfield is to close to all aviation use except for the resident Hampshire Constabulary which flies from there. However, the closure date has been extended twice and is currently set for late-Spring. Whether the airfield will be reprieved or the Catalina will be restored to airworthy condition once more and flown out remains to be seen.

Two Catalinas in the USA, formerly on the Canadian register, have been allocated US markings following their sale across the border. The first, former Canso A C-FOFI of Buffalo Airways, has been re-registeredN413PB to Hans O Lauridsen of Carefree, Arizona, the official date for this being October 9th, 2007. The aircraft was in fact delivered to Glendale, Arizona back in October 2005 and, at that time, the word was that it would take up the US marks N343CV, a play on its original construction number CV-343, but this seems not to have happened after all and I have yet to confirm if N343CV was formally reserved or not.
The second 'export' to the US register is C-GFFC which was registered as PBY-5A N483CV to Flying Cat Aviation LLC of Durham, New Hampshire on October 4th, 2007. Again, the actual delivery flight took place sometime ago and the aircraft has been resident at Sanford, NH for over a year now.
The former Moses Lake, WA. resident Super Cat N31235 has been ferried to California and is now based at Palm Springs. It has been repainted in a splendid US Navy colour scheme complete with Aluminum Falcon artwork on the bow. More on this aircraft, plus further photos, in our next edition.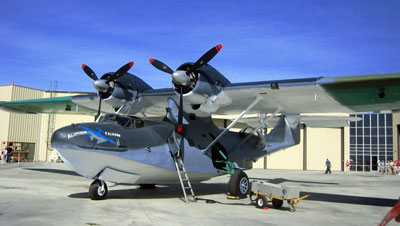 Cyclone-powered Super Cat N31235 Aluminum Falcon part-way through its re-paint at Palm Springs, California in the Summer of 2007
Photo: Joe Schiell

Thousands of miles away in Portugal, the PBY-6A VH-DUL has been re-registered with the more apt 'fixed' marks VH-CAT, the change taking place on October 8th. This was always on the cards but had been delayed until the latter registration had been vacated by a previous aircraft. The registered owner remains The Catalina Flying Memorial Ltd of Bankstown, New South Wales, Australia. The previous registration VH-DUL was itself a 'fixed' one, having been previously reserved by Philip Dulhunty, a Director of the Memorial! Unfortunately, the plans to fly this Catalina from Portugal to Australia suffered a serious setback in November as described in the Catalina Flying Memorial newsletter: "Our PBY-6A was in the final stages of preparation for its ferry flight. Test flights were successful and the Catalina was ready to depart for Darwin (from Seia in Portugal) on November 18th, 2007. The day before our ferry crew were to fly out, the right hand engine started gushing lots of blue smoke on a take off roll. The take off was aborted and the aircraft taxied back to assess the damage. The inspection revealed that a connecting rod had broken, causing internal damage to the engine. This was very disappointing and a major setback as the engine will have to be overhauled and this means a lot of work and delay, not to mention additional costs. This event had followed a successful and encouraging engineering inspection, some test flying and pilot endorsements." The crew returned home to Australia and it has since been decided to raise funds in order to replace both engines in situ before attempting the flight to Australia in 2008. The Catalina News will keep readers informed of progress.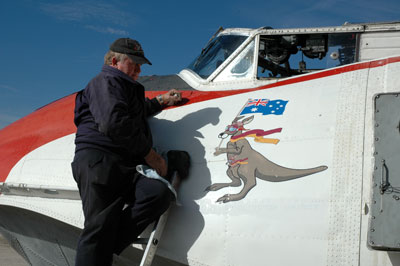 PBY-6A VH-CAT has acquired typical Antipodean nose-art although, as related above, it is yet to make the big 'hop' from Portugal to Australia!
Photo: via Christina Mumford/CFML
Still in the Antipodes, the New Zealand-based ZK-PBY had a reconditioned number two engine installed at Ardmore, Auckland in September and was then successfully test flown. Other work carried out during the New Zealand winter included replacing old perspex glazing in the blisters by first creating fibreglass moulds and then installing new panels. Some local flights and a trip to Tauranga followed the fitting of the new engine with performance being fully satisfactory. 100 hour and annual checks at New Plymouth followed and the plan at the time of writing this column is for ZK-PBY to visit RNZAF Wigram, Christchurch in mid-February and remain based there until the Wanaka 2008 show at Easter.
Incidentally, the long-unidentified Catalina hull now at Tauranga, NZ but previously at Ardmore, Auckland; Ephrata, Washington and Hemet, California has now been pinned down to a specific airframe! More on this in our next edition.
Finally, a quick mention of Catalina artefacts. The aforementioned New Zealand Catalina Group was the source, a few months ago, of a forwarded e-mail from Amanda Walton, a First Officer on Air Nelson Dash 8s. A long-time Catalina enthusiast, she had just returned from a visit with her fiancé to Espiritu Santo, a pilgrimage to follow the footsteps of her grandfather, Sidney Edwin Loader, who was based there with the Royal New Zealand Air Force's 6 Squadron and its Catalinas from 1943 to 1945. Amanda wrote: "Firstly, we were amazed at what little remains of the military occupation and we found that the majority of artefacts were overgrown and quite inaccessible. We did, however, hire a local and his boat and we followed the bank along the Segond Channel between the Sarakata and Wambu (aka Renee) Rivers. It was completely overgrown but we did manage to find an area that had large piles of rusted equipment and broken concrete. We concluded that this area could have been the Catalina base. We also think that some of the pieces of abandoned equipment were the detachable wheels from Catalinas." As can be seen from the accompanying photo, the surviving components are indeed from the main beaching gear used to haul Catalinas ashore.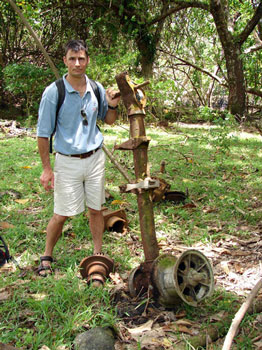 One of a number of PBY main beaching legs found at Espiritu Santo recently.
Photo: Amanda Walton via Ross Ewing