I have been writing about Catalinas for a long time now but I never cease to be amazed at the continuing activity in the world of Catalina 'survivors'. This section of the Catalina Society website features news about Cat' happenings around the globe and readers are invited to submit their own updates and photographs to the author.

---
Perhaps the most significant event for members of the Catalina Society is the move of Plane Sailing's old aircraft, PBY-5A Super Catalina VP-BPS, from its home of some years at Lee-on-the Solent in Hampshire to Weston airfield in Dublin, Eire. Following its accident on Southampton Water in July, 1998 the insurers sold the damaged airframe to a group based in Hampshire who intended to rebuild it to airworthy condition using their undoubted enthusiasm and technical skills. However, the exercise became protracted and the project moved in turn from Hamble to Lasham and then to Lee-on-the Solent. During the years that followed, the airframe spent much of the time out of doors although hangarage was available for a time at the former FAA airfield HMS Daedulus at Lee. The wings were damaged in high winds but some good work was done on the hull which had been damaged during recovery operations after the original accident. After an initial blaze of publicity, little more was heard of the project although rumours of consortium members and volunteers leaving the project and lack of finance surfaced.
A year or so ago, it was announced that an Irish buyer had been found for the project and the dismantled airframe has now been transported by road and sea ferry to Weston. The wings arrived at Weston on January 19th 2006 with the hull arriving on the following day. Although it is clear from photos that much hull panelling has been replaced, it is also obvious that the work has not yet been finished as the panels are still held in place by screw pins. It remains to be seen what the future holds for this once magnificent aircraft although Colman Corcoran , who has local knowledge, advises that plans are for the Catalina to be restored to display condition for a future planned museum at Weston/Dublin Executive Airport.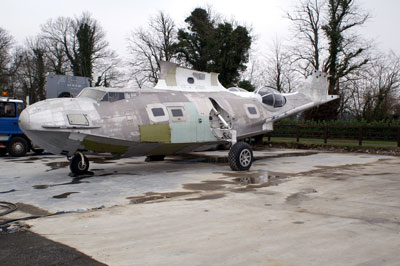 Plane Sailing's first Catalina, VP-BPS, now at Weston in Dublin as seen this Spring
Photo: Sandy Benzies
Further to the above, Super Catalina Restoration's other Catalina, PBY-5A N423RS, remains at Lee', complete but un-flown since it arrived there from Duxford in November 2001. Persistent rumours are that it has been sold to an American owner but nothing more is known on this score.
At the war's end, a number of RAF Catalinas were scuttled in Lake Victoria somewhere near their former base at Kisumu in Kenya. Some salvageable components including engines had been removed beforehand. Recently, I have heard of two parties that are interested in locating, and possibly recovering, one or more of them. One is a TV director/producer who believes the project may make good material for a documentary. Such enterprises, both abroad and closer to home, 'surface' from time to time but little ever seems to happen. Nearly ten years ago, at least one scuttled Catalina airframe beneath the surface of Lough Erne in Northern Ireland was the subject of underwater exploration but nothing further was heard of this although, coincidentally, I also received an enquiry from a TV producer about that site too. Information was passed on but no acknowledgement (or thanks!) was received back!.
More news on happenings at Pima, Tucson, Arizona. In Issue 61 of The Catalina News, I reported that the Pima Air & Space Museum was collecting major Catalina components in order to build a static restoration. In addition to the identifiable wreck of N322FA, a damaged and anonymous hull minus tail section had been delivered to the desert site together with an equally unidentifiable rear hull. The former has now been almost categorically identified as PBY-5A N10609, c/n 1758 and the former US Navy BuAer48396. The last known location for this aircraft was Miami where it was to be seen in a badly damaged state in the early 1970s. Where it has been since then is not currently known although it has been reported that, prior to Pima, the hull had been located at a technical school in Oklahoma. The rumour machine was also reporting that the Pima museum was acquiring the Catalina hull that has been languishing in a barn at Geneseo, New York State for many years. This hull, now known to be a former RCAF Canso A, has indeed now travelled south to Arizona. It was seen at a snowy Geneseo on December 14th last year being loaded onto an enormous truck prior to its long journey south.
Still in the USA, Rick Peterson continues to work on the restoration of his PBY-6A N9825Z, the very last Catalina to be built by Consolidated at New Orleans. Once part of the large SLAFCO water bombing fleet – although believed not actually used by them – Rick acquired the complete airframe a few years back and has since been working on restoring the interior to as near 'stock' condition as possible. He recently provided the following update: "I ended up getting the Eclipse APU with generator. I also found a complete interior from a hull that had been in a fellow's back yard for years (Canso A serial 9825 – Ed.). His intention was to use the hull as a yacht conversion although this did not happen. In fact, the radios had gone but all the racks, desks, navigators table, seats etc were all there and intact and are now in my possession. As of late, I have been trying to get the inside of the Catalina prepared for painting but it is all being done by hand and is very slow going! I think I have come up with part of the AN/APS-3 radar. The antenna is what I have found and this originally sat over frame #2 above the cockpit. So, the way it is looking, my PBY-6A will be the most complete Catalina in the world with all the major parts being original and not reproductions – that is what I am striving for!".
Back in September 1999, the Canadian-registered former RCAF Canso A C-FPQO departed Tanagra in Greece for a new home in South Africa. It duly arrived at Rand and has remained there ever since, firmly ground-bound. News recently came in that the aircraft has been acquired by Steve Hamilton and John Seibold. Steve advised the Editor that current plans are for some new fabric to be installed on control surfaces before the aircraft leaves South Africa and that it will also receive some new paint. The idea is then to leave South Africa and fly via Brazil to Valle airfield near the Grand Canyon in the USA where there is a Planes of Fame Museum branch. After arrival, summers will be spent at the Sidney Air Museum at Vancouver Island's Victoria International Airport, once the site of the RCAF's Patricia Bay flying boat base. Steve also mentioned that he needs to source some new blister glass. He anticipates that operating the Canso will be a lot of fun but "he will now need to own an oil well to keep it fed!".
Europe's best-kept Catalina secret is probably the Canadian-registered Canso A C-FCRR that is based at Orly, Paris. It is kept in Hangar N1 and is about to undergo a major overhaul, having remained on the ground since its last flight on January 19th, 2000 when it flew in to Orly from Dijon. Alain Maire advises that there have been many administrative problems with the French customs and defence ministry but the general condition of the aircraft remains good with no corrosion, the result of it remaining under cover. The engines have been run from time to time. C-FCRR remains in the pseudo-Air France livery it received some years ago before it was displayed in the Champs Elysees and later flew to South America to commemorate early Air France trans-Atlantic mail flights. C-FCRR is a genuine 'warbird', and, as RCAF 9767, it attacked and sank the U-boat U-342 on April 17th, 1944.
Close to Paris, Beauvais is still the enforced home of PBY-6A N285RA whose delivery flight to Israel from North Weald, Essex some time ago was interrupted by technical problems. N285RA was apparently removed from the US civil register on March 22nd as 'To Israel' but its replacement marks, if any, are not yet known.
Still in Europe, the PBY-6A water bomber EC-EVK flew again from its base at Cuatro Vientos in Spain on the morning of January 27th 2006 under the command of its owner/pilot Raul Aranda. The aircraft is for sale as is the other Catalina in Spain, EC-FMC.
Way across the Atlantic in Chile, Alvaro Romero reports that the ASPAR PBY-5A Catalina CC-CDT, currently on lease to IBCH, is flying again and was recently moved from its former base at Los Cerrillos to Santiago's Arturo Merino Benítez International Airport for display at the FIDAE 2006 display. It duly appeared on static display at that event at the end of March and the beginning of April. CC-CDT was returned by ship to Chile from Portugal a year or so back after its tenure as a fire fighter in Europe came to an end.
ASPAR's derelict Catalina CC-CGY, for many years stored in the open at Los Cerrillos and used a source of spares for the ASPAR fleet, was donated to the Chilean Air Force Museum a while back and, in the early part of this year was restored to static display standard. The change has been incredible and it is now painted to commemorate the Chilean Air Force Catalina serial 405 Manutara. The official unveiling is due later this year. I plan to provide a more detailed update on Chilean Catalinas in our September edition.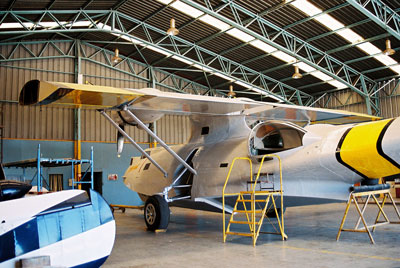 Almost finished! The restoration of the previously derelict CC-CGY was proceeding well when seen by Alvaro Romero earlier this year

And in Australia, the stored PBY-5A N9502C was recently uncovered for a short while revealing its US Navy colours reports John Chapman. Of particular interest is the bombardier's window in the bow. The vast majority of PBY-5/5As had rectangular windows whereas PBY-6As had triangular ones. However, a small number of late production PBY-5As built in New Orleans had the triangular window too as clearly visible in the accompanying photo. The museum for which N9502C is supposed to be destined still appears to be no nearer being built unfortunately.

Briefly uncovered but still in store, this photo shows N95902C in Perth, Western Australia
Photo: John Chapman
The internet continues to be the place where Catalina memorabilia and components surface from time to time and, recently, a Catalina float was offered for auction. The float was described thus: "Up for auction is a Real Wing Float from a World War II PBY Flying Boat. I got this item right after returning from Europe in 1945. It's been sitting around ever since. The float is in pretty good condition with no dents but there are a couple of patches. The major patch is visible in the pictures posted with this item. The item is not very heavy but it is large. It is approximately 10 feet long, 28 inches deep and 36 inches across. Since I can't mail the item, it is being offered FOB my front door. The buyer will be responsible for arranging the shipping." The float was located in the USA and the starting bid was US$299.99