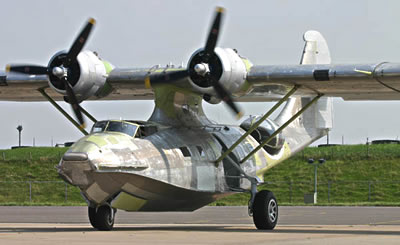 PH-PBY prepares to fly at Valkenburg this summer prior to its repaint
Photo: Ruud Leeuw
In Europe, the big news is that the Dutch PBY-5A PH-PBY has flown at last after a long period on the ground. This aircraft last flew in May 1999 and had previously visited the UK, notably Duxford on a couple of occasions for the Flying Legends show. Work had been steadily progressing at the Dutch Naval Air Station at Valkenburg, due to close in the not too distant future and underwent engine runs and taxi trials for the first time on July 3rd. By the end of July, it was ready to fly but paperwork delayed this (where have we heard that before!) until, eventually, it took to the skies of northern Holland for a short flight on August 4th. The first flight was apparently terminated after a minor engine problem manifested itself but otherwise, all went well on a glorious day. A second flight on the 5th was planned but, 100 yards into the take off run, the attempt was abandoned because of nose wheel problems. It flew again on the 7th and, on the 11th, it was ferried to Amsterdam Schipol Airport where it was repainted by QAPS as the MLD (Dutch Navy) aircraft 16-218 ready for a planned appearance at the Lelystad air show on September 4th. In fact, all went to plan and after a 'rollout ceremony back at Valkenburg on August 30th, it went on to perform to delighted crowds at Lelystad on the 4th. In due course, a full passenger interior will be installed with the intention of flying fare-paying passengers. Lelystad is also likely to be the Catalina's future base because of Valkenburg's imminent closure. Meanwhile, PH-PBY was restored to the Dutch civil register on June 8th to owners Stichting Exploitatie Catalina of Oegstgeest…
QAPD mentioned above are also involved in the respray of former-MLD PBY-5A 16-212 which was moved by low-loader from Valkenburg to Schipol in late-July… Thanks to Ruud Leeuw and Erik Hartmann for these Dutch updates…..
With the departure of N285RA from UK shores (just!), the local Catalina population is down to four examples – our own Duxford-based aircraft Canso A C-FNJF, the RAF Museum Cosford's static ex-Royal Danish Air Force PBY-6A L-866 and Super Catalina Restorations' PBY-5As N423RS and the former VP-BPS at Lee-on-the-Solent in Hampshire. All seems to be quiet as far as the latter two are concerned with no sign of N423RS taking to the air again and no news of progress on the rebuild of 'BPS to report…
Two Catalinas in Spain, the remnants of the once extensive fire-fighting fleet based there, have been advertised for sale. PBY-6A EC-EVK is located at Madrid's Cuatro Vientos airfield whilst PBY-5A EC-FMC (originally a -6A but now with a -5A tail) is at Ocaña where it had landed after engine problems required a precautionary landing whilst en route back to Cuatro Vientos some while ago. Both aircraft are fully equipped for water bombing but it seems unlikely that they will return to that role and their owner, SAE SA, must be hoping that they will be acquired by the warbird movement. The internet shows the pair for sale through C & S Enterprises of Ontario for US$230,000 each. Apart from PBY-5A C-FFFW in the Museo del Aire at Cuatro Vientos, these two are now the only Catalinas remaining in Spain…
In one of our early issues, we carried an article about the Swedish Air Force Catalina 47002 (locally known by type designation Tp47) that was shot down by a Soviet MiG 15 jet in June 1952. The Catalina was searching for a missing C-47 that had previously been shot down too. Recently, the C-47 wreck was recovered from the sea and now it seems that the remains of the Catalina have been located too! What is interesting about the find is that the wreck is apparently some 22 kilometres further east towards the Estonian Baltic coast than the Swedish authorities admitted at the time of its loss. The Russians presumably shot the Catalina down because of an airspace violation. None of the PBY crew were lost in the incident…..
In Australia, the HARS PBY-6A VH-PBZ has been busy putting air time in. Its debut display in its 'Black Cat' livery was at Canberra on 6th December where it took part in a flypast to commemorate the opening of the Australian War Memorial's re-vamped Avro Lancaster exhibit. The Cat also flew over the Australian Parliament House. Other shows it has performed at include the Point Cook Airshow in February and the Caboolture Air Spectacular in May…

VH-PBZ resplendent in its new 'Black Cat' colours
Photo: Glenn Alderton
In America, recent rulings by the US Forestry Service seem to have put an end to the use of elderly piston-engined aircraft for fighting forest fires. At the time of the ban, there was in fact only one US-based Catalina regularly in use as a fire fighter, this being the Flying Fireman Inc PBY-6A N85U operating out of Deer Park, Washington State. Its future may have a question mark over it now although N85U is contracted to the Washington State Department of Natural Resources rather than to the USFS so may be unaffected. A recent report by Colin Watson in Aircraft Illustrated quoted Flying Fireman's pilot Eric Brown as stating that during the 2003 season, N85U dropped 765,000 gallons of water in 202 hours of trouble-free flying. Elsewhere in Washington State, Ephrata is the home to the ex-SLAFCO PBY-5A Super Catalina N9505C and Society member Roland L Skala of Yakima saw it there back in May parked outside one of the hangars. Its new owners, Comanche Air Inc, may regret the purchase if it was their intention to use it for water bombing unless they too can get contract work with the Washington State authorities rather than the USFS!
Staying in Washington State, Rick Petersen's PBY-6A N9825Z, another ex-SLAFCO aircraft, continues to have work carried out on it although Rick has not been able to devote as much time to the project as he would wish. He has put a new hull bottom on, the new blisters and bow turret have been installed and the airframe is ready for a repaint. Rick has sourced a set of floor boards, a new GO-9 radio transmitter that had been boxed since WWII, an original mould for making the side blister machine gun mounts, an original engineer's panel, a radio operator's seat and a navigator's seat. He is negotiating to acquire an original Eclipse APU. Other items he has managed to track down include ten original inflatable blister seals in their original packing and a Northill anchor with US Navy stamp…..
Final news item from Washington State relates to the PBY-5A N84857 at Skagit County Airport. This has been undergoing a major rebuild, particularly to the forward hull and cockpit, following a taxiing accident in Montana some years ago. The PBY is now looking in great shape and has had a respray in full US Navy colours. Recent work has been concentrated on installing fuel valves and lines and both refurbished props. The engines have since been successfully run although the port unit has suffered some oil pressure problems caused by a faulty pump…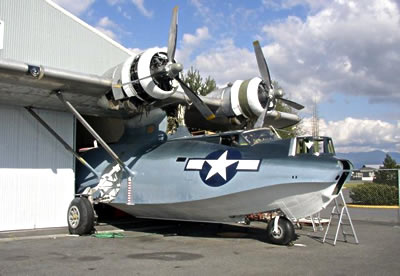 N84857 showing off its newley-applied paint scheme at Skagit County
Florida based Super Cat N287 has continued to be active and appeared once again at the Sun 'n Fun event at Lakeland last April. It did not operate from water but graced the static park where Society member Keith Palmer was able to inspect it. The port engine cowling features Super Cat artwork showing a cat and moon silhouette and, during the show, the flag of the Seaplane Pilots Association was displayed from the bow turret area.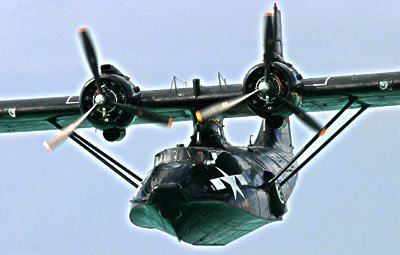 Magnificent flying shot of Cyclone-powered Super Cat N287
Photo via Charlie Clements