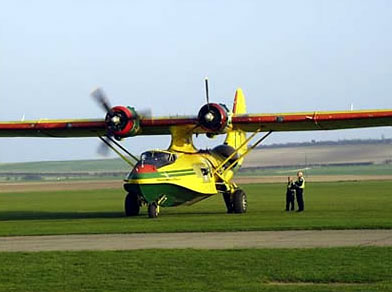 Photo: David Legg
After a long wait, Plane Sailing's 'new' Catalina C-FNJF finally arrived at its new home at Duxford in Cambridgeshire on Tuesday 30th March. The lengthy delivery flight had commenced a few weeks before from Nanaimo on Vancouver Island in British Columbia and routed down through Washington State and California then across the USA and up the eastern seeboard before reaching St John's, Newfoundland. From there, the delivery flight routed to Duxford via Shannon. Shortly after arriving in the UK, Paul Warren Wilson delivered the following message to all our shareholders, supporters and others involved with the Catalina operation!
"As I'm sure many of you will have heard by now, our Catalina finally arrived safely and in great shape at Duxford yesterday (Tuesday 30th March) at 6.15 pm. The flight from St John's to Shannon was completed on Monday (arriving at Shannon in the early hours of Tuesday) – this was a flight of 12 hrs 45 mins airborne. Although the weather was pretty good en route, with not too much in the way of cloud and on average something like a 20 knot tailwind, the temperatures were not so funny! We sat there in temperatures down to minus 28 deg C, and it was below minus 25 for at least 8 hours. There were three very chilly people at the end of that! At least there wasn't any trouble getting ice for drinks – in fact the problem was finding any unfrozen bottles of water to drink!
During the enforced stay in St John's, we were fortunate to be offered some excellent engineering assistance by local PBY-qualified engineering personnel. This meant that we are able to get the annual check on the aircraft (which was imminently due) fully completed and signed off. The aircraft therefore now has a full year's operation on the Canadian register available as a backup possibility, with checks of course also due at 50 hour intervals. The UK certification process is already started and with luck will be completed within the next month or so but in the event of delays we are able to operate anyway on the Canadian register for private flying.
On arrival at Duxford, thanks to the efforts of Sandra Payne and Stuart Powney, we were met by numerous press and television representatives, including local press, Aeroplane, FlyPast, and both ITV and BBC. I did a live interview for the local early evening BBC news, and there will be a piece going out at lunchtime today on the local ITV news. One point of note was that we had to do a single engine landing at Duxford. Although the engines have performed very well indeed all the way across, and we now have an excellent confidence level in their continued operation, I decided that just before landing at Duxford we should do an airborne feathering and unfeathering check. The prop feathering is checked anyway each day before flight, but not to fully feathered, and the full unfeathering procedure is checked rather less often, and seldom airborne. However, it is required to be demonstrated on the CAA test flight. So, whilst holding for our landing slot at Duxford, I feathered and unfeathered each engine in turn. The starboard was absolutely fine. The port engine feathered with no problem, but on unfeathering there was an oil leak evident from an area near the rear of the prop. The engine restarted but as the leak appeared to continue I decided it was prudent to shutdown again before a loss of oil could cause any problem. Thefore the engine was re-feathered, which worked fine. We landed 5 minutes later on the grass at Duxford and rolled to a stop conveniently at the tower – the Cat cannot be taxied indefinitely on one engine, as you cannot steer once you loose forward speed. I'm pretty sure that this leak is from a seal or hose, and Garry will be checking in the next few days.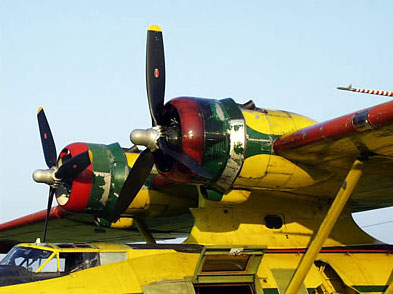 Crew members for the final two stages were Paul Warren Wilson, Rod Brooking and Garry Short. The opportunity has been taken to complete Rod Brooking's checkout and so he is now fully qualified to operate as co-pilot. The earlier stages had been completed by Keith Sissons, Mac McKinney and Garry Short, with assistance all the way along the route from Rod Brooking (thanks Rod, by the way, for all your time!) and – for certain sections – from our shareholders Jerry Noble and Lyle Campbell. In fact the crew were also offered an overnight stay with Lyle Campbell, at Phoenix, which was conveniently along our ferry route (thanks also Lyle, much appreciated by all).
So, a big thankyou to each and every one of you who has contributed in whatever way to the successful completion of stage 1. We shall now complete our UK certification, start some crew training in May (when there should also be an opportunity for any of our shareholders who wish to get airborne) and be ready for our first display at Biscarrosse in May."