Events around the world continue to keep me busy updating individual Catalina histories and once again there is no shortage of things to report on in this edition.
Firstly, some European news.  The US-registered, former Royal Canadian Air Force Canso A N9767 has been carrying out some flying this year but things have not gone entirely to plan!  It suffered a nose-wheel collapse at Dijon on July 3rd after its gear actuator broke but it did manage to appear at the Sion air show in Switzerland in September after spending some time at Lausanne the month before.  It then flew across to Northern Ireland to take part in the Fermanagh Seaplane Festival alongside our own Catalina in late-September.  Unfortunately, N9767's first foray out onto the water ended in some embarrassment for the crew and the end of her active participation in the event.  After a somewhat fast approach, a landing was successfully pulled off after which the crew shut down both engines without first securing the aircraft to a buoy.  Almost inevitably, this ended unhappily with the Cat' drifting back in the breeze until its reverse progress was brought to a halt by a yacht's mast!  Eventually, after a long delay, N9767 finally flew back to France on December 2nd .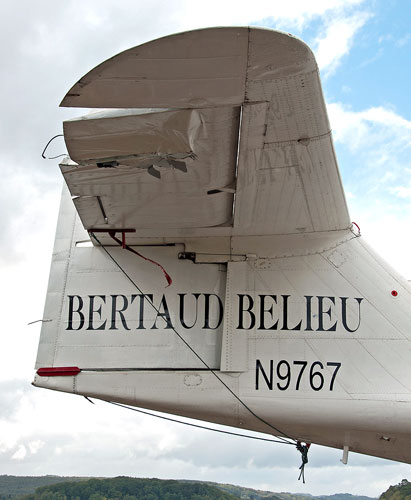 Canso A N9767 at the Fermanagh event this Summer after its argument with a yacht.  The elevator damage is clearly evident
Meanwhile, the news from Holland is scarcely better.  PBY-5A Catalina PH-PBY has remained grounded at Lelystad for the second season in succession due to various administrative and engineering issues.  This has meant that it has not been able to carry out passenger rides as in previous years.  According to its operators, November 15th marks PH-PBY's 70th birthday and the Dutch Friends of the Catalina were planning to mark the occasion with a gathering at its base although they will no doubt be very disappointed that this anniversary will not be a flying one.  Further enquiries about this celebration event brought no response from the organisers.  As BuAer2459 of the US Navy, PH-PBY was credited with destroying no less than 3 U-boats.
Across the world in British Columbia, Canso A C-FNJB has confounded the sceptics by taking to the air again despite several years of external storage and general neglect.  'JB was of course a sister aircraft to our own G-PBYA, at that time registered C-FNJF.  Whilst we rescued the latter, poor old C-FNJB remained at Cassidy Airport, Nanaimo on Vancouver Island facing a very uncertain future.  As previously reported here, she has been acquired by the Evergreen Aviation & Space Museum at McMinnville in Oregon and will presumably take up space near to Howard Hughes' 'Spruce Goose' flying boat once it has been restored.  It seems that it will not fly again and will be painted to represent a Midway-era US Navy PBY.  The ferry flight from Nanaimo to McMinnville was made possible by the temporary donation of a pair of Pratt & Whitney's from Bob Dyck's own Canso A C-FUAW which is based at Victoria International Airport, also on Vancouver Island. On June 13th, C-FNJB was re-registered to the Michael King Smith Foundation of McMinnville as N249SB for the flight to the USA which, after some delays, eventually took place on August 6th.  Shortly thereafter, the engines were removed and shipped back to Canada where they were re-installed onto C-FUAW on September 8th.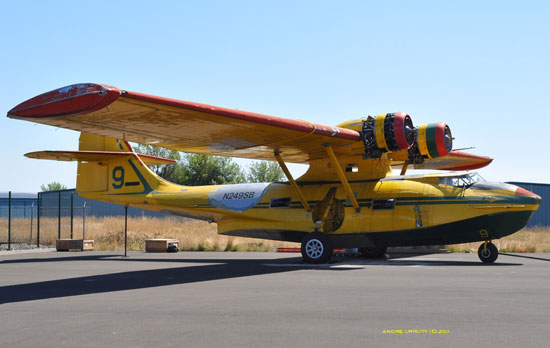 Andre Urruty photographed the former C-FNJB after its arrival at McMinnville, Oregon with new registration N249SB painted on the panel covering the former blister area
Still in the north-west corner of the USA, hopes that the fire fighting tanker PBY-6A Catalina N85U would perform water landings at the Fly In at NAS Whidbey Island at the end of July came to naught when it failed to appear although it is known to still be airworthy.  It had been rumoured that another airworthy Catalina would attend 'from the south' but this was a no-show too.  The resident PBY-5A N84857 was on static display for the visiting public however.
The FAA seem to have been doing some more 'tidying up' of the US civil aircraft register.  Some years ago, the marks N6208H were reserved for the PBY-5A N68740, a resident of the Lone Star Flight Museum at Galveston, Texas.  This reservation was never formally taken up and the reservation was cancelled on May 25th this year.
Down in San Juan, Puerto Rico, the PBY-5A N7238Z still languishes but its future is not looking good.  Once in beautiful condition as a crew ferry for dredgers on the Orinoco River in Venezuela, its fortunes have declined since it was retired from that role.  Subsequent owners have failed to put it to good use but it went on to the US register some years ago and was flown to San Juan International Airport where it has remained.  Despite the occasional appearance on e-Bay, it has not sold.  It was hangared for a time but a recent report by R M Petterson in the excellent American magazine Air Classics states that it is now rotting away out in the open.  His photo shows it to be very faded with un-cowled engines and floats partly retracted.  It is now a shadow of its former self.
Now to Australia!  Great news from down-under is that another airworthy Catalina has arrived there.  After an extended stopover in U-Tapao in Thailand caused by engine problems and a shortage of suitable fuel, PBY-6A VH-EAX finally arrived at the Qantas Founders Museum at Longreach, Queensland on the afternoon of September 14th.  It had originally started its journey to Australia from Spain where some years before it had operated as a water bomber.  The ferry flight had gone quite well until serious engine problems caused the flight to be abandoned two years ago.  The new owners have fought a battle to get the Catalina flying again ever since and they must be congratulated for finally succeeding with the help of a borrowed DC-3 engine!
Meanwhile, the owners of another Australian PBY-6A VH-CAT continue to work towards establishing a museum at the former flying boat base at Lake Macquarie, Rathmines.  The Catalina Flying Memorial group are trying to raise sufficient funds to return their Catalina to the air but at the same time wish to establish a museum building to house it.  The Lake Macquarie City Council recently decided that a 'state-of-the-art' museum was not viable although it spent $60,000 on the feasibility study!  Instead, the study suggested a 'museum without walls' and a basic hangar.  Negotiations continue!