Joel Spencer was one of the students we flew to Greenland in our Catalina. Here is their story.
The Challenge
Operation World First was a four-week long expedition to East Greenland that took place in in July 2015.
The expedition team consisted of 10 teenagers from Worksop College and team of world class expedition leaders.
The teenagers have took part in a 12 month training programme as part of the expedition preparation.
The expedition travelled to East Greenland and the Arctic Circle in our PBY Catalina, the only sea plane of its kind in the UK.
The expedition took the team climb to uncharted mountains to conduct biodiversity fieldwork and live self-sufficiently in Arctic conditions for 18 days.
The students were then picked up and returned to the UK in our Catalina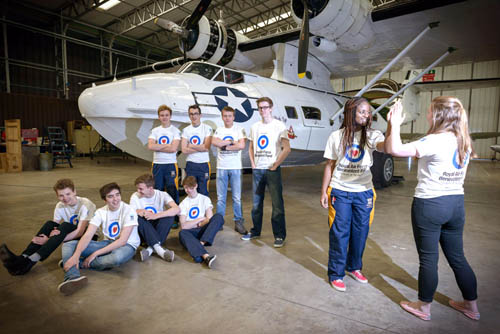 The Experience
On the 7th July 2015, 10 Worksop College pupils, 2 teachers, 2 mountaineers and 1 doctor set off from Loch Lomond in Scotland aboard Miss Pick Up, to travel to East Greenland for a 3 week expedition climbing previously unclimbed peaks in the area.
The aim of the expedition was to expose pupils, who are usually in a sanitised environment, to risks, whilst in a dangerous but controlled environment.
Our transport to and from Greenland was the fabulous 72 year old, World War 2 PBY Catalina Seaplane so we couldn't believe our luck. The Catalina flew the group from Loch Lomond via Stornoway and Iceland to Contable Pynt in Greenland. From there the Catalina transported us in two separate hauls to a remote lake in Faxa Sø, through spectacular scenery of icebergs and glaciers viewed from the blisters and making two perfect landings on the lake. We would not have been able to travel as far into Greenland if we had not had the use of the Catalina enabling us to land on the lake which was surrounded by mountains. Our food, medical supplies, climbing gear and 2 RIBs had previously been shipped to Constable Pynt, hence the need for 2 trips to the lake to spread the weight!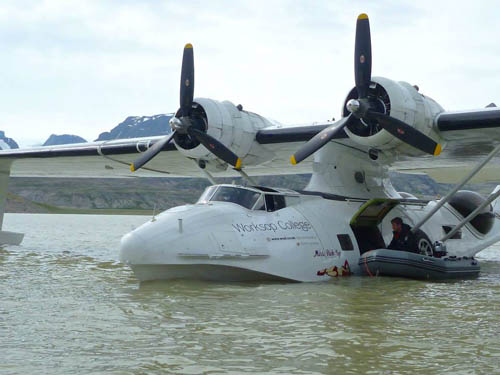 Greenland in the summer experiences 24 hour daylight which is a strange phenomenon for us Brits and makes sleep quite difficult. The weather in our area of Greenland which was 70° North, inside the Arctic Circle, was really mixed but we had some beautiful days which made the scenery even more spectacular. The area we visited was described as the 'Arctic Riviera' but the weather can sometimes turn quite nasty.
Because of the risk of Polar Bears in Greenland, we had to take precautions. This included 2 x 0.3006 calibre rifles and a polar bear tripwire that was set up around base camp. We also set up our rota for Polar Bear watch which meant each student taking it in turns to sit up for an hour during the night 10pm until 8am when everyone else was asleep. Luckily, we didn't spot any polar bears or find any evidence of their movements, those guys are meat eaters and don't mess about if they are hungry.
Faxa Sø is a relatively untouched area of the world, We were only the 2nd group ever to visit this area of Greenland, the last expedition to the lake being by a group of Belgians in 1958. We found evidence of the Belgian expedition in the shape of a two 57 year old Nescafé coffee tins they had left behind near to the lake.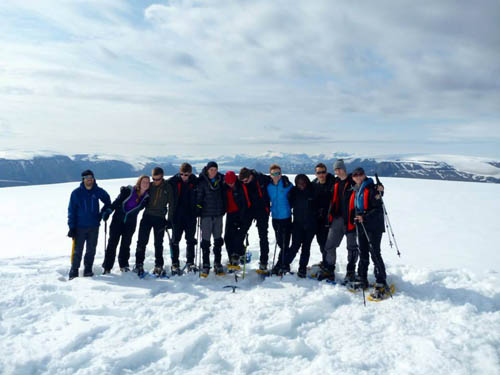 During our trip we climbed 5 mountains and 1 glacier in total, 3 of the mountains were previously unclimbed. These 3 mountains have been named Catalina Dome, obviously dedicated to our transport to Greenland, and because of the snow dome shape at the top of the peak (1750m), Mount St Cuthbert, named after our school chapel (1670m), and lastly Rose Britain (1110m). The glacier was also unclimbed so this was named Worksop Glacier which is the town where our college is situated.
After three weeks of walking glaciers, climbing, camping around beautiful waterfalls and bonding as a group we spotted the awesome sight of the Catalina returning to pick us up. Two trips later we were all back in Constable Pynt and after a two night stay we returned to Iceland for a couple of nights followed by a night back in Blighty in Stornoway. We flew back on the last leg of our epic trip on Saturday 1st August on a rather turbulent flight to be greeted by family and friends at Gamston Airport.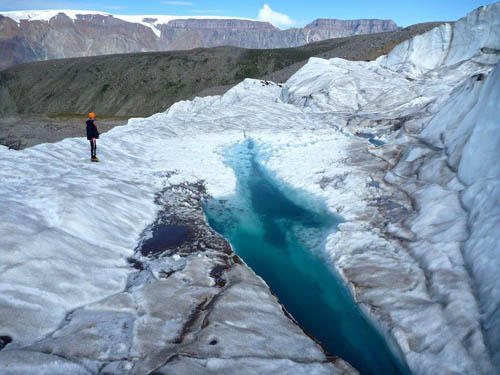 We all owe a great deal of thanks to Plane Sailing, the group that own and fly the Catalina. The pilots, engineers and ground crew worked extremely hard to transport every member of the expedition to where we needed to be, safely and on schedule, even when it meant them braving some very cold nights camping in Constable Pynt. Every member of the expedition is extremely grateful for all that they did and without them, the expeditionwould not have been been possible.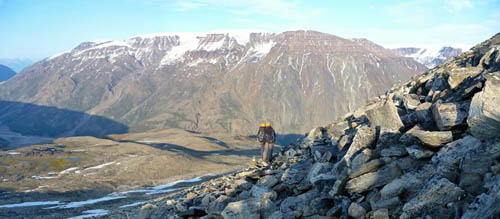 Our expedition leaders Neal Gwynne and Alan Halewood and doctor Tariq Qureshi all gave their time to the expedition for free as did our 2 members of the Worksop College teaching staff who accompanied us. As for the Catalina herself, trust me, it's the only way to travel!

– By Joel Spencer
Photos courtesy: Climb When You're Ready Mountaineering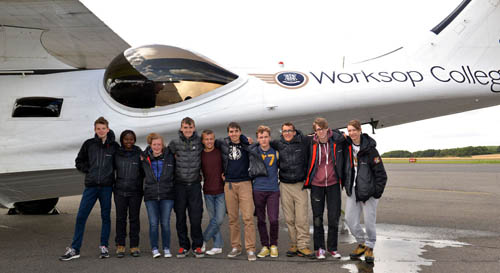 More information
For more information about the trip, please see Worksop College's Operation First Web site here.
Thinking of organising a similar trip?
Get in touch with us here and start a conversation.