Veterans of the World War II have gathered at a former RAF base in Northern Ireland to mark the return of two Catalina aircraft.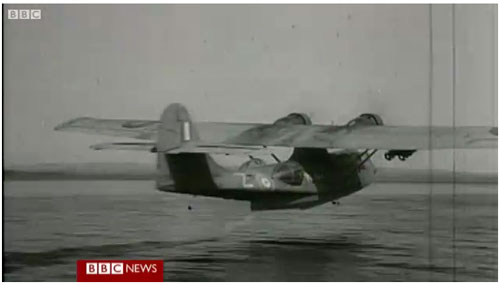 The flying boats played an important role in the war, most notably in the sinking of the Bismarck in 1941.
** Editor's Note: The following BBC report refers to the Paris-based Catalina N9767 that appeared with our own Catalina at the Fermanagh flying boat event late last summer.  See the World Catalina News January 2012 on this website for further details of its accident. **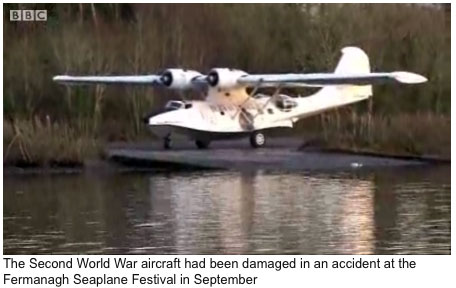 The Second World War aircraft had been damaged in an accident at the Fermanagh Seaplane Festival in September.
Delays had kept the aircraft on the ground at the former RAF airbase at Killadeas.
The 70-year-old aircraft took off from Lough Erne and has now flown back to its home in Paris.
No-one was hurt in the accident which happened when the plane drifted onto a moored yacht after the pilot had cut the engines close to shore.
The Catalina was one of two attending the festival - the other one was able to return home safely afterwards.
Catalinas at the former RAF airbase played a crucial role protecting Allied convoys during World War II.
A secret deal with the Irish Republic allowed the planes to fly through Irish airspace.
They flew along a route that became known as the Donegal corridor - a short-cut which linked Lough Erne with the Atlantic Ocean and extended the range of the aircraft.
Via: [
BBC News
]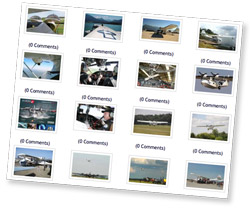 We've just added a new photo gallery section taken from our Catalina Bookings site to show you some great images of our Catalina G-PBYA (both interior and exterior shots).
Consolidated PBY Catalina displaying at the Barcelona Airshow 2010, Festa al Cel.
Via: Amicale Jean-Baptiste Salis
Video clip of Plane Sailing's Catalina Starting-up at LKCV Caslav Open Day in 2009.
Video: Teflon490 at Youtube
Info about the musical from the organisers:

"Help us create an original a cappella musical, inspired by true stories from our family history, to perform at the Minnesota Fringe Festival in August, 2011. Tight vocal harmonies fill this timeless story about four brothers trying to prove themselves in World War II. Set entirely within the space of a WWII Patrol Bomber, HERO is filled with daring adventure, senseless loss, unbelievable luck, and a spirit of family and camaraderie.
With an original script by playwright/director Tyler Olsen and a brand new score by award-winning composer Nicholas Jacobson Larson, and featuring a cast of four real-life brothers, HERO is guaranteed to be a theatrical event unlike any you've ever seen. Part comedy, part tragedy, all adventure, HERO promises to be an awesome experience for young and old alike."
- By Tyler Olsen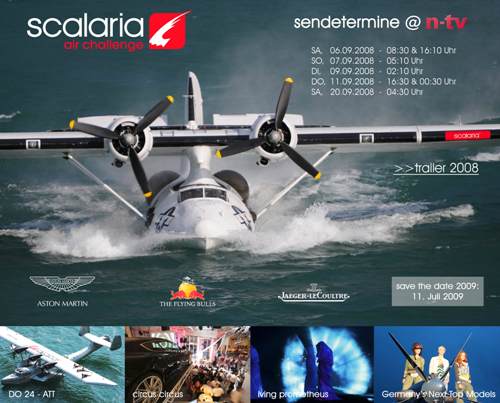 Our Catalina at the Scalaria Air Challenge 2008