Published: 28 July, 2015

Print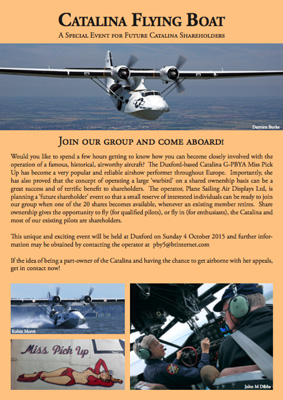 Would you like to spend a few hours getting to know how you can become closely involved with the operation of a famous, historical, airworthy aircraft?
Last year's special event for future shareholders was a great success and we were able to introduce a number of interested individuals to the Catalina and our operation.  A great time was had by all! Although the ownership of the aircraft is shared by a stable group of members, from time to time shares are available and with this in mind we are repeating the Future Shareholders Day again this year.  

The event will be held at our Duxford airfield base on Sunday October 4th and further details may be obtained by contacting us by email at pby5@btinternet.com. We hope to hear from you.
Click here for more information about the event.



Continue reading the rest of the article >>
View Comments (0)
---

Published: 7 December, 2014

Print
In the many years that I have been writing this column the number of airworthy Catalina survivors has decreased somewhat.  Back in the mid-80s there were still quite a few Catalinas engaged in water bombing together with a few others used for various other purposes but with the withdrawal of the type from fire fighting the airworthy population has decreased quite dramatically.  However, there are still plenty of examples in museums etc and there never seems to be any shortage of news!  This latest summary is extracted from the Autumn/Winter 2014 edition of The Catalina News, distributed to members of The Catalina Society.

In Greece, the former RCAF Canso A originally serialled 11042 has just been placed on the US Civil Aircraft register under Type Certificate TC 785 with the marks N315KM assigned on August 29th, 2014.  The registered owner is Sea Link Aviation Inc of Stamford, Connecticut.  It is thought that the aircraft will remain at Tatoi in Greece where it has been located for some time.  It was de-registered from its former Cypriot marks 5B-PBY some time ago and has not flown in recent times but hopefully this latest development will see it back in the air again .....
PBY-5A NX2172N is owned by the Erickson Group and was until recently based with the Tillamook Air Museum at Tillamook in Oregon.  The museum recently re-located to Madras, Oregon and the Catalina was flown to its new home on May 12th this year.



Continue reading the rest of the article >>
View Comments (0)
---

Published: 16 July, 2014

Print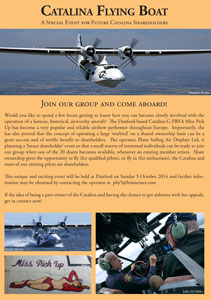 Would you like to spend a few hours getting to know how you can become closely involved with the operation of a famous, historical, airworthy aircraft? The Duxford-based Catalina G-PBYA Miss Pick Up has become a very popular and reliable airshow performer throughout Europe. Importantly, she has also proved that the concept of operating a large 'warbird' on a shared ownership basis can be a great success and of terrific benefit to shareholders.

The operator, Plane Sailing Air Displays Ltd, is planning a 'future shareholder' event so that a small reserve of interested individuals can be ready to join our group when one of the 20 shares becomes available, whenever an existing member retires. Share ownership gives the opportunity to fly (for qualified pilots), or fly in (for enthusiasts), the Catalina and most of our existing pilots are shareholders. This unique and exciting event will be held at Duxford on Sunday 5 October 2014 and further information may be obtained from our flyer and by contacting the operator at pby5@btinternet.com.

If the idea of being a part-owner of the Catalina and having the chance to get airborne with her appeals, get in contact now!


Click here to view our flyer now.
Continue reading the rest of the article >>
View Comments (0)
---
Survivors List Updated

By Mike Pinder
Published: 16 July, 2014

Print

The Catalina Survivors list has been updated by David Legg, now up to revision number v13.0 and nearly 6000 downloads. Download our latest version here.
View Comments (0)
---

Published: 16 July, 2014

Print

Here is the latest news from around the world regarding surviving Catalinas.

Not for the first time, the news is dominated by Catalinas in Australia. The most exciting news is confirmation that another survivor exists, one that I have not previously reported! PBY-5A A24-79 was originally built on a US Navy contract as BuNo 48344 but it was supplied to the Royal Australian Air Force 'as new' in January 1944. It had its undercarriage removed for the ferry flight, the main gear recesses being filled with additional fuel tanks. Some time after arrival in Australia, the 'plumbing' for the undercarriage was removed and it never flew again as an amphibian, being known by the RAAF as a PBY-5A(M). It served with 43 and 11 Squadrons and was placed in storage at Lake Boga after the war, later being sold to one AW Guthrie. From that point, it kept a very low profile but was acquired by Warwick Horsfall and some friends in the early-1980s by which time it had been converted to a motor cruiser for use on the Murray River. It has spent the last few years out of water on a farm at Mathoura, NSW. In our next edition we will publish more on the history of this aircraft.

Meanwhile progress is being made on the restoration of the PBY-6A VH-EAX at the Qantas Founders Museum at Longreach in Queensland. After a period of sitting engineless, two replacement 'static only' powerplants were placed back on their mounts a few months ago although props have not yet been installed and the bow area is weighted down with concrete blocks still. A re-paint is on the cards although a restoration to airworthy condition is not on the cards. As at April this year, preparation for a new livery was underway with most of its former bright yellow fire fighting colour scheme having been removed. I reported in our last issue that the long-dormant PBY-5A N7238Z had been acquired in Puerto Rico by the Rathmines Catalina Memorial Park Trust (RCMPT). The Trust has now become the RCMPAI, the last two initials indicating Association Inc. The latest news at the time of publication is that the outer wing sections are now in Australia, having arrived at Kilaben Bay on Lake Macquarie, NSW on February 22nd. These parts joined the engines, rudder and other spares that arrived in November last year. Next to arrive was the hull section which was loaded onto a barge and shipped to Jacksonville, FL from San Juan. It then moved on by road to Savannah, GA for shipping to Australia and it arrived in Sydney on March 3rd. The last consignment consisting of the wing centre section was finally off-loaded from its ship at Sydney on April 14th and roaded to lake Macquarie the following day. Now the fund-raising to cover the re-assembly and static display will really have to get underway but at least N7238Z has been saved from a very uncertain future.

On 25th April, all being well, the airworthy PBY-6A VH-PBZ will have flown over Lake Macquarie as part of the 2014 ANZAC Day Ceremony, giving the RCMPAI plenty of publicity. The Federal Aviation Administration in the USA continues to review redundant allocations and in the last few months several more long-defunct Catalinas have had their registrations cancelled. Towards the end of last year they included the Boeing'-built Canso A N5404J which was cancelled on September 13th as 'expired 31Mar13' but actually ditched in the Pacific Ocean between Hawaii and Tahiti en route California to New Zealand; and PBY-5As N68743, N68758 and N68769 all of which were cancelled on November 12th as 'expired' although had ceased to exist many years before that.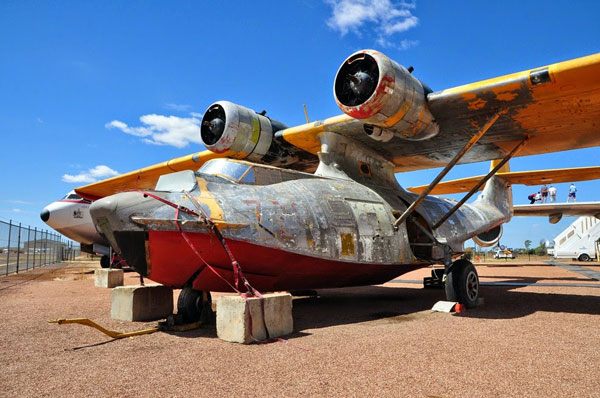 VH-EAX partially stripped down ready for its re-spray, Longreach, Queensland April 2014
Photo: Damian F
Continue reading the rest of the article >>
View Comments (1)
---

Published: 26 January, 2014

Print
There never seems to be any let-up in world-wide Catalina even though the number of airworthy examples is currently at its lowest level for many years.  My detailed list of Catalina survivors may be downloaded from the Catalina Society website - look for the Survivors List tab.
There is exciting news from Australia, rapidly becoming the Catalina centre of the world!  Following a failed auction offer on eBay last Spring, the future of
PBY-5A N7238Z
, a long-term and rapidly deteriorating resident of San Juan, Puerto Rico, looked bleak.  However, the Rathmines Catalina Memorial Park Trust (RCMPT) stepped in and negotiated a purchase with the vendors.  The Tirri family accepted an offer of US$20,000 and work started very quickly to dismantle the salt-laden airframe.  Despite occasionally adverse weather, this task was accomplished by the Park Trust team and the Catalina started its long sea journey to Australia via the USA in August.  John Richard, one of the RCMPT Trustees tells me that the first container load of parts including engines and the tail unit were due to arrive in Australia at the very end of September with the hull and main wing sections scheduled to depart san Juan at around the same time.  The RCMPT intends to use the Catalina as the centre-piece for its proposed hangar and museum development at the old RAAF flying boat base at lake Macquarie, Rathmines and, eventually, it is hoped that the Catalina Flying Memorial Limited (CFML)
PBY-6A Catalina VH-CAT
, currently being worked on at Bankstown, Sydney, will be made airworthy and make Rathmines its base too.  In the meantime, fund-raising activities continue and November 9
th
will see this year's Rathmines Catalina Festival take place.  The airworthy HARS
PBY-6A VH-PBZ
will be appearing again - last year it landed on the lake and taxied up the old hard-standing in front of an ecstatic crowd.
Continue reading the rest of the article >>
View Comments (0)
---

Published: 14 July, 2013

Print
After the rather downbeat nature of our last bulletin when I reported on the final demise of a couple of Catalina airframes, this current report is rather more optimistic in nature and includes news of two Catalinas that have returned to the air again after quite long sojourns on the ground.

First, and closest to home, is the former Greenpeace PBY-5A Catalina N423RS.  Originally a US Navy aircraft and later used extensively as a survey 'plane, mainly in Canada, it went on to fly parties of sport fishermen on charters in North America.  Then, rather ironically, it was acquired for operation by Greenpeace who used it to police illegal fishing activity off the coasts of southern Spain.  When that role came to an end, N423RS was flown to Duxford in the late-Summer of 1998 and for a while it was looked after by our own engineer Garry Short whilst a buyer was found.  Society members with long memories may recall that it was this aircraft that Plane Sailing used in a fund-raising 'tug' down the Duxford runway when we were considering options for acquiring our second aircraft.  In due course, it was sold to the group who were attempting to rebuild our original Catalina at Lee-on-the Solent in Hampshire and it was flown there only to enter a period of prolonged storage.  This period only ended in when it was flown to another new owner at North Weald in Essex on December 8th, 2009.  It remained un-flown at North Weald until, on March 5th this year, it took to the skies for the short 'hop' across the Thames Estuary to Biggin Hill in Kent.  On the 25th, it was towed into the hangars of RAS who will be replacing some of the skinning on the wings, installing rear hull blisters (rescued a few years back from our old Catalina VP-BPS) and re-spraying it.  The intention is that in due course it will fly to the USA for it current owner.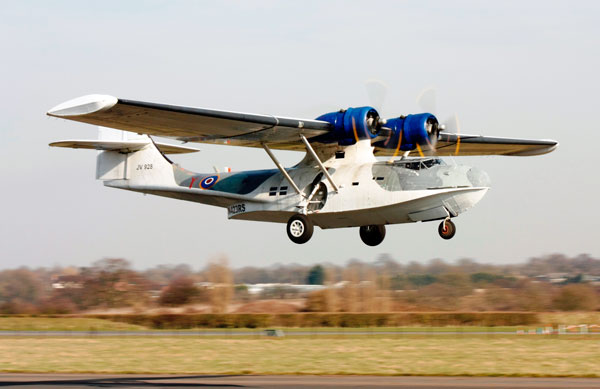 N423RS leaves its long-term home of North Weald for Biggin Hill on March 5th this year
Photo: Tony Harmsworth
Continue reading the rest of the article >>
View Comments (0)
---

Published: 5 November, 2012

Print
The following article is an extract from the Autumn/Winter 2012 edition of The Catalina News magazine which is sent to all members of The Catalina Society.  World Catalina News, as the title suggests, brings readers up-to-date with happenings in the world of surviving Catalinas.
The biggest - and certainly the saddest - news this time around concerns the final demise of Plane Sailing's old Catalina G-BLSC/VR-BPS/VP-BPS.  Many of you will know that we operated this Wright Cyclone-powered 'Super Cat' from early-1985 until the end of July 1998 when it was damaged beyond economic repair in an accident on Southampton Water.  During those thirteen years, it had become a much-loved air show 'star', much like our present day Miss Pick Up is now.  After its accident, it passed into new hands and Plane Sailing had no further connection with it.  The damaged airframe was moved around the south of England, being variously located at Hamble, Lasham and Lee-on-the Solent.  Although some work was carried out on the damaged Cat', the prospect of it flying again never became a reality and indeed it suffered further, weather-related damage during its time in open storage at Lasham.  Eventually, the owners, Super Cat Restorations, threw in the towel and in due course the dismantled airframe travelled to Dublin in the Republic of Ireland where it was stored at Weston airfield.  The new owner's intention was that it would form part of a museum but this project never saw fruition and the poor old Catalina remained outdoors, prey to the elements and at one point being blown onto its tail by high winds.  Some months ago, the airport itself suffered financial problems and was put up for sale by its receiver.  This event may not be entirely un-connected with the fact that, in late-June, the Catalina was bulldozed into scrap.  Presumably, someone owed money to someone else and scrap metal value was seen as the only way of recovery.  This is a terribly sad end to a wonderful aircraft, one that was held dear by many of us when we were able to fly in it back in the '80s and '90s.  It seems amazing that it could not be saved but quite likely that very few people knew this act of vandalism was going to happen until it was too late.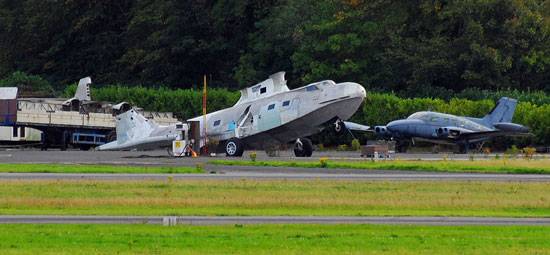 A long lens shot of the former Super Catalina Restorations and Plane Sailing Catalina at Weston, Dublin after being blown onto its tail but before the scrapman set to work
.
Continue reading the rest of the article >>
View Comments (0)
---

Published: 16 July, 2012

Print
As usual, we bring you the latest Catalina news from around the globe, adapted from the version published in the most recent edition of The Catalina News magazine.
Sadly, news from 'down under' about The Catalina Club of New Zealand's Catalina ZK-PBY (formerly a RCAF Canso A, serial 11054) is not particularly good.  Due to structural issues, the aircraft has not been able to fly over the winter air show season and is currently grounded.  Work is required to remove corrosion from parts of the wing although apparently the spars are intact.  As major work will be required to rectify the situation, it is planned to recover the fabric rear section of the wing at the same time.  The following details were passed on by Lawrence Acket of the Catalina Club at the beginning of April: "The Catalina Club is determined to return the aircraft to airworthy condition.  The repairs to the aircraft are not difficult to undertake; however the labour required is expected to be significant due to the size of the sections of wing parts.  Currently the organisation is investigating the most feasible way of restoring the aircraft which includes possibly obtaining parts from a 'donor' Catalina.  Meantime the organisation is investigating if there are suitable candidates around the world to offer spare wing components.  The cost of repairs is beyond the organisation's means so we will be launching a fundraising campaign to return ZK-PBY to airworthiness.  ZK-PBY is a rare and historic aircraft and the Catalina Club of New Zealand have operated it successfully for the last 17 years and without commercial sponsorship for the last ten.  The aircraft has had no association with former sponsor Mainfreight for a number of years now and it has only been through the hard work of the dedicated members of the non-profit organisation that has kept the aircraft displayed at most aviation events around the country.  Regrettably the support to house some of the heavier NZ warbirds in a hangar has not materialised and this has led to increased maintenance requirements for the Catalina as a result.  New Zealand is extremely fortunate to be home to such a significant aircraft that made a huge contribution to WWII.  The New Zealand Catalina has been the only active warbird painted to represent the efforts of the RNZAF in the Pacific for a number of years.  It is the only airworthy PBY-5A model that is based in the Southern Hemisphere (others in Australia are PBY-6As - Ed.) and it is one of only a handful of Catalinas now operational worldwide."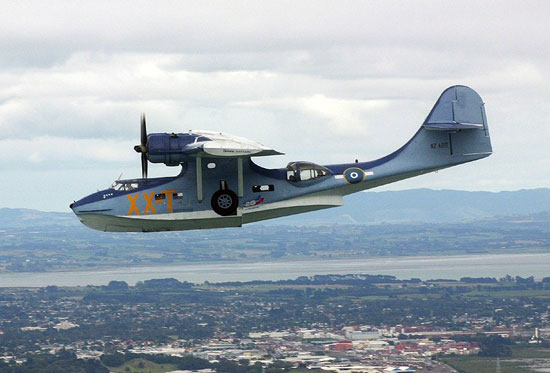 The Catalina Club of New Zealand's Canso A ZK-PBY painted as RNZAF NZ4017/XX-T and photographed in happier times.  It is hoped that it will not be grounded for too long.
Continue reading the rest of the article >>
View Comments (0)
---

Published: 26 April, 2012

Print
October 2nd 2011 saw our first Catalina Taxi Ride at Duxford Airfield, our home base. On what turned out to be a glorious early-Autumn day, the event seems to have been a resounding success for those involved and is likely to be repeated. Here is a report on what took place.
All our happy Taxi Ride passengers and guests in the Comet Room at Duxford – and they hadn't even seen the Catalina at that point!
Photo: David Legg
Continue reading the rest of the article >>
View Comments (0)
---